Apple's alliance with IBM counters BYOD 'nightmare' for companies adopting iPhone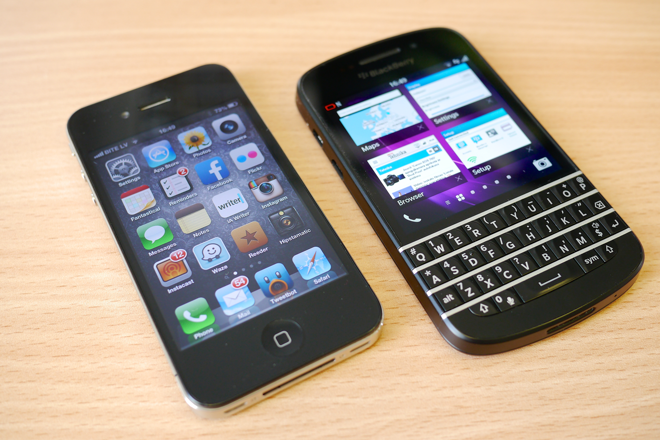 AppleInsider may earn an affiliate commission on purchases made through links on our site.
As many as 6 out of every 10 employees at one Wall Street firm have gone back to carrying a corporate BlackBerry alongside their personal iPhone thanks to "Bring Your Own Device" trouble, underscoring Apple's teething problems in the enterprise and highlighting the importance of the company's new tie-up with C-suite favorite IBM.
Many of the issues stem from the relative inadequacy of the third-party mobile device management — or MDM — solutions available for iOS when compared to battle-tested alternatives like BlackBerry's BES, one IT executive at the firm told CIO.com. Some cause excessive battery drain, while others don't play nicely with popular apps like those from Salesforce, making life difficult for users.
"The failure of these systems has to do with little things that drive users crazy," the executive said. "We're an investment firm with a hundred-something monkeys, everyone is super smart, everyone is a prima donna, and it's very difficult to accommodate them."
"We were shocked, blown away, by the privacy reaction," the executive said.
Privacy is also a factor, with users loathe to subject their personal data to corporate management thanks to the wide-ranging power enterprise administrators have once a handset has been placed in their control. An administrator can remotely track any device under their management, for instance, and lock down features like text messaging — abilities that the same executive said made users view corporate IT with suspicion as an Orwellian Big Brother.
Some third-party MDM vendors have attempted to bridge the privacy chasm with mixed results. An offering from Divide — recently acquired by Google — creates a separate "workspace" on a device to act as a silo for corporate data, for example, though such solutions remain outside of the mainstream.
That these concerns are surfacing now is somewhat ironic, given that privacy issues and device lockdown are among the very reasons that corporate users fled BlackBerry for iOS in the first place. Enterprise administrators simply lacked the tools to enforce those same standards on the iPhone when CEOs first came calling for the popular handset.
Apple is partially to blame for these faults, the executive said, because iOS was initially designed as a consumer operating system with apparently little thought given to its eventual role in the enterprise and the symbiosis that must exist between users and administrators to keep the peace.

This is an area where Apple's recently-unveiled enterprise pact with IBM could pay steep dividends. Though the relationship is widely viewed as a sales-first affair, Big Blue has unparalleled enterprise expertise and thousands of employees that live and breathe large-scale mobile device deployments — a deep pool of knowledge for Apple to tap as it refines its enterprise offerings.
The two companies hinted at just such an arrangement when announcing the partnership, touting IBM-developed "device management native to iOS" and a new "end-to-end procurement and lifecycle management services allow employees to manage their own mobile devices" dubbed IBM MobileFirst Supply & Management.
If executed properly, the pairing of Apple and IBM could easily beat back BlackBerry's mini-resurgence — and might eventually be enough to stamp out the Canadian firm for good.