Public beta launch nearly doubles OS X 10.10 Yosemite adoption despite download issues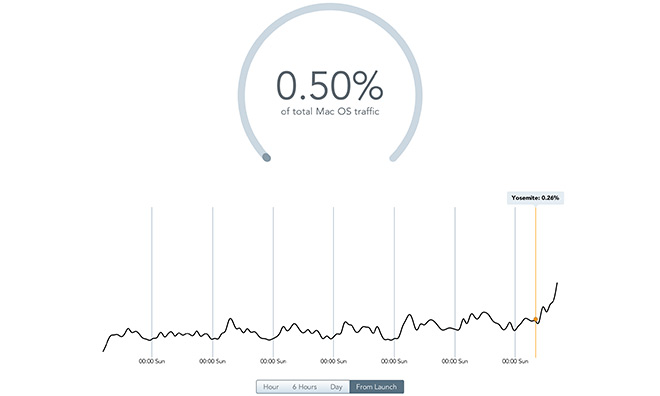 AppleInsider is supported by its audience and may earn commission as an Amazon Associate and affiliate partner on qualifying purchases. These affiliate partnerships do not influence our editorial content.
The share of Mac-based Web traffic generated by Apple's OS X 10.10 Yosemite doubled since the company released a beta version to the public on Thursday, though some users are seeing problems downloading the next-generation operating system.
According to metrics gathered by analytics firm GoSquared, and subsequently picked up by MacRumors, OS X 10.10 Yosemite now accounts for 0.50 percent of all Mac Web traffic as of Friday. The figure is almost double the 0.26 percent seen at the end of Wednesday, when beta access was restricted to developers.
The uptick in adoption may be an indirect barometer of public interest in Apple's upcoming Mac OS, though the numbers could be skewed. Many users have reported a seemingly widespread issue that prevents potential testers from completely downloading the software through the Mac App Store. In most cases, the download trickles in slowly before throwing up an error message reading, "OS X Yosemite Beta 1 failed to download."
A follow-up report from ZDNet confirmed the delays, with journalist Ed Bott saying he attempted to download the beta 22 times without success. Bott notes a number of other would-be Yosemite users were seeing similar issues, many of which took to social media sites like Twitter to voice their concerns.
Apple has yet to establish a dedicated section for Yosemite in its Support Community forums, prompting those having trouble to post on the Mavericks page, which makes sense considering the download is initiated while in the current OS X 10.9 environment.
Bott was finally able to nab a complete copy of Yosemite after switching from Wi-Fi to a hardwired connection, though the alternative procedure may not work for everyone.
Apple's OS X 10.10 Yosemite beta is open to the first one million users who sign up through the official OS X Beta Program website. After entering a valid Apple ID, retrieving a redemption code and successfully downloading the software, participants will be granted access to Yosemite for testing and feedback.