Review: Rapoo E6300 Bluetooth Keyboard for iPad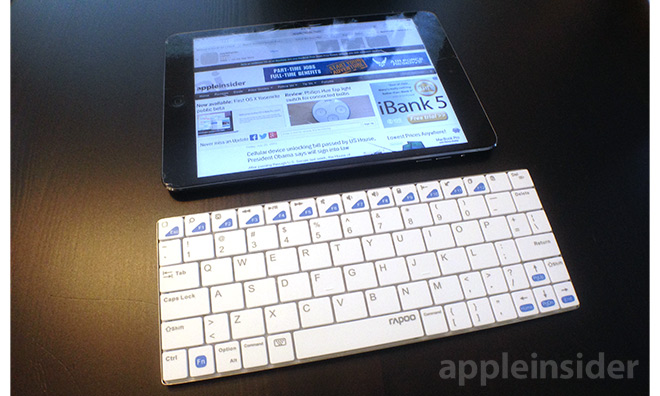 Rapoo E6300 Bluetooth Keyboard
AppleInsider may earn an affiliate commission on purchases made through links on our site.
Rapoo's E6300 Bluetooth keyboard is billed as the perfect complement to Apple's iPad, with device-specific shortcuts, a slim profile and extended battery life, but the hardware falls far short of expectations.
At just 5.6mm thin, the E6300 is a hair's breadth wider than the height of the iPad mini, making it perfectly suited to take on the road. It incorporates a brushed aluminum base, flat keys and won an iF award for product design in 2012. On paper, the Rapoo is a well-equipped companion for Apple's tablet.
Unfortunately, it's also one of the worst keyboards we've ever used.
Design
It's hard to believe that this keyboard won an iF design award for product design in 2012. While the available blue and white color scheme is clean and eye-pleasing, the orange and black version is a mess.
While portable, the keyboard's size is so small that it's difficult to use. The secondary key label color (blue on white keys in our sample) also seems totally unnecessary. Rapoo uses large iconic labels for function keys (Fn) and page controls (PgUp/PgDn/Home/End), when simple gray text would have sufficed. With such a constrained key arrangement, the logo-type shortcuts add confusion to an already busy design.
The part number and serial number sticker is a black-ink-on-white label that looks out of place against the gray plastic and gray aluminum. Quizzically, this sticker is in addition to all the FCC ID and model number markings that are beautifully etched into the aluminum.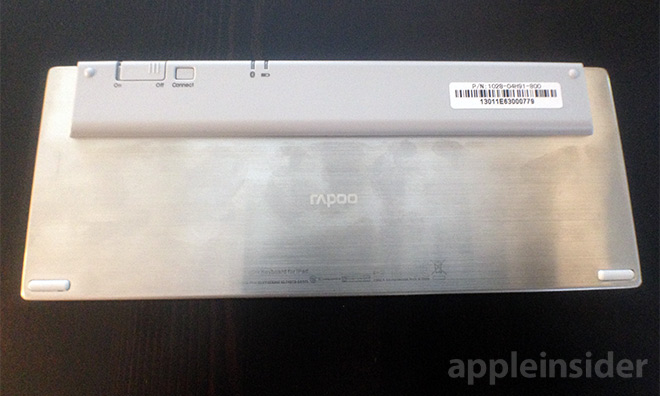 The most beautiful thing about this keyboard is the back side of it, which is made from brushed aluminum. The back also has a gray plastic hump for the battery, Bluetooth and other electronics, two rubber feet, the On/Off switch, "Connect" button for pairing, and "Bluetooth" and "Battery" indicator LEDs.
While not representative of all E6300 units, our sample arrived with a bend in it and the rubber feet were not placed in the recesses designed to hold them.
In Use
We paired the Rapoo with an iPad mini with Retina display and a 3rd generation Apple TV. Pairing wasn't difficult, following the usual steps of long-pressing Connect on the keyboard, tapping the Keyboard in iOS Bluetooth settings, and typing the four digit code iOS instructs. It worked reliably. We did not test distance range, because the normal use is to sit with the keyboard near the display, though we had no troubles using it with an Apple TV at about 12 feet away.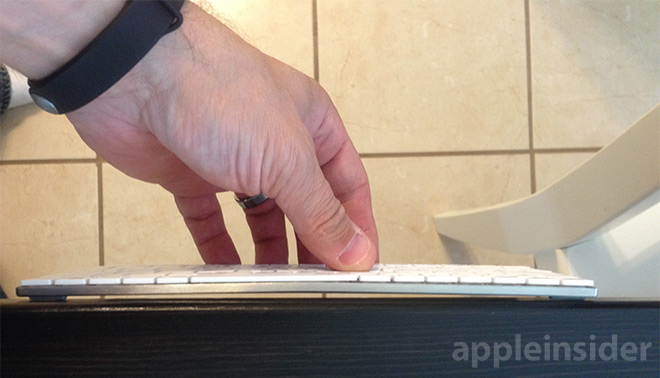 Typing on the keyboard was another matter. We'll be blunt: Typing was so bad as to be nearly impossible. In practice we gave up using it on iPad after a few attempts at writing this review, instead pairing it with an Apple TV, where you simply don't type as much.
Entering the occasional Wi-Fi password or partial search term was fine, but heaven help you if you need to do actual work. Aside from its small size, the E6300's slick surface and almost zero margin between the keys is also a factor. The net result is that when you type on this keyboard, you will miss the letters you intend to type and your fingers will slip to other keys unintentionally. It's a shockingly bad experience.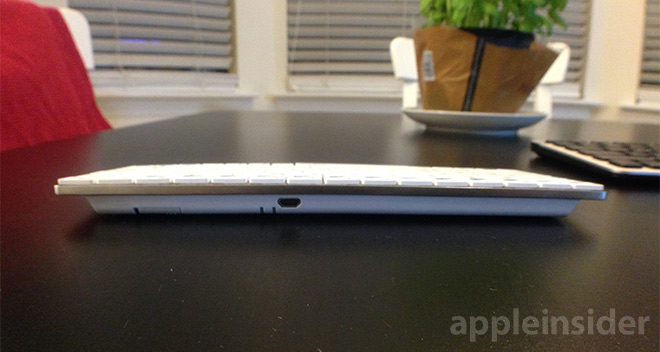 Battery life seemed to last a decently long time, but again, because we weren't able to type on it full-time due to the impracticality of the size, we weren't able to see how long the battery lasted under sustained use.
Conclusion
The shame of it is that Rapoo does make some decent products. The Rapoo KX wireless keyboard that uses mechanical key switches is one example. Had that model been available in Bluetooth with dedicated iPad keys, or better still as a lightning wired keyboard, we would have been delighted. Here, we are only disappointed.
Let us be clear: Rapoo is capable of making good products, but this, their design award-winner, is not one of them.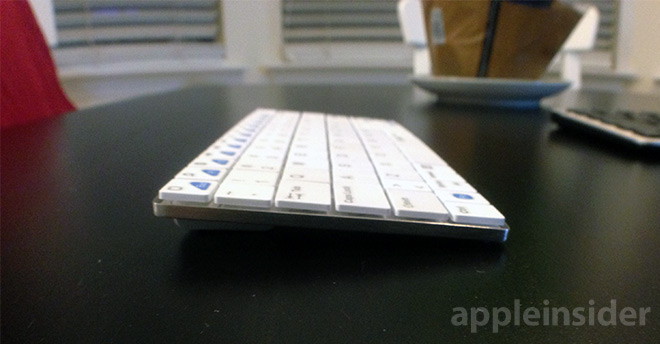 Score: 2 out of 5

Etched brushed aluminum is nice
Key feel most reminds us of iBook G3
Too small for comfortable typing
Slippery keys with near-zero pitch
Two-tone colors clutter an already constrained design
Where to buy