Apple remembers Robin Williams with iTunes tribute page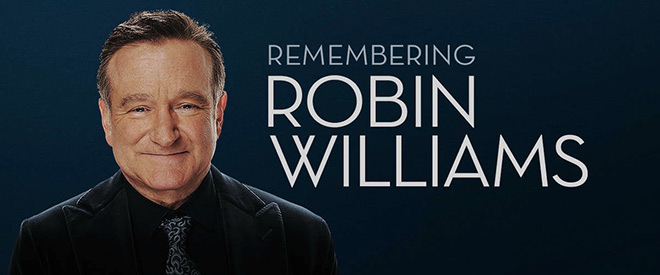 Following the untimely death of actor and comedian Robin Williams on Monday, Apple has dedicated a special featured iTunes section to a collection of his best work, ranging from classic comedy routines to movies.
The new section, titled "Remembering Robin Williams," showed up in the iTunes app's top carousel on Tuesday and points to a number of well-known movies, TV shows and audio recordings of Williams' stand-up acts.
Accompanying the iTunes Store selections is a brief explanatory note regarding Williams' life and professional career.
One of the most beloved and unforgettable performers in the history of show business, Robin Williams brought laughter and inspiration to millions. Throughout a career that spanned five decades, Williams evolved from stand up comedian to international movie star. Among the great masters of improv, he transfixed audiences with a mile-a-minute comic energy. Williams' Golden Globe-winning turn in Good Morning, Vietnam demonstrated that his versatile acting talents were equally suited to evoking dramatic complexity. Many of Williams' most iconic performances— in Dead Poets Society, Mrs. Doubtfire, and his Oscar-winning triumph Good Will Hunting— were dazzling high-wire acts that left audiences in tears of laughter one minute and tears of poignancy the next
Apple most recently used a monologue from the movie "Dead Poets Society," which starred Williams as English teacher John Keating, as a basis for the ongoing "Your Verse" iPad ad campaign. The excerpt in part quotes Walt Whitman's poem "O Me! O Life!"
"O me! O life! Of the questions of these recurring; Of the endless trains of the faithless; Of cities filled with the foolish; What good amid these, O me, O life" Answer. That you are here; That life exists and identity; That the powerful play goes on and you may contribute a verse," Keating says, emphasizing the last line to his charges, "That the powerful play goes on and you may contribute a verse. What will your verse be?"
Apple has used the "Your Verse" campaign to highlight not only the capabilities of iPad, but of its users. With the iPad and iOS App Store nearly anything is possible, the company contends in its ads, illustrating the various ways its tablet is put to use by explorers, musicians, writers, music makers and more.
Among the thousands expressing their condolences on social media yesterday was Apple CEO Tim Cook, who wrote the following on Twitter:
Heartbroken by the news of Robin Williams' passing. He was an incomparable talent and a great human being. Rest in peace.

— Tim Cook (@tim_cook) August 12, 2014
The recipient of multiple awards, including an Oscar and the Hollywood Foreign Press Association's prestigious Cecil B. DeMille Award, Williams died in his Tiburon, Calif. home on Monday at the age of 63.