Minnesota school district set to roll Apple's iPad out to 40,000 students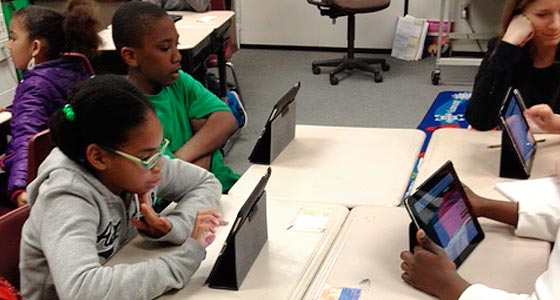 Minnesota's St. Paul School District is preparing to deploy tens of thousands of iPads to students in 37 schools around the city, marking another victory for Apple in education even as a similar program in Los Angeles comes under fire.
The district's plan appears somewhat different from others, who have carefully stage-managed the use of iPads in the classroom, according to the Minneapolis Star Tribune. St. Paul officials compared the usefulness of the iPad to a pencil, saying that the most important benefit is giving children the ability to be creative.
"As educators, we have the luxury of whether to use the tool or not," Hamline Elementary Principal Craig Anderson told the paper. "But kids are not going to have the option of living in a world that doesn't use technology."
The district has also identified a number of "core apps" for use on the devices. Apple's own iWork suite, iTunes U, iMovie, and iBooks are among those chosen, alongside utility apps like classroom management system Socrative and image manipulation app Skitch.
Rather than purchasing the tablets outright, the school district will lease them from Apple. The cost of the program — which also appears to include more than 1,000 MacBooks — Â will begin at $5.7 million per year for the initial rollout and rise to around $8 million once all 61 schools in the district are outfitted.
The St. Paul intiative comes on the heels of the suspension of Apple's $1 billion agreement with the Los Angeles Unified School District, following charges that district administrators tailored the bidding process to benefit Apple and content provider Pearson. Despite the setback, Apple continues to win new rollouts and commands more than 90 percent of the education tablet market.