Discover in talks to join Apple Pay, Swift goes GM at version 1.0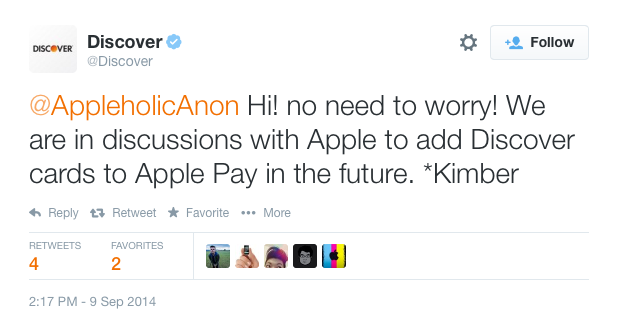 AppleInsider is supported by its audience and may earn commission as an Amazon Associate and affiliate partner on qualifying purchases. These affiliate partnerships do not influence our editorial content.
Apple might soon have all four major U.S. card issuers on board with its new Apple Pay service, as Discover confirmed on Tuesday that the firm is in talks to sign on. Meanwhile, Apple's new Swift programming language has hit version 1.0 as iOS 8 and OS X Yosemite near release.
"We are in discussions with Apple to add Discover cards to Apple Pay in the future," a Discover representative told a customer on Twitter. No timetable was given as part of the 129-character missive.
Discover is the fourth-largest card issuer in the U.S., and is tied with rival American Express as the most customer-friendly issuer in the nation. Like American Express, Discover has relatively few bank partnerships, thanks in large part to exclusionary clauses in contracts that banks signed with dominant players Visa and Master Card. Those policies were overturned by the Supreme Court in 2004.
Apple will roll out Apple Pay, its new NFC-based mobile payment service, to U.S. customers in October. The service was announced alongside the iPhone 6, iPhone 6 Plus, and Apple Watch and will allow owners of those devices to pay with their stored credit and debit cards at brick-and-mortar retail establishments with a simple tap. Developers are also able to integrate Apple Pay into apps and websites.
Going unnoticed during Tuesday's event was the release of Swift version 1.0, which the Swift team said represents the Golden Master release — or the version they intend to ship in production — Â for iOS. Swift for OS X will hit GM as the release of OS X Yosemite draws closer.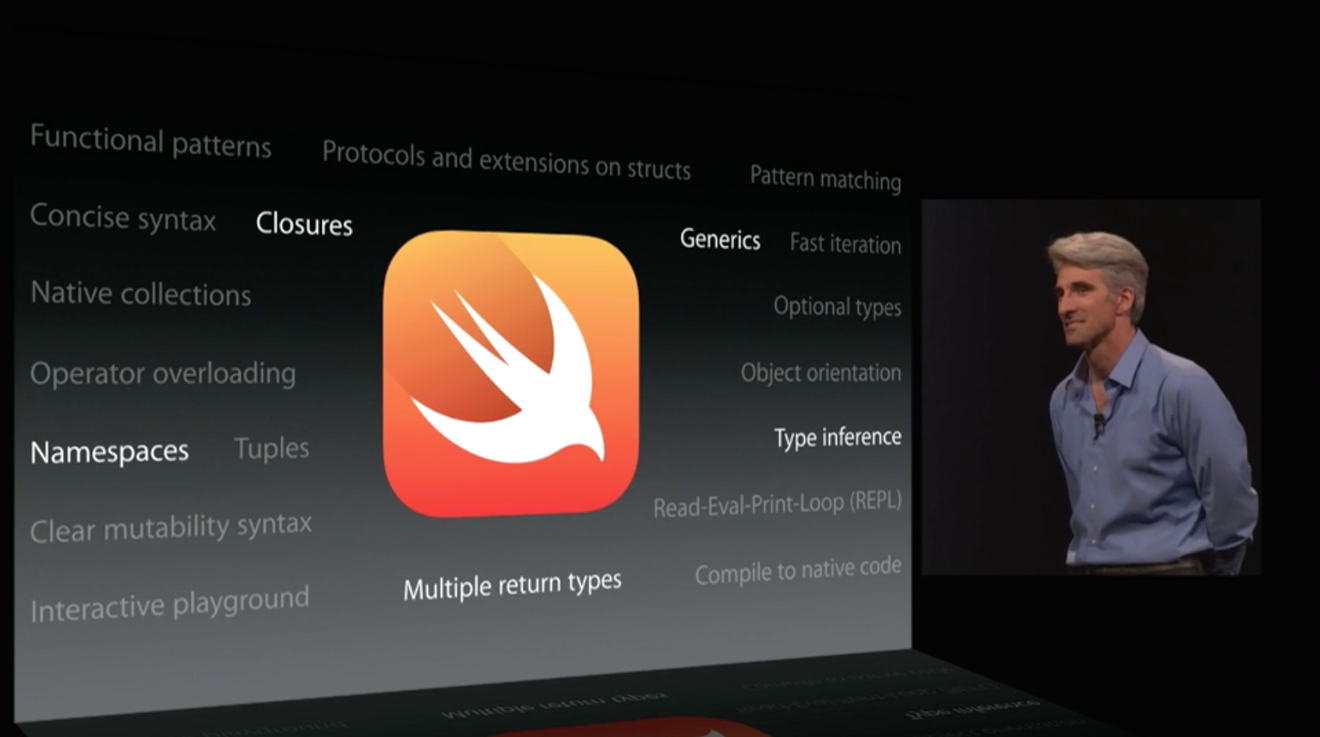 "You'll notice we're using the word 'GM,' not 'final,'" the Swift team wrote on their official development blog. "That's because Swift will continue to advance with new features, improved performance, and refined syntax. In fact, you can expect a few improvements to come in Xcode 6.1 in time for the Yosemite launch."
Swift was announced at Apple's annual Worldwide Developers Conference in June of this year. The new language can be used to compile apps for iOS 7, iOS 8, OS X Mavericks, and OS X Yosemite and is slated as a long-term replacement for Apple's Objective-C.