Apple paces field in PC consumer satisfaction for 11th consecutive year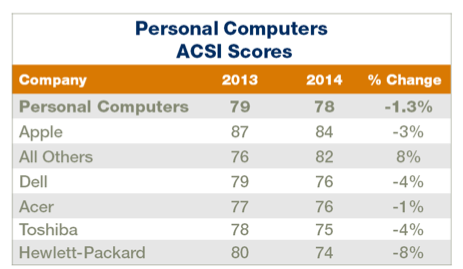 AppleInsider is supported by its audience and may earn commission as an Amazon Associate and affiliate partner on qualifying purchases. These affiliate partnerships do not influence our editorial content.
Despite booking a modest 3 percent year-over-year decline, Apple has once again claimed the top spot in the most recent American Customer Satisfaction Index rankings of personal computer manufacturers.
Apple's aggregate score of 84 — down from 87 one year ago — was enough to maintain a two-point lead over a gaggle of smaller companies, including Samsung, Lenovo, and Asus, which combined to score 82 points. Scores for those smaller firms were up 8 percent year-over-year.
The gap widens from there to Texas-based giant Dell, which scored 76 to come in third. Acer, Toshiba, and beleaguered Hewlett-Packard round out the top five.
Surprisingly, consumers showed a renewed interest in desktop computers. Satisfaction with those wall-bound machines ticked up by 3 percent year-over-year, compared to dips of 4 percent and 1 percent for laptops and tablets, respectively.
"The increase in customer satisfaction for PCs could mean two different things," ACSI Chairman and founder Claes Fornell said in a release. "Either the product is seen as more attractive now and is poised for a comeback, or it has higher customer satisfaction simply because those who were less than happy with it have moved to other devices. If dissatisfied customers leave and satisfied customers stay, average satisfaction may well go up."
The ACSI surveys some 70,000 consumers each year, benchmarking satisfaction with their most-used products and services. Those surveys have given Apple the top spot in the personal computer satisfaction rankings — which also includes tablets — in every ranking since 2004.