Microsoft inadvertently leaks 'Band' fitness wearable in new app, reveals 'Microsoft Health' [update: confirmed]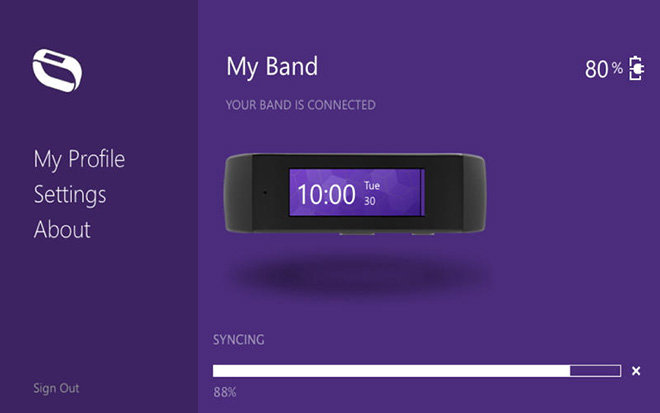 AppleInsider is supported by its audience and may earn commission as an Amazon Associate and affiliate partner on qualifying purchases. These affiliate partnerships do not influence our editorial content.
Microsoft's rumored wearable fitness tracker was inadvertently leaked online Wednesday when the company's first-party syncing app was posted to Apple's Mac App Store, disclosing a few key features of the unannounced device.
As seen in the above screenshot, taken from Microsoft's Band Sync Mac app, the Redmond tech giant's rumored wearable device is to be called "Microsoft Band," or simply "Band."
Not much can be gleaned from the app's release notes, which were also posted to the Android app store, but downloading the software yields more clues as to what Microsoft is planning with Band. In the Band Sync app's "About" section, a link to Microsoft's privacy policy for the device and related line of health-related products reveals Band will be able to "keep track of things like your heart rate, steps, calories burned, and sleep."
Further, a specialized service called "Microsoft Health" will collect information from Band, as well as push out notifications from a connected smartphone that can be read on the device's screen. Links within the privacy webpage point to a webpage for Band specifications, including the sensor suite and other hardware information, but the site is not yet live.
Interestingly, the Band webpage URLs refer to the device as "Lumia Band," suggesting the wearable was, or is, to be marketed as an accessory for the Lumia smartphone lineup. Originating with Nokia, the "Lumia" moniker has since been adopted by Microsoft after it acquired the Finnish company's handset business for $7.2 billion in 2013. The "Nokia" smartphone brand was recently killed off in favor of "Microsoft Lumia."
A release date for Microsoft Band is unknown, but rumors suggest a launch sometime in the fourth quarter.
Update: Microsoft Band was officially announced shortly after the initial app store leak surfaced. According to Re/code, the device will be connected to the cloud, features a UV sensor, galvanic skin sensors for monitoring stress and will last 48 hours on a single charge. Microsoft Band will go on sale this Thursday for $199.