Australian Bureau of Statistics credits Apple's iPhone 6 for stoking retail surge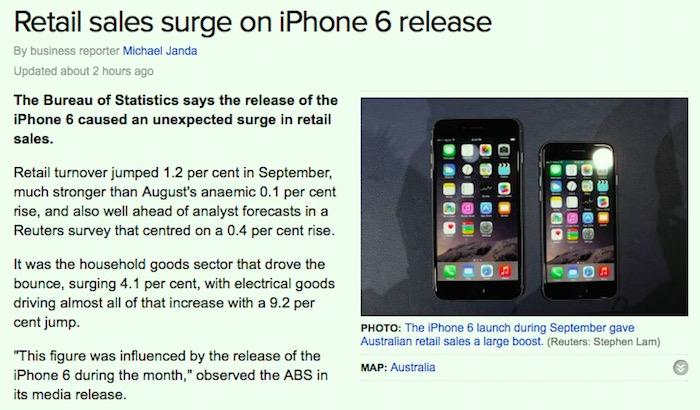 AppleInsider is supported by its audience and may earn commission as an Amazon Associate and affiliate partner on qualifying purchases. These affiliate partnerships do not influence our editorial content.
Following an anemic 0.1 percent rise in August, Australia's Bureau of Statistics reported that retail turnover lept to 1.2 percent growth in September, crediting Apple's iPhone 6 launch for driving the unexpected growth.
"This figure was influenced by the release of the iPhone 6 during the month," ABS reported, as noted in an ABC.net.au article tweeted by @BDASPresident.
"The increase in electrical and electronic goods retailing represents about half of the total Australian sales movement of 1.2 percent in seasonally adjusted terms," of which nearly half (0.5 percentage points) were attributed to electronics.
A Reuters survey of analyst forecasts had predicted a 0.4 percent total increase, indicating more positive results than expected for both iPhone sales and the broader economy.
iPhone also driving the U.S. economy
Last week, the New York Times cited Michael Feroli, chief United States economist for JPMorgan Chase, as estimating that "iPhone sales are adding one-quarter to one-third of a percentage point to the annualized growth rate of the gross domestic product."
The report added that in September, "electronic and consumer appliance store sales jumped 3.4 percent while clothing sales fell 1.2 percent," leading Feroli to conclude, "people are buying iPhones, partly as a status symbol. They're not buying as much clothing."
Apple's rising stock is also having an impact on the U.S economy. Paul Hickey, co-founder of the Bespoke Investment Group was cited as calculating that "Apple accounted for 18 percent of the entire rise of the S.&P. 500 index this year."