Beyonce rumored to release second iTunes exclusive 'visual album' on Nov. 14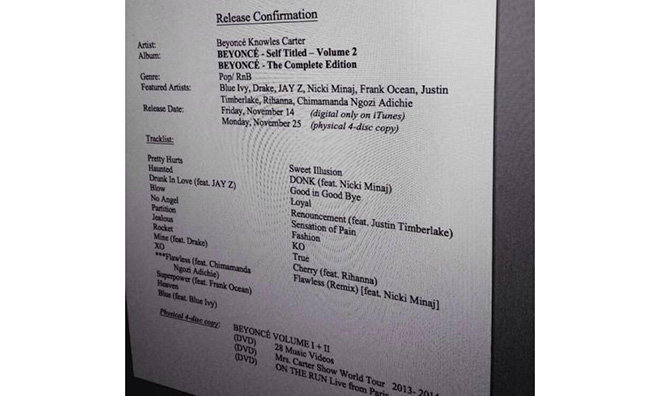 AppleInsider may earn an affiliate commission on purchases made through links on our site.
A supposedly leaked photo appears to show the tracklist for an unannounced iTunes exclusive Beyonce release set for November, which will feature collaborations with Justin Timberlake, Rihanna, Nicki Minaj and more.
As noted by Stereogum on Monday, the document in the photo above shows the tracklist and release schedule for two self-titled Beyonce albums, "BEYONCE — Volume 2" and "BEYONCE — The complete edition," both slated for exclusive iTunes release on Nov. 14.
Following the leak, Vulture discovered that Beyonce registered one of the tracks on the list, "DONK" featuring Nicki Minaj, weeks ago, adding credence to the rumor. Further, Amazon UK posted a placeholder for an untitled four-disc Beyonce set, with a release date of Nov. 24.
The "Volume 2" album is thought to be a follow-up to the pop diva's surprise "visual album" that took over the iTunes home page last December. The self-titled "BEYONCE," which featured music videos to go along with all 14 tracks, went on to become the fastest-selling album in iTunes history, moving more than 800,000 copies in three days.
According to the tracklist, "BEYONCE — Volume 2" is scheduled to hit iTunes on Nov. 14, with physical media sales to follow on Nov. 25. The four-disc set, supposedly titled "BEYONCE — Volume I + II," will include DVDs featuring 28 music videos, footage from the "Mrs. Carter World Show" and "On the Run" live tours.