Spotify royalties surpass Apple's iTunes in Europe by 13%, report says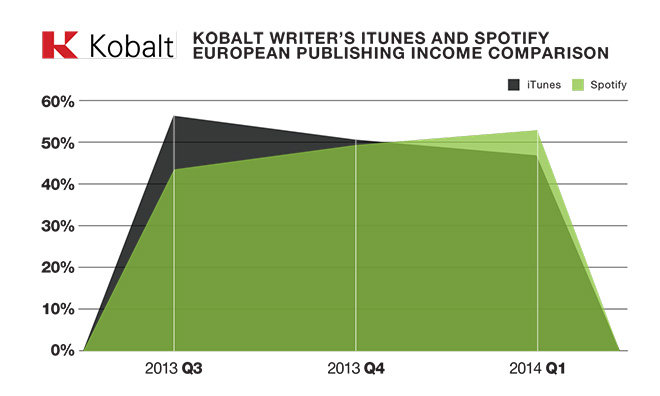 In what could be a bellwether for the global recording industry, royalty payments from streaming service Spotify have reportedly overtaken earnings from Apple's iTunes music store in Europe, a drastic shift from only last year.
Kobalt Music Publishing, a company that represents and collects royalties on behalf of music makers in Europe, says its customers brought in an average of 13 percent more revenue from Spotify than iTunes over the first quarter of 2014, reports The Wall Street Journal.
Kobalt's customer list numbers near 6,000 and includes big-name acts like Bob Dylan, Dave Grohl, Paul McCartney, Maroon 5 and Max Martin, among other chart-toppers.
The data shows an abrupt trend away from music downloads and toward streaming. For example, royalties from iTunes outpaced Spotify by 32 percent during the third quarter of 2013, but that number dropped to 8 percent in the following three-month period, Kobalt notes. The company told TechCrunch that revenue from streaming services tripled over the past two years.
"Spotify overtaking iTunes in Europe is an important new milestone in streaming," said Kobalt CEO Willart Ahdritz. "The music industry's infrastructure is failing them, unable to efficiently account for the enormous volumes of data from digital transactions."
While the statistics are limited to one company from one market, the data is in line with a previous Journal report saying overall iTunes music sales were down 13 to 14 percent for the year as of late October.
For the fourth fiscal quarter of 2014, Apple announced iTunes earnings of $5.4 billion, up 22 percent from the same three-month period last year. For 2014, Apple reported a total of $10.2 billion in net iTunes Store sales compared to $9.3 billion over the course of 2013. The numbers combine revenue from other software and services, however, including the lucrative iOS App Store.
Apple rolled out its own music streaming service in iTunes Radio, which launched in 2013 alongside iOS 7. The Cupertino tech giant is also rumored to be working on a rebranding of Beats Music following a $3 billion acquisition that included the firm's headphone division in August.