Google to settle patent suit leveled by Apple-backed Rockstar consortium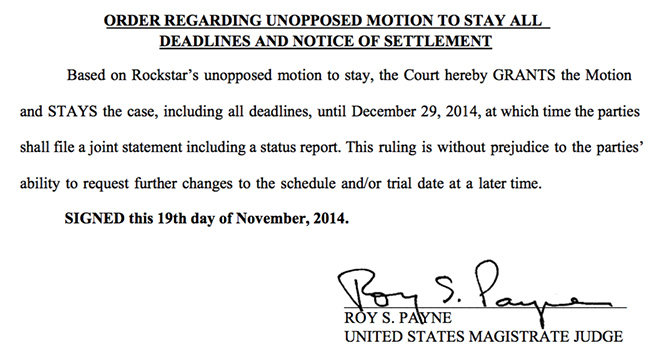 A court filing this week suggests Google has agreed to settle a patent dispute leveled by the Rockstar consortium, of which Apple is a major investor, suggesting the end is in sight for this particular lawsuit.
Rockstar on Wednesday was granted a motion to stay hearing deadlines after announcing it had hammered out a binding term sheet with Google to settle the parties' patent litigation. The agreement was reached on Nov. 12 and "settles, in principle, all matters in controversy between the parties."
The case dates back to October of last year, when Rockstar sued Google, Samsung and other Android product makers for infringing on seven patents covering Internet searches and advertisements. Each case is separate, but that Google has agreed to settle is considered a major milestone in Apple's legal battle with the Internet giant.
Rockstar, a group of high power tech companies including Apple, Microsoft, Blackberry, Sony and Ericsson, purchased the IP in when Nortel sold off thousands of patents as a result of going bankrupt in 2009.
Ironically, Google was first to bid $900 million on the patent cache in 2011, but ultimately lost to Rockstar, which paid out some $4.5 billion. When bidding ended, it came to light that Apple put in a huge amount of capital to secure the patent hoard, with some estimates pegging the company's input at $2.6 billion.
The resulting lawsuit sought damages from Google for willful patent infringement and lawyer fees.
Rockstar's filing does not attach an exact figure to the settlement, but asks for an extra 45 days to sort out the "complexity of the transaction and the number
of additional parties whose claims are concurrently being resolved." Of note, Cisco earlier this week announced it had reached a settlement with Rockstar for $188 million.
A copy of the initial motion to stay is embedded below.