Apple's big-screen iPhone 6 and 6 Plus lead to massive gains in China as Samsung flounders

AppleInsider may earn an affiliate commission on purchases made through links on our site.
A fresh report from research firm IDC published on Tuesday found Apple's share of the Chinese smartphone market nearly doubled over the fourth quarter of 2014, while rival Samsung saw its share further deteriorate as competing Android makers gained ground with low-cost device alternatives.
According to IDC, smartphone manufacturers shipped some 107.5 million units during the quarter ending in December, representing growth of 19 percent year-over-year.
Apple ended the quarter in second place with a 12.3 percent share of the Chinese market, a 99.7 percent boost from 7.4 percent of the market in 2013. The performance capped off a year of volatility for the iPhone, which in the third quarter dipped to 5 percent of the Chinese market.
Chinese smartphone maker Xiaomi took the top spot after capturing a 13.7 percent marketshare, representing a whopping 150 percent gain year-over-year. Interestingly, Xiaomi's marketshare dropped from 14.8 percent in the third quarter of 2014, suggesting competing handset makers gained ground over the same period.
"Although the 3G phone shipments in China were affected by the reduction in operators' subsidy, the market was able to grow in 2014Q4 due to its growth in 4G phones," said Tay Xiaohan, senior market analyst at IDC Asia/Pacific's Client Devices team. "Also,while the share of phones sold through operators dropped, the number of phones sold through eTailers increased (share increased from single to double-digit YoY) due to the popularity of eTailers such as jd.com and tmall.com. Apple's launch of larger screen sized phones also helped to contribute to the increase in shipments."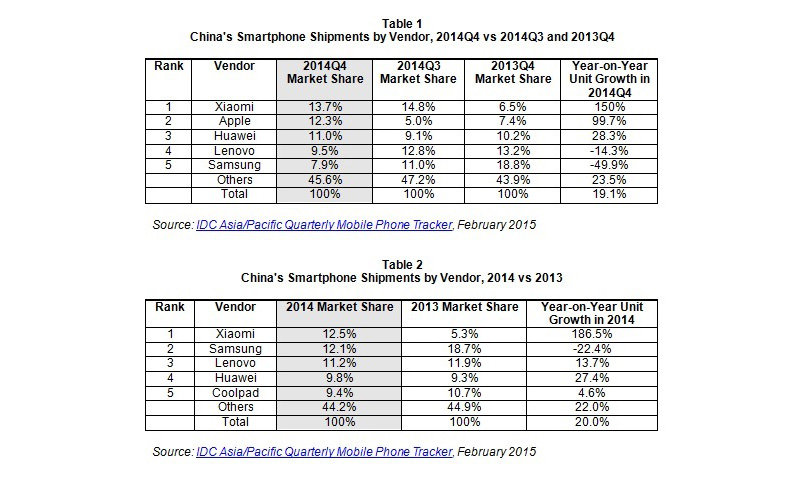 Samsung, previously the number one player in China by a wide margin, fell to fifth place in quarter four, netting only 7.9 percent of the overall market. That number is down from 11 percent from the third quarter and 18.8 percent the year prior. Led by staunch Xiaomi supporters and Apple's larger iPhone models, Samsung saw its share of the booming Chinese market contract 49.9 percent year-over-year.
Filling out the top five were Huawei and Lenovo, which came in third and fourth with 11 percent and 9.5 percent of the market, respectively.