Apple Watch publicity tour comes to Chinese fashion magazine YOHO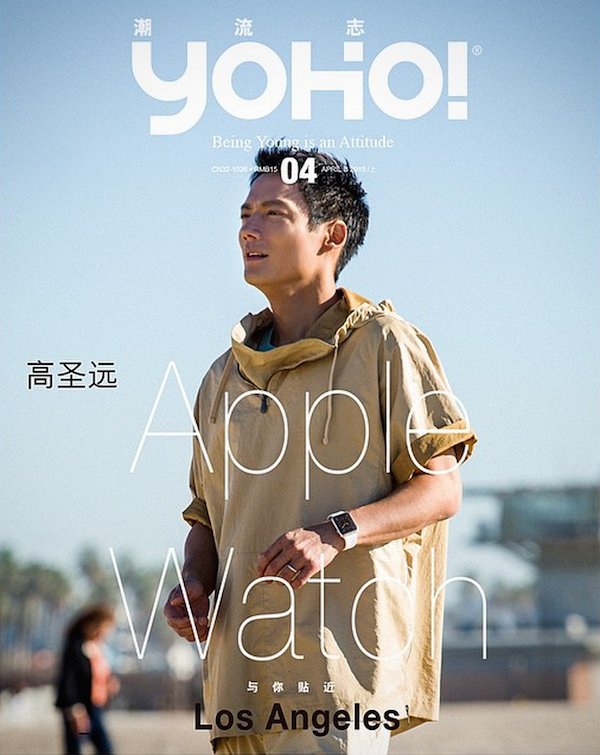 The Apple Watch is continuing to make the rounds of fashion magazines, this time in the form of a Sport model on the April cover of China's YOHO, which bears the slogan "Being Young is an Attitude."
There the Watch is being worn by actor Archie Kao, best known in the US for appearances on TV shows like Chicago PD and CSI. The product is also featured inside the April YOHO in a connected story. The cover story was first spotlighted by AppleInsider reader Nathan.
In the past several months Apple has been bringing the Watch to a variety of publications, such as Style, Vogue, and another Chinese outlet, Hong Kong's East Touch. The company appears to be intent on positioning the Watch as a fashion item, unlike past products such as the iPhone.
The media campaign is also leading up to a March 9 press event where Apple is expected to present some of the final launch details of the Watch, including prices, full features, and a release date. So far the release window has been vague, and the only definite pricetag has been $349 for the cheapest model.
AppleInsider will be offering live coverage of the event from San Francisco's Yerba Buena Center for the Arts, which will start on Monday at 10 a.m. Pacific, 1 p.m. Eastern.