Third-party Apple Watch housing promises underwater capabilities, duo dock charges Watch and iPhone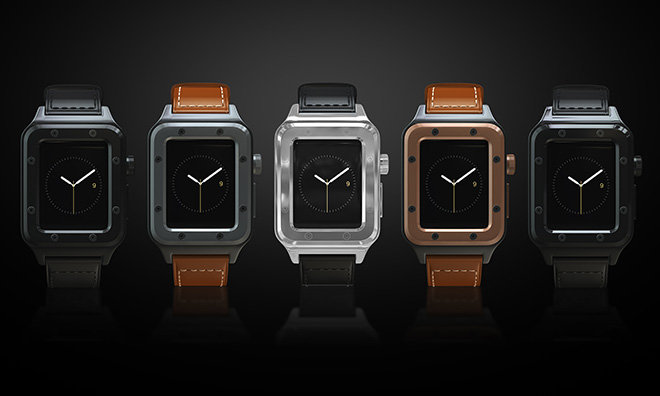 Third-party accessory maker designed by many on Thursday revealed plans for an Apple Watch housing line that offers protection from water, shock and dust, as well as a separate combination dock for simultaneous charging with iPhone.
Dubbed Banded, designed by many's protective Apple Watch housing is crafted from solid aluminum and sports a leather strap to give users extra protection without sacrificing looks.
Banded is marketed toward fashion-minded users who are drawn to Apple Watch's technology, but may be less than thrilled about its aesthetics. With protection from nicks and scratches, however, the housing is much more than a second skin.
An open-top design leaves full access to the Force Touch-enabled screen, while tactile controls like the Digital Crown and multifunction button are overlaid with precision cut aluminum parts. An underside cutout offers unfettered access to the heart rate sensor and inductive charging module.
Apple Watch is rated to the IPX7 standard, which means it can be immersed in water up to one-meter deep for a period of 30 minutes. To compensate, designed by many is working on a waterproof version of Banded, as well as a robust shock- and dust-proof iteration.
Banded will debut as a Kickstarter project next month.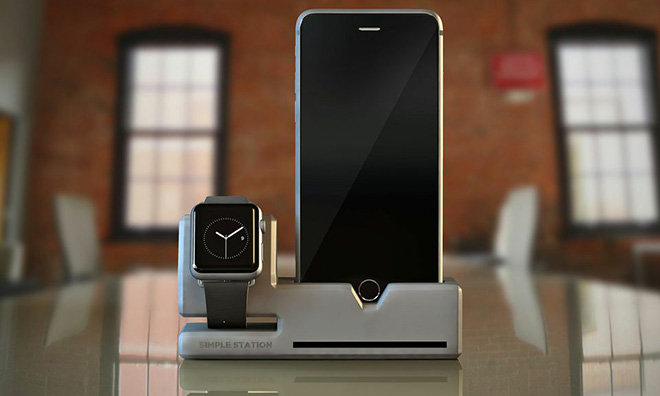 A separate product called Simple Station looks to be a one stop shop for iPhone and Apple Watch charging and docking.
Cut from a solid block of aluminum, Simple Station showcases iPhone and Apple Watch side-by-side, ideal for bedside or desktop charging and display. The stand uses Apple's provided cords to charge and sync, while keeping them hidden with a unique cable management system.
A phone slot accepts iPhone 6, 6 Plus, 5s or 5 hardware and is architected to channel speaker output through a passive sound amplification groove.
Simple Station will be offered in matte black and silver colors.
Specifications, pricing and availability for both Banded and Simple Station will be made public when the projects hit Kickstarter in April.