Apple's Mac bucks negative PC market trend, gains 9% in US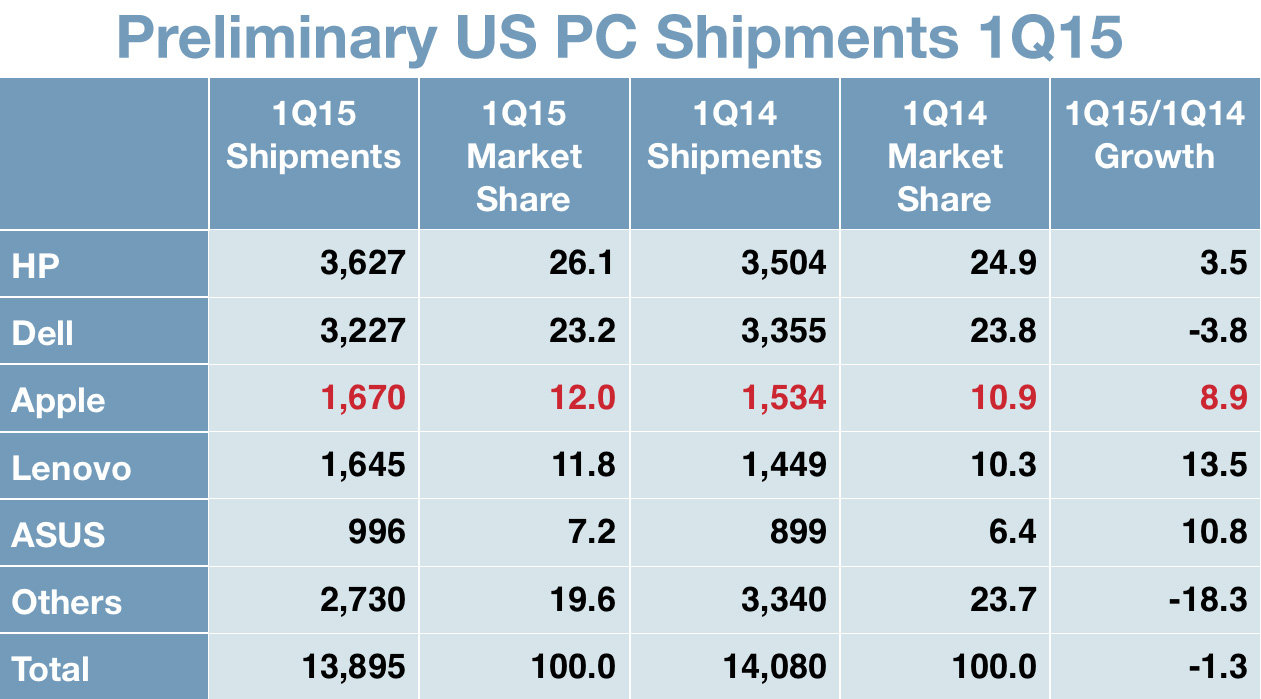 According to the latest estimates from Gartner, Apple's Mac made gains in the PC market over the first quarter of 2015, bucking a wider negative trend that saw overall shipments drop 5.2 percent worldwide.
In its latest preliminary estimates release published Thursday, Gartner said Apple shipped 1.67 million Macs in the U.S. to capture 12 percent of the market, an 8.9 percent year-over-year gain.
With its quarterly performance, Apple retained its spot as the country's third-largest PC vendor, falling short of No. 1 HP's 26.1 percent and second place Dell's 23.2 percent. For the quarter ending in March, HP shipped 3.63 million units, while Dell shipped 3.2 million. Dell was the only top-five PC maker to see negative growth of 3.8 percent year-over-year.
Rounding out the top-five U.S. vendors was Lenovo and ASUS, which moved a respective 1.65 million and 996,000 units to capture 11.8 percent and 7.2 percent of the market. Overall, the market contracted 1.3 percent in the first quarter as compared to the same time last year.
Apple didn't rank in Gartner's worldwide count, which had Lenovo, HP and Dell sitting in the top spots with market shares of 18.9 percent, 17.3 percent and 12.6 percent, respectively. ASUS and Acer trailed the pack with 7.4 percent and 7.2 percent of the global market. Lenovo and HP were the only two companies to show signs of growth over quarter one, jumping a respective 5.7 percent and 2.5 percent.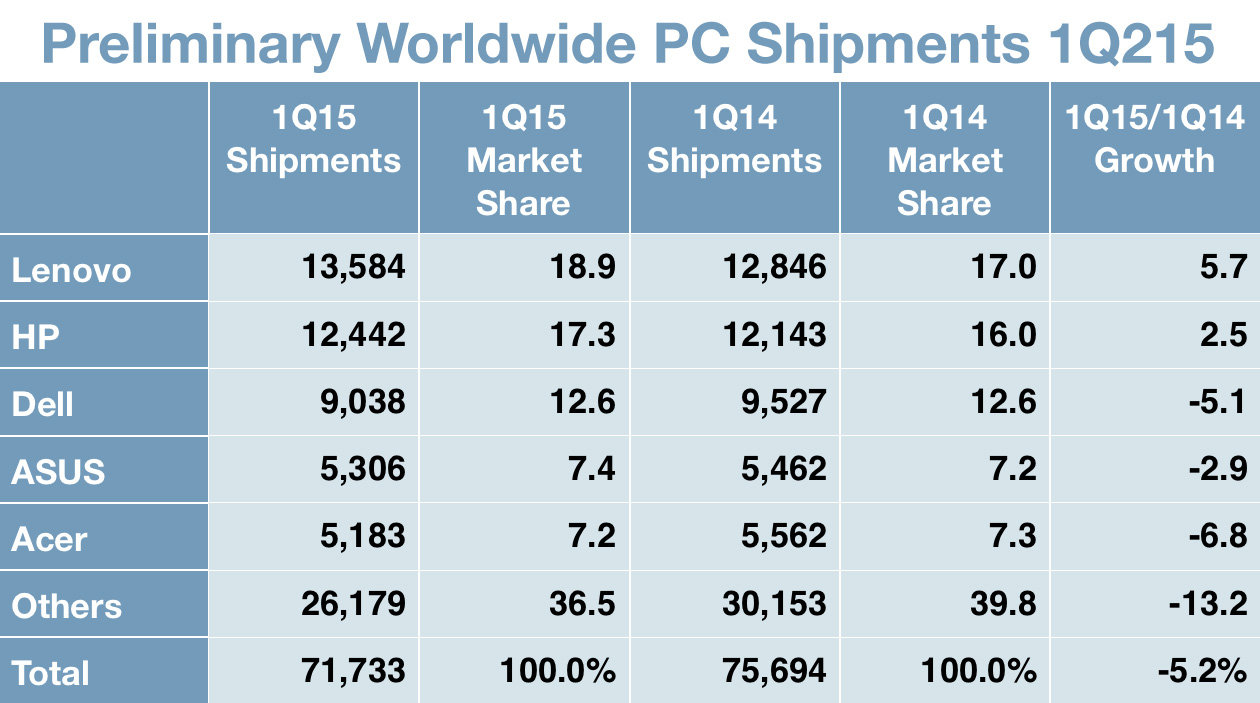 "The first quarter results are not a sign doom for the U.S. market," said Mikako Kitagawa, principal analyst at Gartner. "The biggest reason for the decline of PC shipments in the U.S. was attributed to the desktop market, which experienced a double-digit decline. This was primarily due to the end of the Windows XP replacement cycle. In contrast, mobile PC shipments in the U.S. continued to show year-over-year growth, and early results show this segment could have grown approximately 10 percent in the first quarter of 2015."
Overall, worldwide PC shipments came in at 71.7 million units, a 5.2 percent year-over-year drop.