Best Buy begins taking Pebble Time preorders in retail push against Apple Watch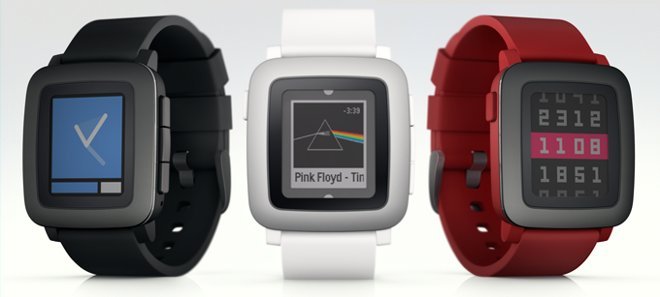 U.S. retailer Best Buy on Monday launched preorders of the Pebble Time, signalling the first opportunity to buy the smartwatch for those who didn't back the project on Kickstarter, just days after the Apple Watch became available at Apple's own retail stores.
Best Buy is selling red, white, and black versions of the Time for $200 each. Current shipping estimates call for orders to be delivered by July 20. The company has yet to say when the Watch will be available for in-store shopping.
Although the Time is less fashion-oriented than the Apple Watch, and lacks features like a heart rate sensor or a touchscreen, it offers some advantages including an always-on color e-paper display and seven-day battery life. It's also water-resistant to a depth of 98 feet, meaning it can be worn while swimming or in the shower.
Unlike either the Watch or Android Wear devices, the Time can be paired with both iOS and Android phones. It's also one of the few options available to iPhone 4S owners, since the Apple Watch requires an iPhone 5 or later.
Pebble's Kickstarter campaign for the Time rapidly became the most successful ever, breaking the $1 million barrier in 49 minutes and ultimately surpassing $20.3 million. In May, though, a report claimed that Pebble was having trouble securing venture capital funding.