Video shows Apple Watch running Mac OS 7.5.5 via emulator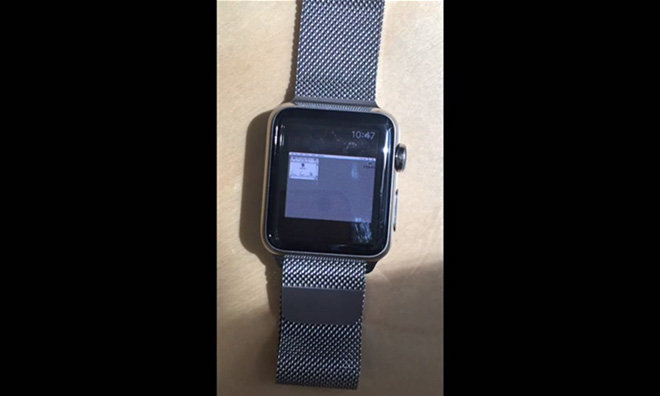 A developer was able to start up the nearly 20-year-old Mac OS 7.5.5 (née System 7) onto his Apple Watch running the latest WatchOS 2 update, exemplifying the extent to which computing has evolved over the past two decades.
Enlisting the help of Mini vMac, Developer Nick Lee was able to get Mac OS 7.5.5 up and running on his Apple Watch loaded with Apple's latest watchOS 2 software.
The impressive feat, first spotted by MacRumors, is accomplished entirely on Apple Watch with relatively snappy performance despite what is today considered a low-power system-in-package design.
Along with raw processing power, Apple's S1 integrated chip design packs in a full communications array including Wi-Fi and Bluetooth technology, NFC hardware, accelerometer, audio package, touch controller, wireless induction controller and more.
When it first launched in 1991, Mac OS 7 ran on certain Macintosh Quadra series or then-current PowerBook models. By the time version 7.5.5 debuted in 1996, the operating system required a Power Macintosh 5500 to function effectively, which is decidedly less portable than Apple Watch.