Average selling price of smartphones in China jumps 37% thanks to popularity of Apple's iPhone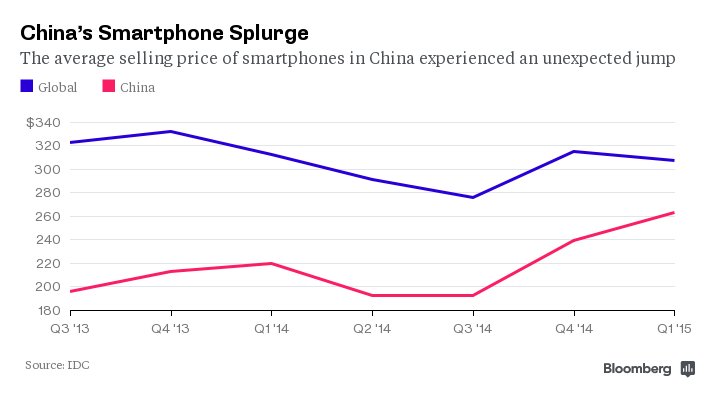 Following years of race-to-the-bottom pricing in China, the release of the iPhone 6 and iPhone 6 Plus — Â which introduced larger displays to Apple's lineup — Â prompted an apparent shift in consumer habits that has seen the average selling price of a smartphone jump by nearly 40 percent in the Asian nation.
Apple's latest handsets have topped Chinese sales charts in each quarter in which they've been available, analyst Ben Bajarin noted last week. This has led to a rise in the overall ASP, which has generally been dragged down by the wide availability and popularity of low-cost smartphones, many of which carry sub-$100 price tags.
In the third quarter of 2014, smartphone ASP in China came in at just $192, according to data gathered by IDC and cited by Bloomberg. That rose to $263 in the first quarter of 2015, a 37-percent leap.
The higher figure still lags the global average ASP of $297, but it's a significant increase in a country where local players still largely compete on price.
The achievement is even more impressive when viewed through the lens of overall market size, which contracted by 4 percent in the first quarter of this year. The first such contraction for the Chinese smartphone market in six years still saw Apple's sales jump by 62 percent year over year.
"Smartphones are becoming increasingly saturated in China," Kitty Fok, managing director at IDC China, said in May. "China is oftentimes thought of as an emerging market but the reality is that the vast majority of phones sold in China today are smartphones, similar to other mature markets like the U.S., U.K., Australia, and Japan. Just like these markets, convincing existing users as well as feature phone users to upgrade to new smartphones will now be the key to further growth in the China market."