Facebook completes first full-scale drone for spreading Internet access to remote regions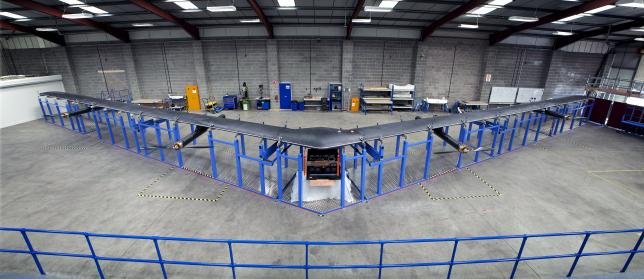 AppleInsider may earn an affiliate commission on purchases made through links on our site.
Facebook has finished construction of its first full-scale drone designed to provide Intenet access to remote regions of the planet, part of a larger program called Aquila.
The drone will be tested in skies above the U.S. later this year, Reuters reported. Though weighing just 880 pounds, the vehicle has a 46-yard wingspan, and will need helium balloons to lift it up into the air. Once aloft, it will cruise around a two-mile radius at altitudes between 60,000 and 90,000 feet, avoiding both weather and commercial air traffic.
It will soar to the higher altitude during the day, descending to 60,000 feet at night to save energy. Facebook said the craft should be able to stay airborne for 90 days at a time.
On the subject of U.S. testing, an engineering director at Facebook, Yael Maguire, said that while the company doesn't currently face any regulatory obstacles, it's collaborating with policymakers on guidelines.
For Facebook, Aquila will offer the indirect benefit of creating more Internet users, in theory exposing them to its services and advertising. Similarly, another ongoing Facebook program — Internet.org — has been bringing free Internet access to people in countries like India and Pakistan, but not without controversy.
Initially the program limited access to a relative handful of sties and services, including Facebook's. This raised concerns about net neutrality, and protests led the company to open up third-party access, albeit with restrictions like no HTTPS support, and a block on VoIP services. Internet providers can also choose to reject services entirely.