Contractors stage workers' rights protests at California Apple Stores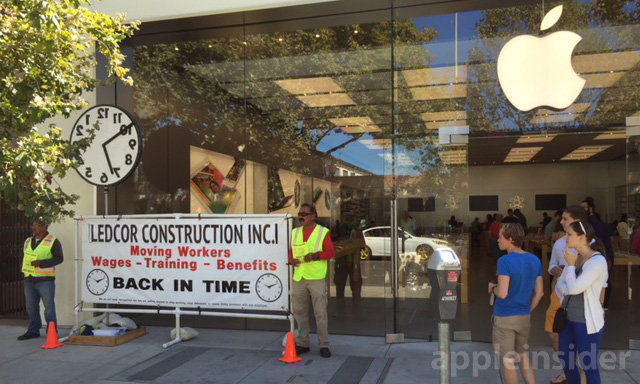 AppleInsider may earn an affiliate commission on purchases made through links on our site.
For the past couple of weeks, construction workers have been staging peaceful protests outside a number of Apple Store locations across California, arguing for better wages and working conditions from Apple and contractor Ledcor Group.
The apparent labor dispute has yet to gain the attention of local media, though visitors to Apple Stores in San Francisco, Berkeley, Palo Alto and beyond have for weeks been greeted by sign holders castigating both Apple and Ledcor for unfair wages and benefits.
Most demonstrations are low-key affairs with a couple signs accompanied by a handful of contractors, but others are more dramatic. A camp display at Apple's Palo Alto retail location features a scythe-wielding effigy of Death, for example. An oversized thumbs-down sign sits off to one side.
Demonstrators are not limiting their efforts to operational Apple Stores, as a cadre has been stationed outside the upcoming Union Square flagship in San Francisco since the end of July.
While the initiative appears to be well organized, worker demands are not clearly advertised on signs or flyers handed out at the scene and information is woefully scarce. According to one account posted to Twitter, laborers are handing out leaflets reading, "Apple Inc has failed to require Ledcor Construction Inc. [...] to pay carpenter area standard wage and benefits on all projects." The union or unions backing the effort are also unknown.
A Ledcor representative declined to comment. Apple did not immediately respond to requests for comment.
Apple is no stranger to public protest, especially when it comes to contracted labor. Just last year a group of more than 100 people, Rev. Jesse Jackson among them, stormed Apple's Cupertino campus to deliver a petition meant to spark wage reform for Silicon Valley contract workers. In 2012, Greenpeace climbed atop the company's European headquarters in Cork, Ireland to protest the use of coal to power iCloud data centers.