Apple rebranded existing Android app for 'Move to iOS' migration tool, report says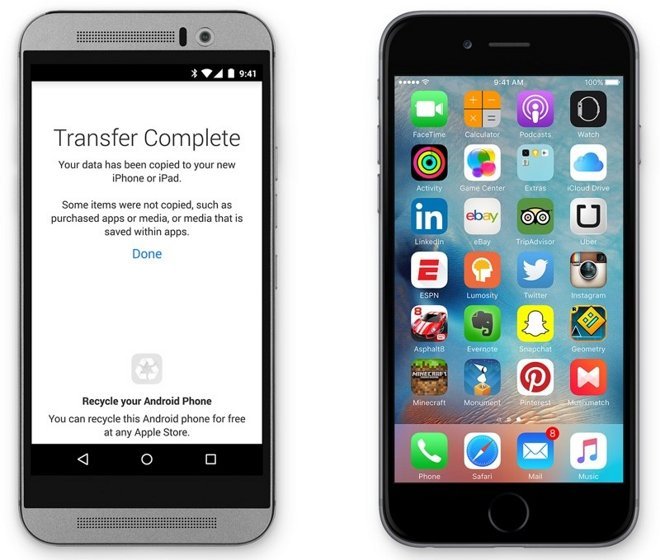 AppleInsider is supported by its audience and may earn commission as an Amazon Associate and affiliate partner on qualifying purchases. These affiliate partnerships do not influence our editorial content.
An inspection of code in Apple's "Move to iOS" migration tool for Android users, its first app for Google's mobile operating system, reveals the title might be a simple rebranding of software already on offer in the Google Play Store.
Following the launch of Move to iOS on Wednesday, Android-centric blog Phandroid downloaded and unpacked the app to discover what is basically a rebadged version of migration software developed by UK firm Media Mushroom.
Called Copy My Data, Media Mushroom's app can currently be found on the Google Play Store. The developer also fields a sister app in the iOS App Store called Device Switch, which reverses the migration procedure from iOS to Android. Move to iOS is a basic migration assistant that "securely transfers your contacts, message history, camera photos and videos, web bookmarks, mail accounts, and calendars," Apple says.
According to the publication, Move to iOS and Copy My Data share chunks of code. In many cases Apple left Media Mushroom's original com.mediamushroom.copymydata code strings intact and didn't change the Android package name from android:name="com.mediamushroom.copymydata". In essence, Apple gutted out the original's graphics, replaced it with Move to iOS art and tacked on licensing agreement text.
Apple most likely purchased usage rights from Media Mushroom, a service the UK developer advertises on its website, Phandroid notes. It seems, then, the title of "Apple's first Android app" will go to Apple Music when it launches later this year.
In light of the findings, and assuming Move to iOS is indeed a rebranded version of Copy My Data, Android users have yet to experience a true Apple app offering. Ironically, since its release Move to iOS has been the subject of intense ridicule on the Google Play Store, where it's received thousands of one-star reviews.