Apple releases new Apple Watch ads with focus on Wallet, accessories, third-party apps & more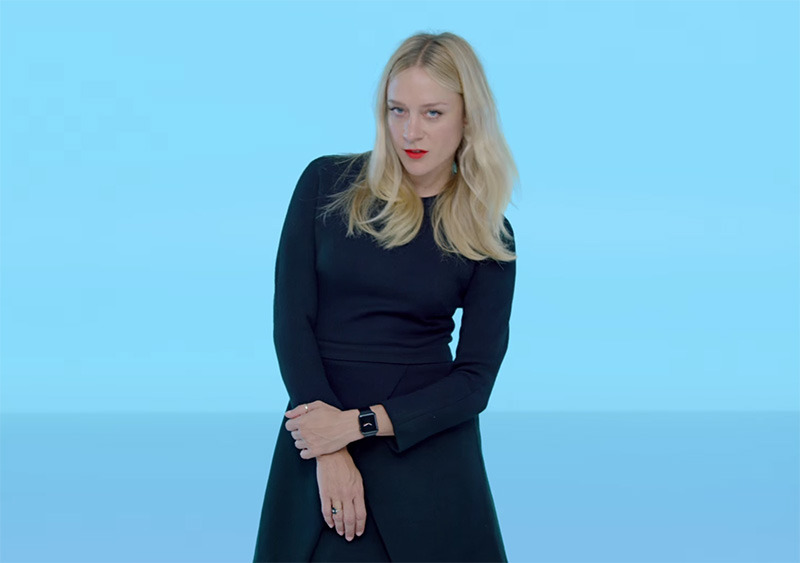 Apple on Wednesday published seven new short commercials touting Apple Watch software capabilities, first-party accessories and Siri, done up in the company's new aesthetic style.
Like the last bunch of Apple Watch ads, today's spots feature a bold, clean visual style reminiscent of classic television commercials.
The first 15-second spot, title "Move," illustrates Siri's natural language processing capabilities. Singer Leon Bridges asks Siri to "play some 80s music," and Apple Watch responds by playing the seminal INXS hit "Need You Tonight." Dancing ensues.
Apple's next ad, "Kiss," shows two love birds about to share a kiss before being interrupted by an Apple Watch alert for an arriving Uber. Luckily, the notification can be dismissed with a single tap (or swipe), leaving the couple some time to smooch.
Actress Chloe Sevigny makes an appearance in "Style," today's only ad focused on hardware. First seen lying on a pile of clothes, Sevigny tries on outfit after outfit, each time changing her Sport Band to match. The spot ends with the tagline "Mix it up."
Next up is "Play," which says Apple Watch so easy to use you can use one hand to place a $7,500 bid on eBay while tickling the ivory with the other.
Wallet, previously called Passbook, is the star of "Travel," an ad focusing on Apple Watch integration with ticketing and coupon apps, in this case from airline KLM. Apple Pay gets its own commercial touting the service's NFC-powered touch-to-pay capability.
Finally, Apple features the Apple Watch Move app, which helps users track and reach movement goals to maintain a healthy lifestyle.
Today's ads are the latest from Apple's campaign to get Apple Watch into the hands of more users. For example, the company recently expanded sales availability to New York electronics store B&H Photo.