The team behind Mac image editor Pixelmator plays David to Adobe's Goliath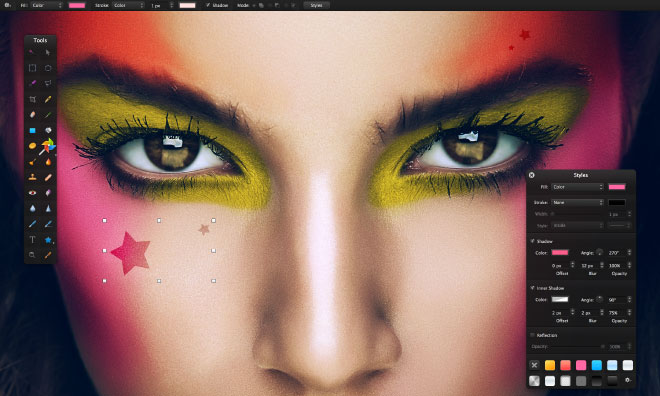 AppleInsider is supported by its audience and may earn commission as an Amazon Associate and affiliate partner on qualifying purchases. These affiliate partnerships do not influence our editorial content.
What began as a spark of inspiration between two brothers has grown into one of the most popular image editing applications in the world, and the team that brought it to life has done so from one of the software industry's least likely locations.
Pixelmator's newest version, Pixelmator 3.0 FX
A far-flung idea
It's difficult to find a way to work Vilnius, Lithuania and San Jose, California into the same sentence. One is the 14th century capital of a small Western European republic, while the other is some 400 years its junior and sits at the heart of California's Silicon Valley.
The connection becomes much easier to make when the topic of conversation shifts to image editing apps for the Mac. San Jose is home to software behemoth Adobe, makers of seminal graphics program Photoshop, while Vilnius houses the small band of developers responsible for upstart editor Pixelmator, whose slick interface, ease of use, and relatively low price have helped it nudge Photoshop out of the dock on hundreds of thousands of Macs.
Adobe has dominated desktop publishing since the 1980s.
Pixelmator was born in 2007 when brothers Saulius and Aidas Dailide went searching for an OS X-native image editor and came up empty handed. Already on the lookout for a new project, the duo — veteran Mac developers — decided they could fill the void.
The brothers wanted "to make an app that we could use ourselves and that we would love developing," Saulius Dailide told AppleInsider in an email interview.
"We loved the idea [of Pixelmator] from the beginning and knew that it was big and ambitious," he said, "so we instantly started working on it day and night. Literally." Pixelmator 1.0 made its debut 9 months later.
In the six years since its release, Pixelmator has evolved into what many believe is a legitimate contender to Photoshop's image editing crown, winning an Apple Design Award in 2011 and clocking 1 million downloads along the way. The team now numbers 18, and Dailide notes that achieving so much in such an unusual location was not without its challenges.
Do the work, sell the product
Unlike startups located in tech hubs like San Francisco, New York, London, or Berlin, the Pixelmator team does not have the luxury of a large local pool of ready-made development talent to draw from.
"[Because] the Pixelmator Team is a rather pioneering company in our region, we don't have many Mac developers around us," Dailide said. "This means that each new person will have to be taught, starting with the very basics."
"Perhaps this wouldn't be such a big problem in Silicon Valley," he concedes.
The Pixelmator team's offbeat location has proved challenging.
One thing the company doesn't have a problem with is distribution. Even as other independent developers complain about its fees, problems with discoverability, or the sometimes opaque review process, the Pixelmator team has fully embraced the Mac App Store. Dailide was effusive in his praise for Apple's efforts — �"We love the Mac App Store," he said. "It makes everything so much easier for app developers."
Before the Mac App Store's 2011 release, Pixelmator was sold via the team's own online shop as well as in boxed form at Apple retail stores and other brick-and-mortar outlets. The administrative overhead of the different sales channels strained the limited resources of the then-four person team.
Getting the software into Apple stores was "way too much effort," according to Dailide. The company also had to deal with sales and support from their online shop, taking even more time away from development.
"Since the Mac App Store came out, we don't have to worry about any of those things," he said. "I doubt we will ever look back."
Designed to be seen
The team's efforts appear to have caught the eye of someone in Cupertino. In addition to the Apple Design Award and a slot as Mac App of the Year on the Mac App Store, Pixelmator took the spot long occupied by Photoshop in the marketing materials for Apple's innovative new Mac Pro desktop.
Pixelmator's inclusion in the Mac Pro campaign — �which the team was not aware of before its release — drew a "very happy and surprised" reaction. Dailide believes the team's focus on engineering quality and their decision to target only the Mac is what ultimately led them there.
"The biggest driving force behind the development of Pixelmator is Pixelmator itself."
The company makes it a point to take advantage of Apple's latest software or hardware technologies and is often one of the first apps to be updated when new features are released. The app received a high DPI makeover just days after the Retina display-equipped MacBook Pros first hit store shelves, for instance, and has already adopted support for OS X Mavericks's OpenCL-backed Core Image.
Pixelmator has even been prepared for the new Mac Pro's dual GPU architecture, weeks before the next generation desktop is set to be released.
Dailide believes this focus is "what makes Pixelmator a true Mac app," in contrast to Adobe's cross-platform offerings. They are "probably are not as flexible...in being able to take advantage of all of these great technologies that Apple has to offer," he said.
On the subject of Pixelmator's future, Dailide was less forthcoming, but made it clear that the team has one simple goal — to make the best possible software. "We always look for better, smarter ways to develop new features and create a better user experience or better performance enhancements," he said.
"The whole team is on this mission."