ParkerVision files ITC complaint, patent lawsuit against Apple over RF technology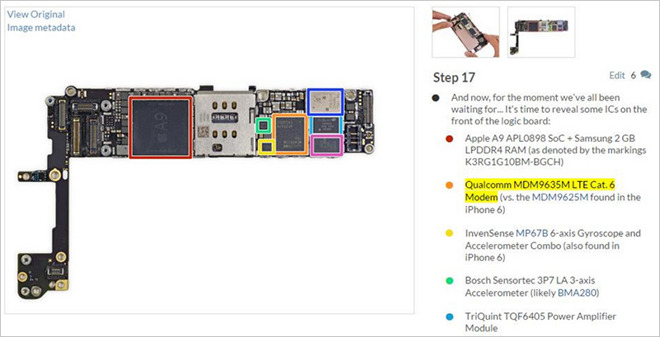 AppleInsider may earn an affiliate commission on purchases made through links on our site.
ParkerVision, an RF technologies research and development firm, this week filed a U.S. International Trade Commission complaint and accompanying lawsuit against Apple, Samsung, LG and Qualcomm for allegedly infringing upon certain wireless networking patents.
In both the ITC complaint and Florida District Court lawsuit, ParkerVision asserts wireless transceivers manufactured by Qualcomm and Samsung infringe upon four wireless networking patents. Apple, Samsung and LG all use an iteration of the alleged infringing Qualcomm chip in their mobile products, while Samsung faces further scrutiny for its in-house Shannon 928 RF silicon.
Specifically, ParkerVision is leveraging U.S. Patent Nos. 6,879,817, 7,929,638, 8,571,135 and 9,118,528, each dealing with radio frequency technology and its implementation in hardware solutions. The Florida-based firm is engaged in a separate lawsuit involving Qualcomm and Samsung over similar patents.
ParkerVision first locked horns with Qualcomm in 2011, but has little to show for its efforts. In 2013, a Florida jury found Qualcomm in infringement and awarded ParkerVision $173 million in damages, but the ruling was later overturned.
As for the most recent filings, the ITC complaint asks for an embargo on imports and sales of infringing products, while the lawsuit seeks as-yet-unspecified damages. For Apple, the list of named devices includes iPhone 6, iPhone 6s, iPad Air 2 and "many other products."
Founded in 1989, Florida-based ParkerVision is a publicly traded company specializing in wireless chip designs. While a handful of products are listed on its website, ParkerVision's main source of revenue has been and continues to be technology licensing, though that well is quickly running dry. To stay solvent, the company has turned to enforcing patents in court.
Things are looking bleak for ParkerVision, however, as a recent quarterly report showed only $5,500 in revenue on one service contract for the nine months ending in September. ParkerVision informed investors that cost reduction measures, layoffs, patent enforcement lawsuits, technology licenses and product sales will not cover operational expenses for 2015.