Samsung working to copy iPhone 6s Live Photos feature for next Galaxy S7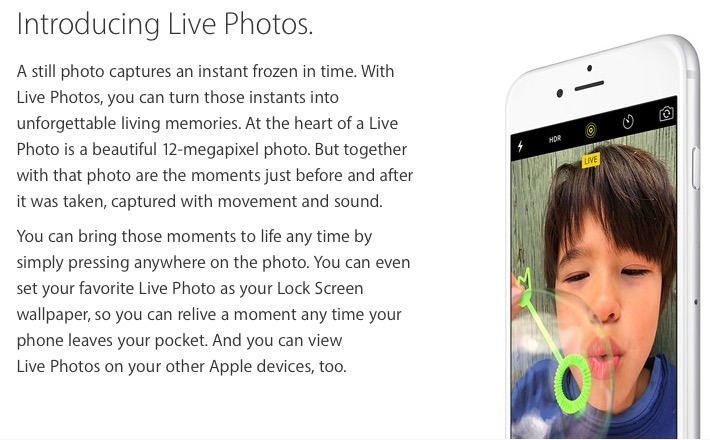 AppleInsider is supported by its audience and may earn commission as an Amazon Associate and affiliate partner on qualifying purchases. These affiliate partnerships do not influence our editorial content.
Samsung hopes to maintain its "lead by following" style of innovation for this year's Galaxy S7 launch by copying the Live Photos feature Apple developed for iPhone 6s, but the planned feature may not be done in time for the flagship's launch.
After consumers yawned at Samsung's wraparound "Edge" screen last year, the company released a Rose Gold lookalike finish just like Apple's, days before the launch of iPhone 6s.
Called "Vivid Photo," or alternatively "Timeless Photo," the feature copies the idea of Live Photos, but leaves out audio capture and outputs a GIF image that users can share. There are a variety of third party apps that already capture low quality animations as a GIF file (a format which doesn't support audio, but is widely supported in chatrooms and various sites on the web, requiring no new third party support).
Apple's Live Photos
Live Photos capture is a hardware feature unique to iPhone 6s and 6s Plus, supported by iOS 9. By default, it automatically records contextual motion & ambient sound when a full quality photo is taken. In the background, this video is paired to the still photo when it is saved in the user's Photos Library.
Once captured, Live Photos can be shared with other iOS 9 users via iMessage or iCloud Photo Sharing, or via an increasing number of social networks that are adding support the new format. That includes Tumbr, Facebook and Instagram. Because it is a new format, other platforms must take some minor efforts to support it.
iOS 9 and Apple Watch can both use Live Photos as Lock Screen wallpapers. Apple also has added Live Photos support for Messages on Macs in the latest beta of OS X 10.11.4.
Earlier iOS devices running iOS 9 can play Live Photos with a finger press; iPhone 6s models invoke the feature with 3D Touch. Sending Live Photos to a platform that doesn't support it converts the image into a standard still image.
Predecessors to Live Photos
Prior to releasing Live Photos, Apple supported Burst Capture, which rapidly takes a series of photos as long as the shutter is held. The problem with this approach is that it can result in hundreds of duplicative photos that the user has to decide whether to keep or throw away.
Apple enhanced Burst Capture to automatically select and recommend the best photos using face recognition and focus analysis. Other vendors also support some style of Burst Capture, which is largely based on the hardware capabilities of the camera sensor, not a novel implementation of image capture or presentation the way Live Photos is.
HTC earlier released smartphones with a "Zoe" capture mode, which allows users to take a snapshot, hold for a burst, or continue holding to capture video. Animated burst sequences or video clips can then be processed into a composite image (similar to double exposure) or edited to remove objects.
Zoe doesn't result in a photo that comes to life when touched like Live Photo. That didn't stop Android Geeks from claiming that "HTC's Zoe Capture was capable of doing the same thing long before Live Photos," and complaining that "this gimmick only became cool now because Apple has it on its phones."
3D Touch
Samsung is also reportedly working to deliver a pressure sensitive display with similarities to 3D Touch.
However, Apple stressed at the release of iPhone 6s that implementing 3D Touch feature was far more complex and difficult than simply adding pressure sensitive screen hardware.
iPhone 6s models sport bendable glass developed through a partnership with Corning, and use 96 sensors embedded in the LCD's backlight that register each flex as a function of distance. Accelerometers are used to cancel out the effects of gravity whether a person is walking or laying down. Small vibrations from Apple's Taptic Engine are used to confirm when a press is successful.