Rallies supporting Apple's stance on privacy see lukewarm response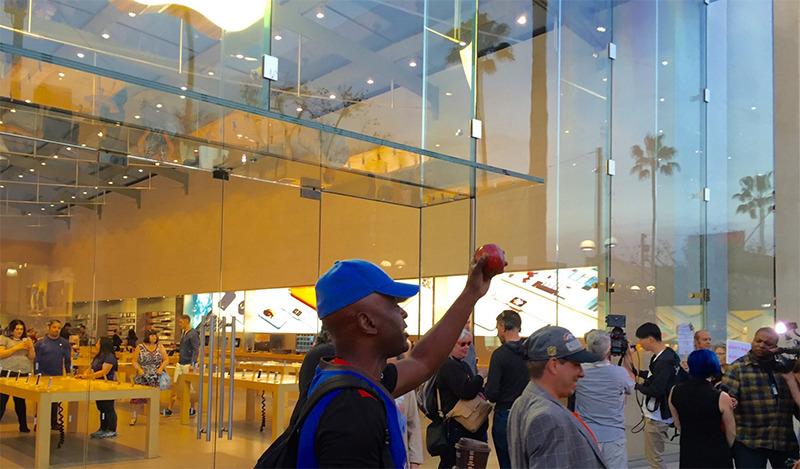 Internet rights advocacy group Fight for the Future staged a series of rallies in support of Apple's encryption fight on Tuesday, though the nationwide gatherings managed only to attract small groups of stalwart activists.
According to on-the-scene reports relayed through Twitter and other social media platforms, the rallies — planned outside of Apple Store locations in all 50 states, as well as some international locations — in some cases drew groups of about five to ten people, on the low end. About 8 supporters braved the rain outside of Apple's flagship New York store, for example.
As noted by USA Today, FFTF expected no more than 50 to 75 people per store. Last week saw a larger crowd at an identical rally held at Apple's San Francisco flagship, where protestors brandished iPhones bearing an Electronic Frontier Foundation sticker reading, "I do not consent to the search of this device."
Apple is embroiled in a court battle with the FBI over government requests for assistance in hacking into an iPhone connected to last year's San Bernardino massacre. As part of an ongoing investigation, the Justice Department wants to glean data off an iPhone 5c used by shooting suspect and San Bernardino Health Department worker Syed Rizwan Farook, who was assigned the device by his former employer. Attempts to crack the device's passcode have been unsuccessful.
Last week a federal judge ordered Apple comply with an FBI request to create a software workaround capable of bypassing the protected phone's passcode attempt counter. Apple is resisting that order.
For its part, Apple agreed to cooperate with FBI data retrieval efforts in January, subsequently helping agents procure iCloud backups associated with Farook's iPhone. Because the device is protected by iOS 9's end-to-end encryption, Apple says it's nearly impossible to hack, though the company did suggest a workaround involving iCloud and an iOS feature that automatically connects iPhones to known Wi-Fi networks. Unfortunately, the San Bernardino Health Department reset Farook's Apple ID on request of the FBI, rendering that particular option invalid.
Forcing Apple to create a proof-of-concept hack not only weakens iOS security, but sets a dangerous precedent that could result in calls for institutionalized software backdoors by less savory international governments, the company argues. On the other hand, the FBI contends Farook's iPhone 5c may contain data vital to national security, adding that Apple's workaround will only be applied to the investigation at hand. Those claims are in question, however, as a court filing on Tuesday revealed the federal government asserted the All Writs Act of 1789 — the same law cited to break into Farook's handset — to compel Apple's assistance in decrypting at least nine iPhones unrelated to the San Bernardino case.