Review: Garmin's Fenix 3 HR is an iOS-connected smartwatch for fitness fanatics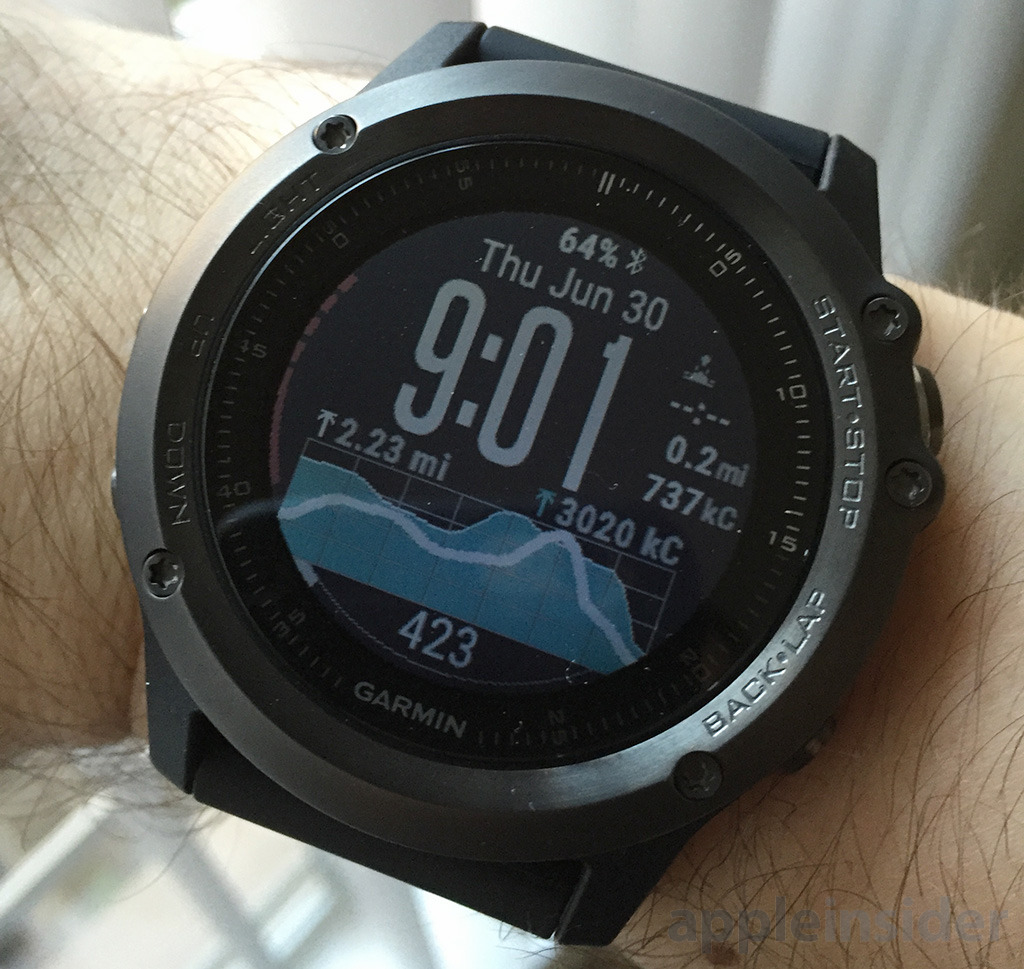 AppleInsider is supported by its audience and may earn commission as an Amazon Associate and affiliate partner on qualifying purchases. These affiliate partnerships do not influence our editorial content.
Garmin's highest-end smartwatch in some ways sets a gold standard for fitness trackers, but for the layman, it can be simultaneously overwhelming and lacking in creature comforts.
Let's be clear about one thing up front: Unless you're a serious athlete or fitness enthusiast, you are probably not the Fenix 3 HR's target audience. To get the most out of the watch, you not only have to be interested in sports or exercise, but diehard enough that factors like heartrate zones, VO2 max, and muscle recovery times matter to you. If all you're interested in is steps and sleep tracking, there are cheaper options that may be just as good if not better.
Likewise, there's not much reason to get an HR if your focus is strength training. There is a "Strength" workout mode you can add and select, but this mostly provides duration and heartrate data to use later, so you might as well get any tracker with a decent app and a heartrate sensor.
Just about everything else is covered, though. There are modes for numerous outdoor and indoor activities, including not just basics like running, walking, and cycling, but some you almost never encounter on a fitness tracker: climbing, skiing, golf, triathlons, and even stand-up paddleboarding. Swimming is another on the list, meaning that yes, the HR is sufficiently waterproof that you can swim a few laps or wear it in the shower.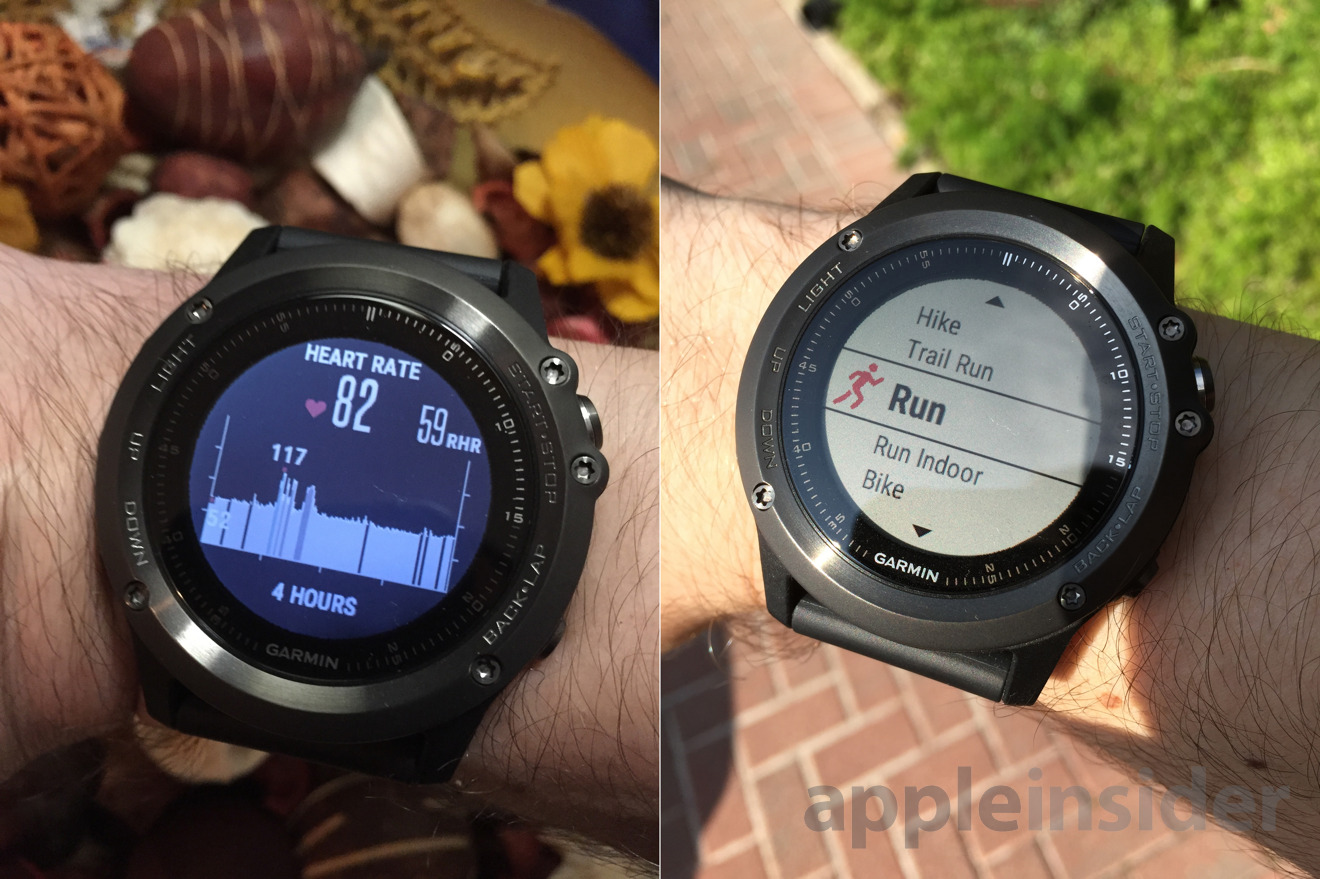 One of the device's signature features is support for both GPS and GLONASS location tracking, which can be used to map runs or simply navigate back somewhere — following the route you came, to boot. The HR seems pretty handy in navigating the wilds in general, since it has an altimeter, barometer, and compass, plus an onboard app letting you check weather forecasts from a paired smartphone.
It's also one of the toughest smartwatches you'll find. On top of being waterproof it's constructed from rigid metal and plastic, and uses a sapphire dome to protect its display. Even the bundled strap seems like it's nigh-on indestructible, to the point that we found it a little too stiff sometimes.
Battery life is another point in the watch's direction. Garmin claims that it can last up to two weeks when operating as just a regular smartwatch, which blows most of its (rechargeable) rivals out of the water, especially something like the Apple Watch. We found that the HR lasted about a week even with auto-backlight, phone notifications, and constant heartrate monitoring on, and four workouts lasting roughly 45 to 6o minutes apiece.
We did however make relatively minimal use of GPS, which according to Garmin can shrink battery life down to 16 hours. Still — you could conceivably run two marathons in as many days and have power left over.
As if all this wasn't impressive enough, there are many more built-in settings and apps we don't have the time to delve into. You can download extra apps and watchfaces from the Connect IQ store, and of course the watch benefits greatly from Garmin's comprehensive and well-organized Connect iOS app. Hooks for HealthKit, Strava, and MyFitnessPal allow data sharing, which is nice even if more running apps should be supported.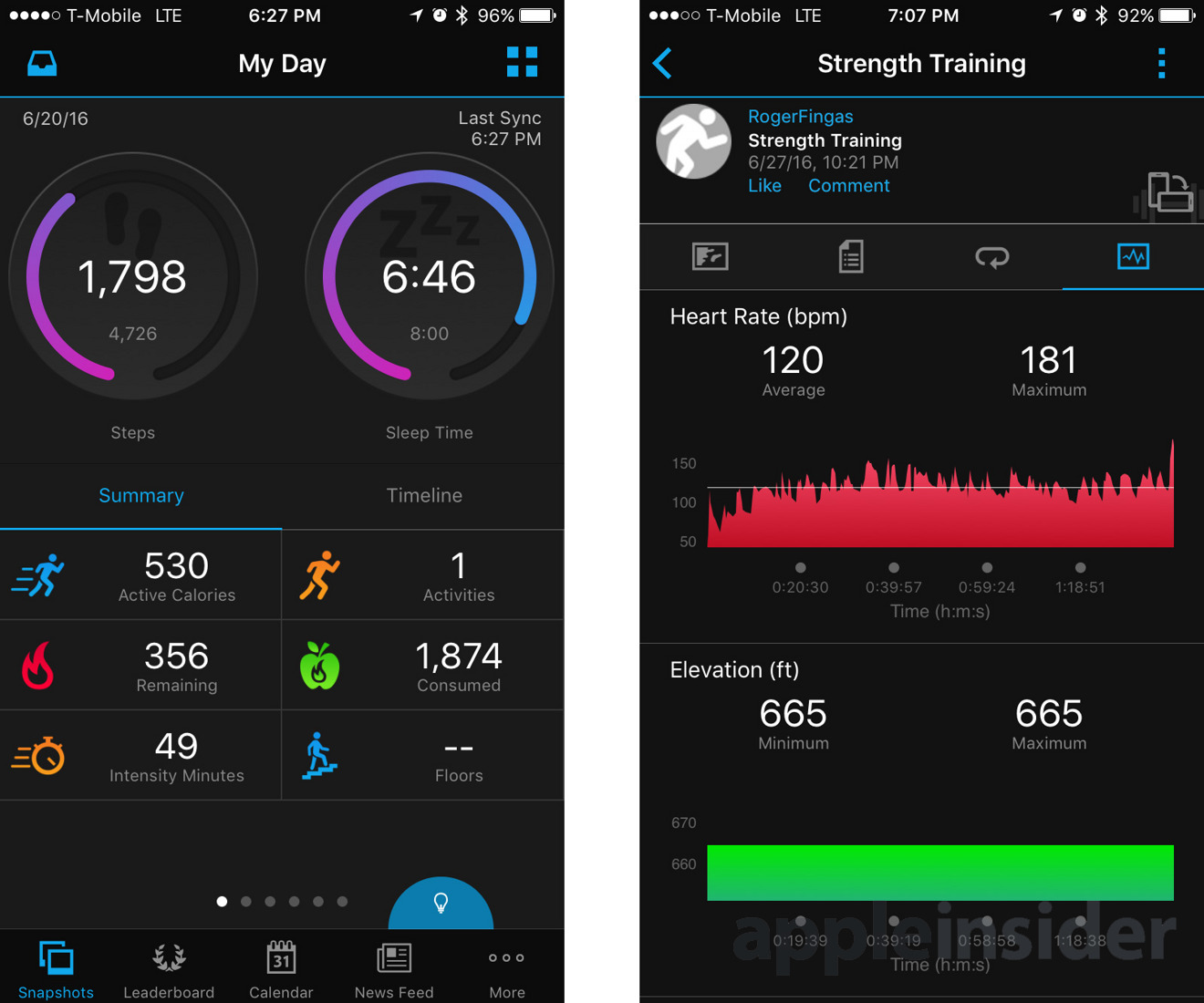 If there's a major drawback to the HR — apart from its hefty $600 pricetag — it's that the on-device interface often leaves a lot to be desired.
There's no touchscreen to speak of, for instance. There are advantages to this, such as more onscreen space for information, and not having to look down to control it. Using conventional watch buttons all the time feels backwards in 2016 though, especially since Garmin's layout requires alternating grips as you navigate through menus.
Speaking of which, the HR's processor seems underpowered. There's a slight but noticeable lag when scrolling through apps and menus, and sometimes within apps themselves. That's a shame, since Garmin's sensors can feel more responsive than the device they're recording to. About the only way you could get better heartrate tracking is with a chest strap.
Your experiences may vary, but we also found the setup process long and cumbersome. It took us nearly two hours to get the watch customized the way we wanted, in part because it's not always obvious which menu a given setting will be under. Even then, it took us a couple of days to sort out things like a date glitch we hope is unlikely to repeat for most people.
Incidentally — toggling the backlight to turn on when you raise your wrist is practically mandatory, since while the display is always on, it's often only legible under sources like direct sunlight.
Conclusions
Because of those interface concerns, and early obstacles, we weren't initially thrilled by the HR. Slowly though, it won us over — it became obvious how tough and capable the watch is. There are very few barriers for anyone who's committed to fitness.
Of course, the immediate question becomes whether your commitment is worth $600. If you do intense activities several times a week, especially outdoors, the answer could easily be yes. If your routine involves weightlifting or light cardio, the HR is probably overkill. You might be better off with a Fitbit Blaze, or an Apple Watch if fitness is a secondary concern.
Score: 4 out of 5
Handles wide range of activities with GPS, GLONASS & heartrate tracking
Waterproof & highly durable
Fantastic battery life
Useful phone app, downloadable watch customizations
Hooks for HealthKit, Strava, MyFitnessPal
No touchscreen, somewhat awkward button controls
Interface lag
Can be difficult to configure
Low visibility without sunlight or backlight
Needlessly expensive for weightlifting or casual fitness
Where to buy: