Instagram to take advantage of iPhone 7 Plus cameras, wide color gamut display in app update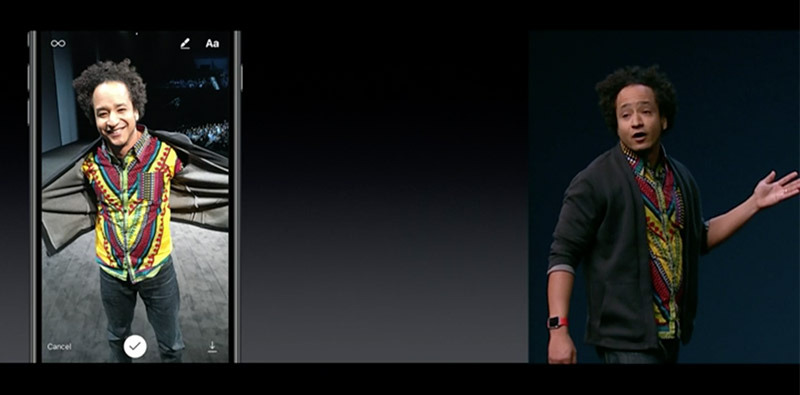 Popular photo sharing app Instagram is developing an app update specifically designed to take advantage of Apple's upcoming iPhone 7 and 7 Plus, the latter of which boasts two cameras for wide angle and telephoto photography.
Demonstrated onstage at Apple's special event on Wednesday by Instagram's head of design Ian Spalter, the forthcoming app version taps into iPhone 7's unique mix of top-notch image capture capabilities, Taptic Engine feedback, multitouch UI and iOS 10 software.
In his demo, Spalter jumped into Instagram's new Stories feature, an ephemeral video sharing tool modeled after Snapchat, by performing a 3D Touch operation on the Instagram app icon on iPhone 7's home screen.
For iPhone 7 Plus, the app's stripped-down UI incorporates a one-finger zoom gesture with haptic feedback, which causes the phone to vibrate when moving past 2X optical zoom and into digital zoom territory. The integration is convenient for detecting the optical/digital threshold on-the-fly.
Spalter also showed off a new feature that uses the iOS Live Photos API to create a Boomerang — an animated GIF that runs forward, then backward on repeat — at the touch of a button. The app appears to cache video data, offering user the option of transforming a still snap into a Boomerang after the fact. Existing Live Photos can be imported for the same treatment.
Instagram is also updating its entire library of photo filters to support iPhone 7's wide color gamut screen.
When the updated Instagram version launches later this year, it will be the first of what is likely to be many apps to take advantage of Apple's new smartphone hardware. Along with upgraded cameras and a more colorful display, iPhone 7 and 7 Plus feature an A10 Fusion processor, dual speakers, a solid state home button, deleted 3.5mm headphone jack, two new finishes and more.
Preorders for the device start on Friday, Sept. 9, ahead of shipments a week later.