Apple CEO Tim Cook to headline Sen. Orrin Hatch's Utah Tech Tour on Friday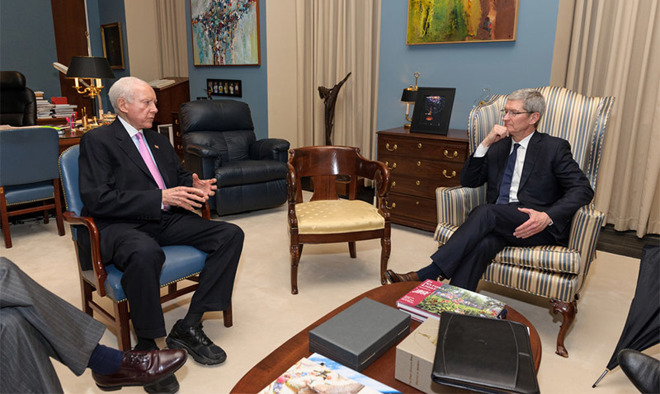 AppleInsider may earn an affiliate commission on purchases made through links on our site.
Apple CEO Tim Cook is slated to sit down with U.S. Sen. Orrin Hatch this Friday in a Q&A session that will cap off the senator's Utah Tech Tour, an event created to shine a light on the state's technology community.
According to a press release on Wednesday, Cook will take the dais following comments from a lineup of Utah's top tech leaders. The Apple chief will offer a short address before fielding questions from Hatch and members of the public, including those submitted via an online form.
Topics of discussion have not been announced, though the issue of national security versus personal privacy is likely to be broached considering Apple's recent dustup with the U.S. Department of Defense and the FBI. Earlier this year, Apple refused to obey a court order requesting the company unlock an iPhone tied to San Bernardino shooter Syed Rizwan Farook, saying such actions would endanger millions of iOS devices worldwide.
Serving as the Chairman of the Senate Republican High-Tech Task Force, Hatch is keenly aware of Apple's position on the encryption debate. Notably, Hatch in April invited members of the Senate to a special Q&A session with Ted Olson, a prominent lawyer whom Apple hired to head its legal team during the San Bernardino litigation.
Like most recent public appearances, Cook is also expected to tout Apple's latest products and services.
The Utah Tech Tour is scheduled to take place from 5:30 p.m. to 7 p.m. MDT on Friday, Sept. 30, at the Grand America in Salt lake City. The public is invited to attend, though tickets are required and seating is limited. Those interested can register for tickets through the Utah Tech Tour website.