Apple opens 'Orchard' project to groom marketing talent [u]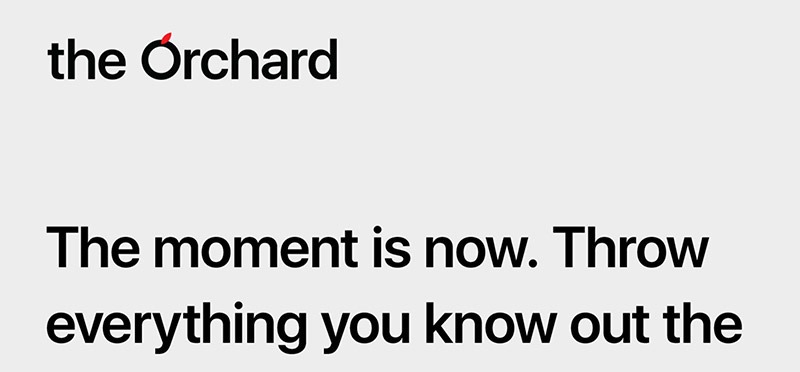 Apple this week quietly announced "the Orchard," a new internal project that seeks to pair up-and-coming creative minds with leaders in Apple's Marketing Communications (Marcom) team, grooming them for a potential job at the company.
Though the Orchard is clearly aimed at outsiders, Apple has decided not to widely publicize the project beyond a dedicated teaser webpage and entries to the Jobs at Apple site. Employees have been talking up the initiative, however, as evidenced by tweets spotted by MacRumors on Wednesday.
The program is highly exclusive, as a group of only ten participants — four art directors, four copywriters, and two strategic planners — will be accepted to take part in what looks to be a six-month paid mentorship program. According to Apple, the Orchard's "mission" is to gather talented creatives to "learn and grow" by interacting with Marcom division professionals.
Program participants will have a chance to collaborate with Apple creatives, producers, and planners on projects that in communicate Apple products and the Apple brand to consumers, one job description reads. Mediums include interactive media, film, design, retail and more.
A single block of text, embedded as an image on the Orchard's webpage, reads:
The moment is now. Throw everything you know out the window. All in. Head first. Join the Orchard. If you're lucky enough to make the cut, expect to surround yourself with like-minded souls who are as terrified and excited as you are. Be part of a hand-picked team with a plethora of talent. Kick ass together. Panic together. Grow together. Work alongside the brains of all the iconic work you love from Apple. Watch and learn. Trust your gut. Challenge our ways. Have an impact on everything you touch. Be prepared to stumble and fumble and embarrass yourself. It will be messy, and it won't be pretty at times, but if you stick together as a team, you'll build a special bond and something truly great will come out of it all. Take it from us. It's the only way. Does this whole proposal sound crazy to you? Good. We like crazy.
The text ends with an "Apply" link that leads to Apple's corporate Jobs at Apple webpage.
The bar for entry for for potential candidates is set fairly low. Apple seeks applicants with zero to three years of experience or education in the creative communications discipline, though a bachelor's degree in advertising, design, or marketing is preferred. The company is clearly looking for students fresh out of college, or professionals just starting out in their respective fields.
Applications are being accepted now through Nov. 4, 2016, at which time a selection committee is scheduled to choose a clutch of potential candidates. After a FaceTime screening process, finalists will be flown out to Apple's Cupertino, Calif., headquarters in early December to take part in an in-person interview process. The first ten Orchard participants will work at Apple from Jan. 16 through Aug. 25, 2017, and are due to receive a "competitive" base salary and relocation package.
Update: Apple has since pulled the Orchard webpage from its website, though the Jobs at Apple listings remain active.