Apple's senior arborist reveals Steve Jobs wanted Apple Park to recreate old Silicon Valley landscape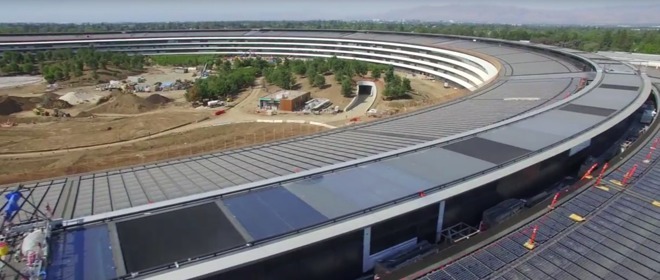 AppleInsider is supported by its audience and may earn commission as an Amazon Associate and affiliate partner on qualifying purchases. These affiliate partnerships do not influence our editorial content.
As the external completion of Apple Park draws nearer, an interview with Apple senior arborist David Muffly reveals how he became the man in charge of planting the 9,000 trees and other shrubbery around the new Cupertino campus, and founder Steve Jobs' plan to recreate the local landscape before it became the modern-day Silicon Valley.
Muffly first met Steve Jobs in 2010, reports Backchannel, with the two said to have shared a love for trees and "foliage native to the pre-Silicon Valley landscape," supposedly discovered within 20 minutes of meeting each other.
Both men are said to have experienced a few similar encounters in their lifetimes, including an interest in technology and engineering, with Muffly earning a degree in mechanical engineering from Stanford. The two also stayed in a "countercultural living situation centered around trees," albeit with Muffly staying within a "hippie commune" for years, far longer than Jobs' stay at the All One Farm in Oregon.
The arborist was initially summoned to his first meeting with Jobs via a cold call, during a job pruning lemon trees in Menlo Park, with the caller advising Jobs was looking for a new addition to his campus team. Muffly's work tending to hundreds of native oaks on hills in Stanford's campus was admired by Jobs, leading him to send headhunters to find the man responsible.
Jobs told Muffly during that initial meeting he wanted to recreate the area the campus was located within, before Silicon Valley boomed. Described as an ecological preservation project, Muffly understood the task would involve a significant number of fruit and oak trees, but it wasn't until months later when he was shown the model of Apple Park by Jobs in a conference room that the scale of the project was huge.
"I was like, whoa, this is crazy," Muffly said, about the moment he was shown the large green space he was asked to fill, in and around the circular main building. "I'm looking at it and my brain is like, it's the mothership!"
During the project itself, as part of a larger landscaping design by architecture firm The Olin Studio, Muffly had to come up with the list of plant and tree species, as well as individual selections, keeping Jobs' vision in mind.
"He had a better sense than most arborists. He could tell visually which ones looked like they had good structure," said Muffly about Jobs. In one example, Muffly describes how Jobs chose between two similar trees, with Jobs selecting the one Muffly preferred to use over one that was more common to the area.
Muffly also convinced Jobs the use of other species that could thrive in climate change-triggered droughts. He used an investment example as reasoning that the use of native trees as an ecosystem backbone then diversifying into other types was the way to go, telling Jobs "You have to diversify your portfolio if you don't know what's coming down the pike."
For the final stages of the landscaping project, Muffly will have installed around 9,000 trees around the campus. This also includes a large number of fruit trees that will be farmed for the campus cafeteria, as well as providing varying blooms throughout the year.
As well as abiding by Jobs' request for apricots, a sequentially ripening orchard was designed by Muffly, who estimates that it may provide 20 percent of the campus' fruit supply. Alongside apricots will be plums, persimmons, and 17 varieties of apples and cherries, with 37 varieties of fruit grown on site.