Amazon working on mobile messaging service to rival Apple Messages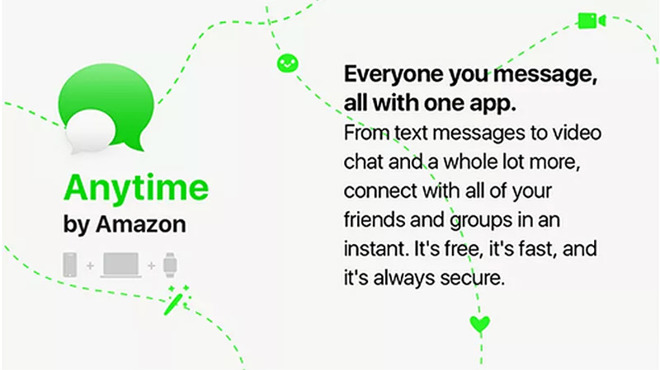 AppleInsider may earn an affiliate commission on purchases made through links on our site.
Amazon last week began querying customers over potential features they would like to see included in a new mobile messaging platform called "Anytime," which according to reports boasts text and video chat, voice calling, group tasks and social networking functionality.
Surveys seen by existing customers include slides explaining the service and seem to suggest Anytime is close to launch, reports AFTVNews. Like other standalone messaging platforms, Amazon's foray is expected to make a debut on both iOS and Android.
From images seen by the blog, Anytime appears to be an all-in-one messaging solution that incorporates social networking elements. For example, encrypted text, video and voice chats are accompanied by public photo and video sharing features with "@" mentions, filters and special effects, all staples of services like Instagram and Twitter.
Anytime will also fold in group features like playing games, listening to music, ordering food and sharing location data, the report said. Being an Amazon product, the platform is intrinsically tied to commerce and is expected to facilitate communication with businesses, place reservations at restaurants and order items through Amazon's internet shopping portal.
How Amazon expects to integrate contacts is unknown, though an informational slide says users can get in touch with other people "just using their name." Phone numbers are apparently not required, suggesting Amazon will have users sign up for the service using email credentials or piggyback on to existing social networks and messaging apps.
Amazon might be building off its Chime video conferencing service, a cross-platform product that launched earlier this year for enterprise users. Alternatively, Anytime could borrow from Alexa's recently released messaging and calling features.
The features tipped by Amazon's survey line up closely with new functionality coming to iPhone and iPad with iOS 11. Apple is adding a slew of new assets with the upcoming operating system including photo filters and special effects powered by advanced computer vision technology, social music sharing via Apple Music, iCloud syncing for Messages, one-to-one Apple Pay payments and much more.