Google Chrome browser update delivers support for MacBook Pro Touch Bar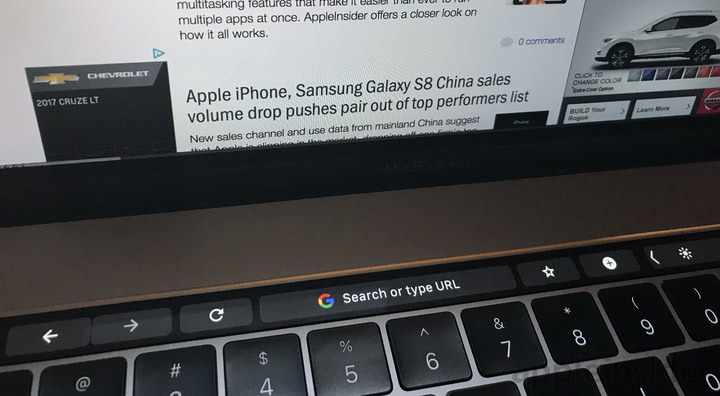 Google on Tuesday released a new version of its Chrome web browser for Mac with support for Apple's latest MacBook Pro with Touch Bar hardware, bringing a few crucial control options to the laptop's OLED strip.
The latest Chrome iteration, version 60, delivers an experience similar to Apple's own Safari, previously one the only major web browser to feature Touch Bar assets.
With Chrome, users have fingertip access to page back and forward, refresh, favorites and add new tab controls. Tapping a large central text box sporting the Google logo allows for quick input of search terms and web addresses.
Chrome's Touch Bar assets basically mirror the app's onscreen search bar, save for a dedicated home button and access to extensions.
Google initially previewed Touch Bar integration in February with the release of Chrome Canary version 58.0.3020.0.
As AppleInsider noted at the time, Google's Chrome Canary implementation, which remains largely unchanged in Chrome 60, is barebones compared to Safari. Apple's first-party browser integration supports small icons for favorite webpages, built-in media scrubbing tools and other customizable controls.
Apple launched the MacBook Pro with Touch Bar last November, promising quick and easy access to in-app tools. Though the company has built Touch Bar support into its first-party titles, many third-party developers have yet to take advantage of the keyboard-mounted OLED strip.
Alongside Touch Bar support, Chrome version 60 brings with it a number of bug fixes and patches for 40 security vulnerabilities. The app can be downloaded for free from Google's website.