Code suggests 'iPhone 8' virtual home button area resizable, can be hidden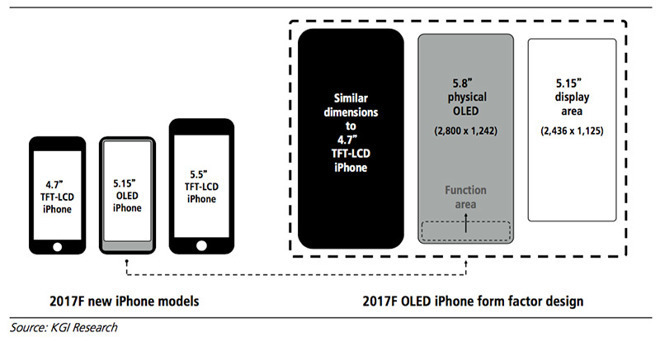 A deep dive into recently released HomePod firmware reveals a few bits of information regarding the operation of Apple's "iPhone 8" virtual home button, specifically in relation to app and user interactions.
Developer Steven Troughton Smith on Wednesday took to Twitter to discuss how Apple's iOS will likely handle "iPhone 8" screen real estate dedicated to a digital home button user interface. In essence, the "home button area" can be thought of as periphery UI that expands or minimizes, and shows or hides a home button indicator as needed, he said.
Further, tab bars will extend under the home button UI, while the API contains no options to change asset colors. The latter detail suggests Apple intends to use a high-contrast home button indicator that works with a variety of backgrounds, Troughton Smith posits.
Full screen video minimizes the home button area, presumably in a dynamic fashion similar to hiding content controls in a video player. Certain assets in iOS already operate in such a manner. For example, the bottom toolbar in Safari automatically collapses and reappears when performing a scroll gestures.
It remains to be seen how video will be rendered in full screen on the rumored OLED display. Code uncovered last month point to a working screen resolution of 2,436-by-1,125 pixels, which matches up with predicted hardware specifications from analyst Ming-Chi Kuo.
In a note to investors in February, Kuo said to expect a 5.8-inch, 2,800-by-1,242 pixel display without home button, 5.1 inches of which would be usable by apps. If the function area minimizes, as Troughton Smith claims, fullscreen video would be rendered at an unusually wide — or tall — aspect ratio.
The developer goes on to note there is no evidence that Apple will move other UI elements like toolbars into the function area. It was previously speculated that "iPhone 8" would offload certain buttons to the semi-persistent space to streamline user interaction or save space.
Apple's inadvertent distribution of HomePod firmware last month has yielded the best look yet at the company's forthcoming flagship handset. Previous discoveries include an illustration of the handset revealing a bezel-less design with with sensor notch, support for 4K video capture at 60fps, new machine learning-powered camera features and more.
Earlier today, developers unearthed evidence suggesting "iPhone 8" will use facial recognition hardware to authenticate payments, a major step away from Touch ID fingerprint technology.