Videos in iOS 11 beta show alternate Control Center, app switcher gestures on iPhone without Touch ID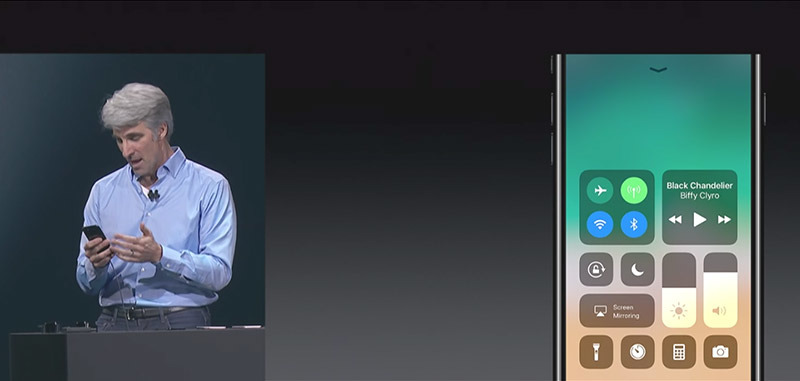 A pair of tutorial videos found in Apple's latest iOS 11 beta release depict what appears to be an alternate Control Center interface and app switcher swipe gestures never before previewed.
Discovered by developer Guilherme Rambo, the two short clips feature what looks to be an iPhone 7 series device, or a model aesthetically similar to the handset, running iOS 11.
Seen below, the first video runs through Apple's iOS 11 lock screen user interface. As noted at the Worldwide Developers Conference in June, users can access iPhone's lock screen from anywhere in the operating system by swiping down from the top of the screen.
Notifications can be viewed from the lock screen, while swiping left brings up app widgets, as is available in iOS 10. This behavior is shown off in the clip discovered today.
Interestingly, the video demonstrates Control Center access by swiping right, an action that activates the camera in current versions of iOS 11 beta.
A second, much shorter, clip shows a quick swipe up from the bottom of the screen activates the iOS app switcher. This diverges from current iPhone functionality in which the feature is accessed either through a double tap of the home button or by pressing down on the left edge of the screen and swiping right.
While no expository text is included, it can be surmised that Apple applied the same 3D Touch app switcher gesture to the bottom of iPhone's display, at least for the video. Further deviating from current iOS 11 behavior, Control Center pops up as the top app switcher pane instead of the usual home screen view. While mere speculation, the second explainer could offer a first glimpse at Apple's app switching solution for "iPhone 8."
Perhaps most intriguing is the iPhone used to create the video tutorials. Notably, the unit appears to lack a Touch ID home button, suggesting preproduction hardware. Alternatively, the smartphone could be a placeholder for the as-yet-unreleased "iPhone 8," which is expected to debut sans home button.