Apple CEO Tim Cook says tech, business has 'moral responsibility' to contribute to society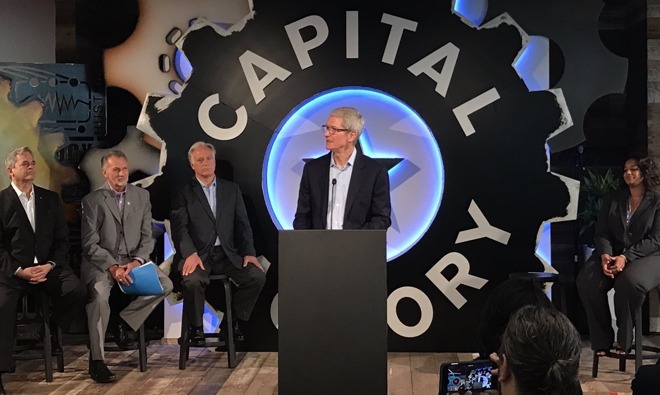 AppleInsider may earn an affiliate commission on purchases made through links on our site.
During his trip to Austin, Tex., to announce a planned expansion to Apple's Swift curriculum, company CEO Tim Cook sat down with The New York Times to discuss how he, and other American business leaders, have been prompted to take positions on contentious social issues in light of a "less functional" government.
In his short interview, Cook alluded to a vacuum left by political discord at the highest levels of government.
"The reality is that government, for a long period of time, has for whatever set of reasons become less functional and isn't working at the speed that it once was," Cook said. "And so it does fall, I think, not just on business but on all other areas of society to step up."
Cook said he did not seek to be an advocate on issues like climate change, education and job creation, but feels he has been "thrust into the role." Other high-profile business leaders have been similarly active — and politically divisive — stances on hot-button topics. As CEO of the world's most valuable company, however, Cook's statements often make headlines.
The exposure, and a general willingness by the media to lend an ear, allows Cook to leverage his platform to great effect. For some, business and politics go hand in hand, but others believe the executive's outspoken commentary is a hinderance.
"I think we have a moral responsibility to help grow the economy, to help grow jobs, to contribute to this country and to contribute to the other countries that we do business in," he said, adding, "I think there's still probably a more significant group that feels my sole responsibility is to Wall Street."
The latter contingent has so far been ineffective at persuading Cook to stand down on clearly controversial issues. In July, Cook took to Twitter to decry President Donald Trump's ban on transgender soldiers, saying, "Discrimination against anyone holds everyone back."
Citing Martin Luther King, Jr. as one of his personal heroes, Cook routinely comments on human rights issues impacting the U.S. and abroad. Most recently, the executive penned a letter to employees addressing public demonstrations in Charlottesville, Va., that turned violent earlier this month. Cook pulled no punches in the memo, slamming Trump's response to the unrest that resulted in the death of one protestor.
"This is not about the left or the right, conservative or liberal. It is about human decency and morality," Cook writes. "I disagree with the president and others who believe that there is a moral equivalence between white supremacists and Nazis, and those who oppose them by standing up for human rights. Equating the two runs counter to our ideals as Americans."
Cook took the interview as an opportunity to promote an expansion of the "App Development with Swift" curriculum, a community college program that teaches students Apple's coding language.
The impetus behind taking the initiative beyond its original six schools is diversity and job creation, Cook said.
"You want it to increase the diversity of people that are in there, both racial diversity, gender diversity, but also geographic diversity," Cook said. "Right now, the benefits of tech are too lopsided to certain states."
Cook said skills learned in the course are "significantly transferable" to other programming languages.
"We know that people making a mobile app, many of them are going to make iOS apps and Android apps. And I wish they wouldn't, but they're probably going to," he said, adding, "It's not like I'm trying to make money on it. It's a gift."
Of course, Apple stands to benefit from App Store sales and in-app revenue, of which the company takes a 30 percent cut.
Finally, Cook shrugged off a question as to whether his public comments and strong views on social issues foreshadow a run for political office, perhaps even the presidency.
"I have a full-time job," Cook said. "I appreciate the compliment, if it is a compliment."
Editor's note: Due to its political nature, comments for this article have been disabled.