Watch: Apple goes all-in on augmented reality
By AppleInsider Staff
Saturday, September 16, 2017, 05:12 pm PT (08:12 pm ET)
Apple is going all-in on augmented reality with iPhone X, iPhone 8 and iOS 11. From hardware acceleration on the A11 Bionic chip to ARKit in iOS 11, check out all the new AR features consumers coming to Apple's product line starting Sept. 22.



For reviews, news, tips, features and more, subscribe to AppleInsider on YouTube.



Unbeatable Deals from AppleInsider & Apple's Top Authorized Resellers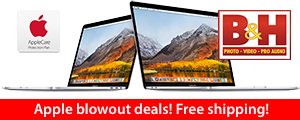 Lowest Prices Anywhere!