Hilton to roll out 'Connected Rooms' controlled by mobile devices in 2018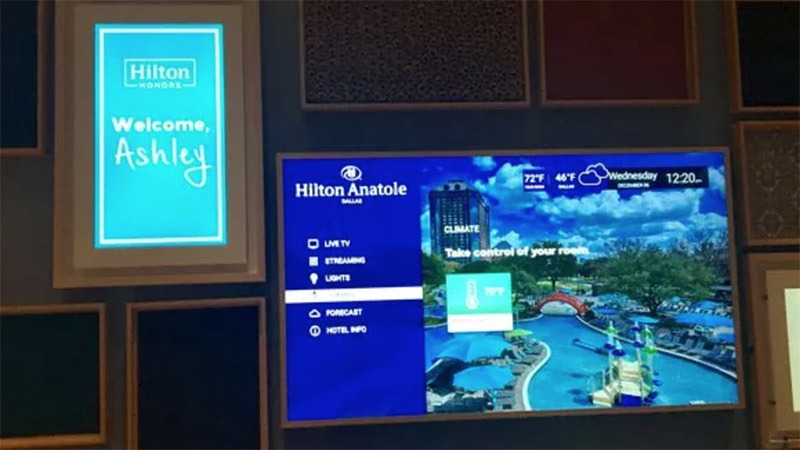 Hilton on Thursday announced plans for what it calls the "Connected Room," an initiative that will allow hotel guests to manage and control a range of internet-connected devices from their smartphone.
Already in beta testing at one property, Connected Room is essentially a hotel room outfitted with smart home appliances. Customers staying at hotels supporting the technology will be able to control thermostat settings, lighting fixtures, TV sets and window coverings directly from the Hilton Honors app.
Beyond basic smart home device control, Connected Room allows guests to connect to streaming media accounts on their room's television.
Once the system rolls out, Hilton is looking to add new features like voice control and the ability to upload photos or artwork to display on in-room screens. Guests will be able to customize their hotel experience by setting individual preferences in a connected Hilton Honors profile.
"Innovation has been in Hilton's DNA since entrepreneur Conrad Hilton purchased the first Hilton property and pioneered the hospitality industry nearly 100 years ago," said Christopher J. Nassetta, president and CEO at Hilton. "Many innovations later, we are once again setting a new standard for the industry by giving our guests a travel experience where the room knows them, and they know their room."
The platform will also serve as a backend for software updates that introduce new features to end users. In addition, the technology helps guests take part in Hilton's responsibility program, Travel with Purpose, by syncing air conditioning with their daily schedule.
Hilton is also looking to glean guest preference data from Connected Room to better serve future customers.
Connected Room builds on Hilton's existing technology platform, which currently enables guests to check in, select a room and open that room's door with what the company calls a Digital Key. Since the program launched in 2014, some 34 million customers checked in via the Hilton Honors app, with 4 million room key downloads and 18.7 million doors opened.