Apple used data from iOS app to resolve 196 environmental supplier violations in China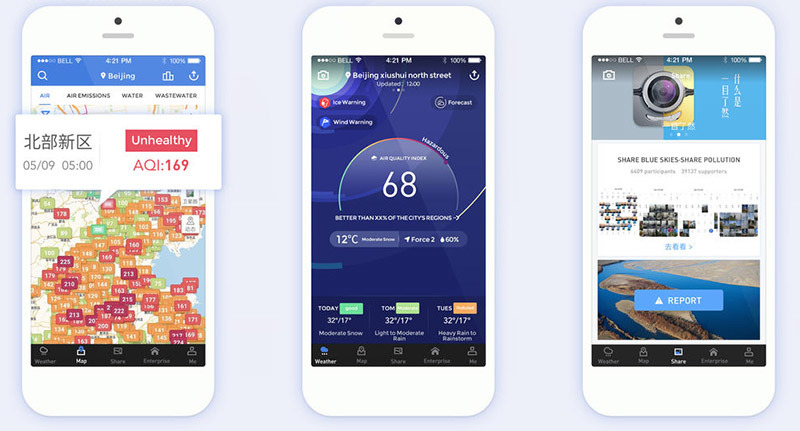 AppleInsider is supported by its audience and may earn commission as an Amazon Associate and affiliate partner on qualifying purchases. These affiliate partnerships do not influence our editorial content.
Apple relied on an iOS app created by a Chinese activist to identify and resolve at least 196 cases in which suppliers violated the nation's environmental rules, actions that in some cases led to their removal from the company's supply chain.
Called Blue Map, the app is the brainchild of Ma Jun, founder of the Institute of Public & Environmental Affairs (IPE).
Backed by Alibaba Group, Ma's initiative pulls information from government websites that compile sensor readings from monitoring equipment deployed at about 13,000 of the country's worst water polluters, reports Bloomberg. The resulting metrics are aggregated in Blue Map which, like its backend database, is free to access and use.
The app also integrates data on air quality and emissions taken from monitoring stations around the world, including 2,000 in China.
According to the report, Ma's non-profit project has identified companies that pump excessive waste into nearby rivers or cheat pollution reports by tampering with monitoring equipment. The IPE website claims its database fingered more than 830,000 such cases so far. Evidence gleaned from the initiative has subsequently been used to deny credit ratings for issuing bonds, block bank loans and, in Apple's case, revoke lucrative business partnerships.
China currently faces a massive pollution problem that ranges from contaminated water in rural areas to dense smog in urban environs. Government efforts to deal with the issue have come up short, leading to concerns that reach high up the political ladder.
Ma said the specter of being exiled from Apple's supply chain is for some firms more effective than government sanctions.
"Sometimes it's hard to get local government agencies to enforce or fine these factories because they are huge sources of tax income," Ma said. "It's much more effective when these companies face the threat of being kicked off Apple's supplier list. Economic interest matters."
Paula Pyers, Apple's senior director of supplier responsibility, lauded IPE as a catalyzing factor in obtaining greater transparency on environmental matters.
"Protecting the environment and addressing impacts in our supply chain is one of Apple's greatest priorities," Pyers said.
Aside from access to IPE's database, Blue Map includes a "micro-reporting" module that allows users to upload photos of polluted water sources and lodge complaints with government agencies. Users can use the app to follow up on complaints, rate the environmental performance of brands and products, share pictures of smog and other pollution, and more.
Apple has for years pushed suppliers to adhere to stringent environmental standards, from regulations concerning carbon emissions to policies on illegal material dumping. The company's most recent supplier responsibility report, released in March, notes over 200,000 metric tons of waste were diverted from landfills in 2016, while all final assembly sites in China achieved a 100 percent UL Zero Waste to Landfill validation for the first time.