Lisa Jackson details iPhone 8, iPhone X environmentally friendly design, more in interview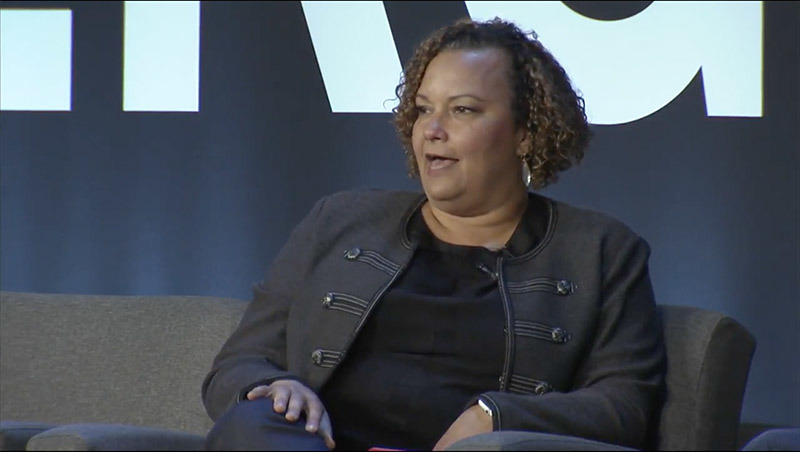 AppleInsider is supported by its audience and may earn commission as an Amazon Associate and affiliate partner on qualifying purchases. These affiliate partnerships do not influence our editorial content.
Apple routinely touts environmentally-friendly aspects of new product releases, and that was no different with iPhone 8 and iPhone X. In a newly unearthed interview, Apple's VP for Environment, Policy and Social Initiatives Lisa Jackson details how the company designed its latest flagships to be the greenest ever offered.
Speaking at GreenBiz's VERGE conference shortly after Apple's September iPhone event, an event focused on technologies that accelerate sustainability solutions, Jackson provided insight into the manufacturing processes applied to this year's iPhone.
A video of the interview was posted to YouTube in October, which GreenBiz resurfaced in a post to its blog on Wednesday.
For one, Apple was intent on lowering the carbon intensity of the aluminum used in both iPhone models. Though their form factors differ, iPhone 8 and iPhone X share a "glass sandwich" design that incorporates an aluminum chassis onto which components are attached. Smelting aluminum is a traditionally carbon-intensive process, but Apple has worked to reduce its impact through smart design and renewable energy technologies.
"That was a combination of really cutting down on any waste aluminum and reusing aluminum in the melt for the phone, as well as hydro-powered smelting, which is a big part of aluminum's carbon footprint," Jackson said. "So the aluminum in the iPhone 8 is 11 percent less greenhouse gas emissions per gram than the iPhone 7 and 83 percent less than the iPhone 6."
In addition, Apple placed a "huge focus" on packaging, Jackson said. The carbon footprint for this year's iPhone 8 and iPhone X packaging, which mainly stems from the use of plastics, is down over 50 percent from iPhone 7. The reduction is the result of smaller box designs and the addition of two new packaging suppliers that committed to Apple's clean energy initiative.
Finally, taken as a whole, both iPhone models have 6 percent less carbon emissions per phone than previous generations, a direct result of Apple's Supplier Clean Energy Program.
Jackson went on to discuss Apple's initiative to use 100 percent recycled materials across its various product lines, a lofty goal that will likely require the creation of a closed supply loop. The company has yet to determine how, exactly, that goal will be met, but Jackson in the past has said those involved are "working like gangbusters" to find a solution.
Jackson also touched on the Environmental Protection Agency, a governmental body she helmed from 2009 to 2013. Echoing past statements, she derided the Trump administration's EPA for turning a blind eye toward the human health aspect of climate change.