Samsung chairman Lee Kun-hee suspected of evading $7.5M in taxes by South Korean police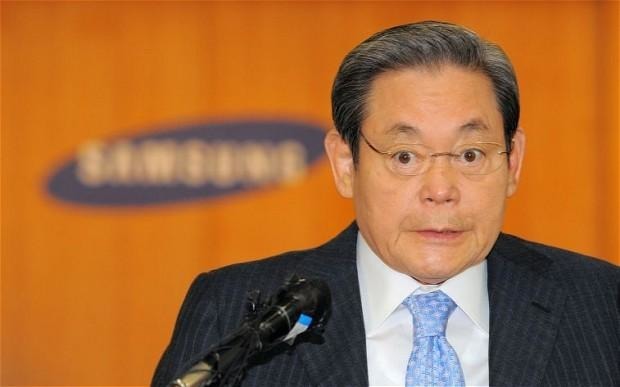 Lee Kun-hee, the chairman of South Korean electronics giant Samsung, has been identified by police as a suspect in a tax evasion case, after authorities discovered evidence that 8.2 billion won ($7.5 million) in taxes was avoided by concealing funds in bank accounts opened under the names of other company executives.
Chairman Lee and another Samsung executive "managed funds in 260 bank accounts under names of 72 executives," the Korean National Police Agency alleges in a statement to Reuters, with the two individuals "suspected of evading taxes worth 8.2 billion won." The agency also advised it plans to send the case to prosecutors in the near future.
The tax evasion investigation stems from a 2011 probe into a late payment of 130 billion won ($119.6 million) in tax. The accounts in question were discovered as part of the examination by the authorities into alleged improper payments for renovations to the Lee family residence, and were found to hold funds in the region of 400 billion won ($368 million).
Despite the high value of the cash hoard, only 8.2 billion won falls within the statute of limitations, police claim.
The ailing 76-year-old chairman has yet to be questioned by police on the matter due to his physical condition. Lee has taken a back seat from the company after suffering from a heart attack in 2014, allowing son Lee Jae-yong to take control as vice chairman and head of the company, while he resides in Seoul's Samsung Medical Center.
In his tenure at the top, the younger Lee has himself fallen into legal trouble, sentenced last August to five years in jail for bribery, embezzlement, perjury, and of hiding assets abroad. The allegations were a national scandal that led to the downfall of former Korean President Park Geun-hye, with Lee claimed to have paid bribes in exchange for favors that helped Samsung as well as giving Lee more power within the organization.
On Monday, Lee Jae-yong was released by an appeals court after being given a shorter sentence, which itself was suspended. Now Free, Lee Jae-yong is expected to retake control of the company.
This is not the first time Lee Kun-hee has been accused of tax evasion. In 2008, he received a suspended three-year prison sentence for embezzlement and tax evasion, using the same tactic of hiding cash in accounts held by Samsung employees.
The following year, the chairman was given a pardon by then-President Lee Myung-bak.
The pardoning of both men demonstrates the considerable influence of the family-owned conglomerate and other firms - known as "chaebols" - wield in South Korea. Considering Samsung's size and importance to the country, it is probable that elder Lee could receive another pardon if he is convicted over the latest set of allegations.