Facebook to launch subscription tool in iOS app after resolving dispute with Apple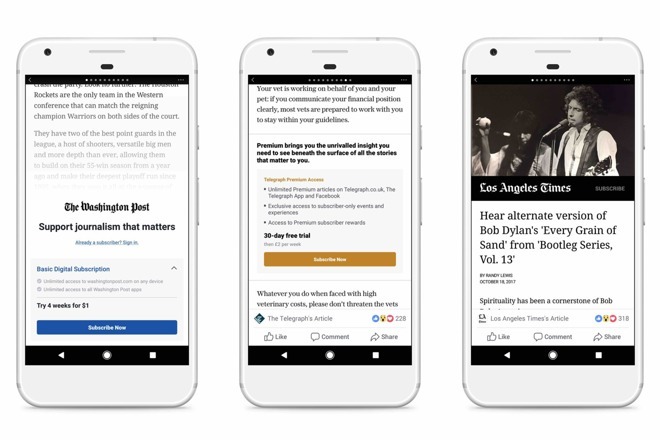 Facebook has resolved a revenue sharing issue with Apple, it was announced on Monday, allowing the social media giant to launch a subscription tool for publishers looking to enable paywall access on Facebook's iOS app.
Speaking at the Code Media event, Facebook's News Partnerships chief Campbell Brown said the company reached a deal with Apple to enable the feature, Recode reports. Currently, Facebook's subscription too is limited to Android.
"It's resolved," Brown said, referring to the prior disagreement with Apple.
Plans to bring the publishing asset to Facebook's iOS app were revealed last Octboer. Reports at the time said Facebook and Apple were working on an amicable agreement to allow in-app paywalls for months, but were unable to reach common ground.
Facebook's approach to news subscriptions consists of a metered paywall that prompts users to pay for content after reading a predetermined number of free articles, as well as a "freemium" version that grants free access to select stories while gating off others.
At issue was Apple's subscription fees policy, which requires developers to hand over up to 30 percent of revenue per month. Facebook does not currently take a cut of revenue generated from paywall funds and instead redirects users to a publisher's website, making the subscription tool a losing proposition for the social media firm.
Brown and Facebook executive Adam Mosseri declined to provide details on the terms of its agreement with Apple, but said publishers were asking for the paywall meter to be reduced from ten articles to five, the report said. With Apple on board, that change, and the new paywall system, will go into effect on March 1.