Alleged 2018 iPhone prototype photos sporting brightly colored back covers are bogus [u]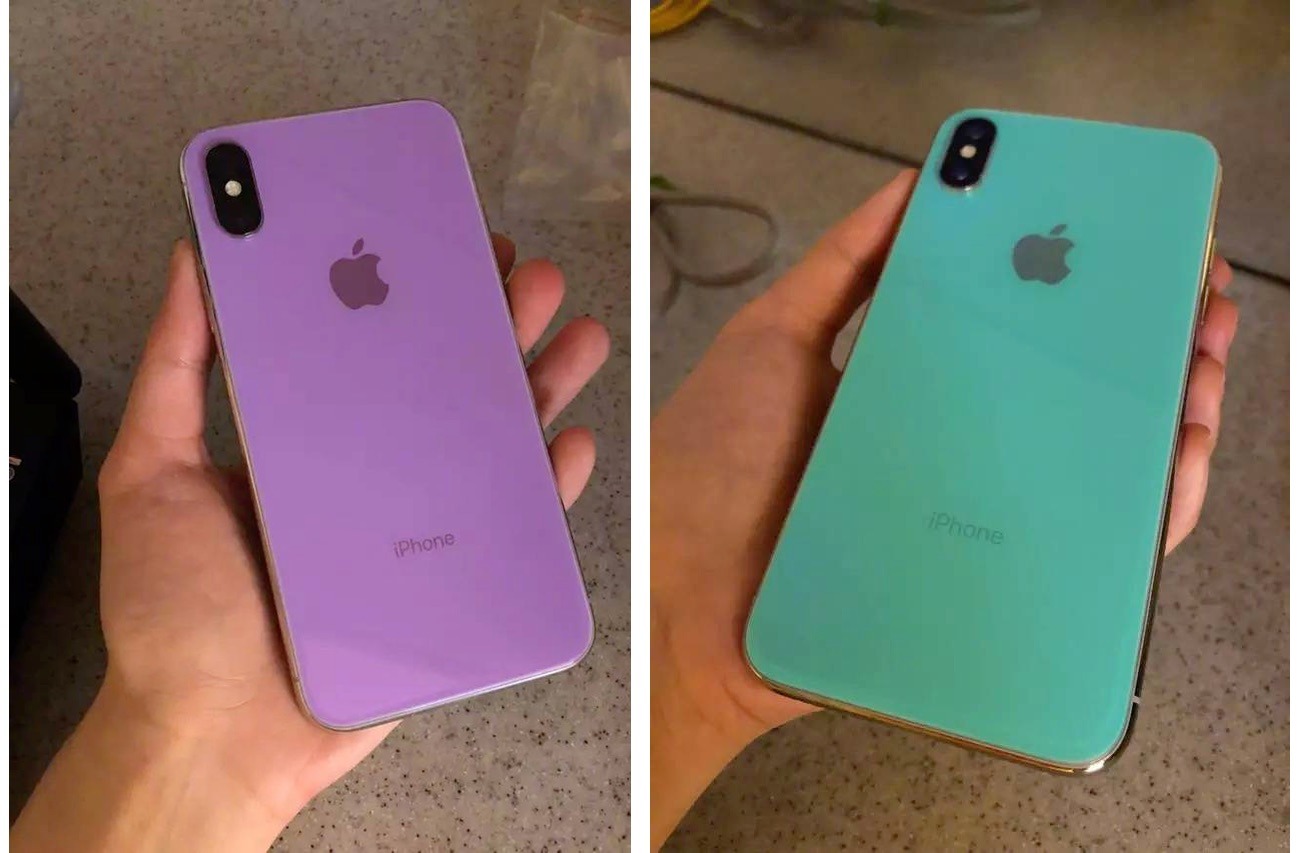 Photographs have surfaced allegedly showing prototypes of a new model of iPhone due for release this year with bright colors on the rear are fake, and have been traced back to a forum post.
The two photographs published by TechnoCodex depict the back of two iPhone X-style devices, complete with the vertical camera arrangement, Apple logo, and iPhone branding. Only the rear of the devices are directly shown, but the visible edge appears to be similar to the version used in the iPhone X, claimed by the publication to be a "gold stainless steel" frame.
Most notably, the rear panel of the iPhones use bright colors, with one using teal green while the other is purple. Rather than plastic, it is suggested these are glass backing, continuing the design used in the iPhone X.
It is unknown how genuine the leak is, as it is entirely plausible for the images to be fabricated, but the published photographs are too low resolution to determine if they are. As well as editing in photoshop, it is also possible that a wrap or skin was applied to an iPhone X for the shots.
The publication also does not have a track record regarding leaks, again making it hard to determine if it is real.
Apple does work with a production partner in India to produce the iPhone SE, with partner Wistron receiving approval earlier this year to expand its facilities in the country. Even so, there has yet to be any news of Apple tasking Wistron with constructing any of its premium iPhones, let alone one from an annual refresh.
There has been some suggestion of new iPhone X colors on the horizon, such as a report in March that Apple was considering introducing a gold-colored model to reinvigorate sales.
Analyst Jun Zhang of Rosenblatt Securities speculated earlier in May that Apple could reintroduce brightly-colored options in the 2018 fall iPhone refresh. Reviving the color scheme used by the iPhone 5c is thought by the analyst to give a rumored upcoming LCD model some differentiation from the other versions, and to attempt to appeal to younger consumers.
Rumors generally suggest the fall iPhone refresh will include three devices, with a cheaper 6.1-inch LCD model included alongside 5.8-inch and 6.5-inch OLED versions. A report from Monday however disputes this, claiming Apple is instead using OLED screens in all three devices.
Update: The photos appear to be from an old MacRumors forums post.