Apple's iPhone continues its domination of the premium smartphone market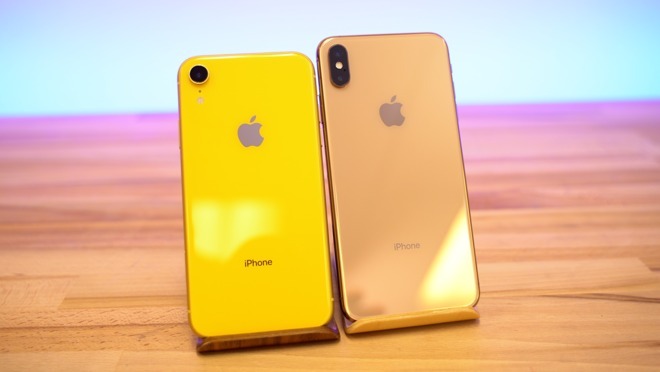 The premium smartphone market is continuing to grow faster than the overall smartphone market in the third quarter, a report claims, with the 2018 iPhone launches dominating the higher-priced end of the market.
While the entire smartphone market shrank 5 percent year-on-year for the quarter, the premium segment saw considerable growth of 19 percent, according to Counterpoint Research's Market Monitor. Premium devices, deemed by being valued at $400 or higher, represent 22 percent of the global smartphone market.
Apple is the driving force in the premium market, with Counterpoint suggesting the growth in the quarter was "driven by new iPhones," along with new flagship launches in China by local vendors. It is claimed Apple captured a 47-percent share of the premium segment in the period, followed by Samsung with 22 percent, Huawei with 12 percent, Vivo at 5 percent, Oppo again with 5 percent, and Xiaomi at 3 percent.
In the previous quarter, it was reported Apple sold 43 percent of all premium phones priced above $400, garnering a 62 percent share of the profits in the process.
While there are close to 40 device vendors operating in the premium segment, it is largely dominated by a small number of companies, including Apple. The top five players in the market account for almost 89 percent of shipments.
Drilling down to specific price segments, Apple does not lead the field in the $400 to $600 "sweet spot," which makes up 46 percent of premium volume. In that price band, Samsung leads with a 25 percent share followed by Apple with 21 percent, with Huawei trailing in third place with 17 percent.
In more expensive brackets, Apple regains the upper hand, taking 61 percent of shipments in the $600 to $800 bracket while Samsung occupies 21 percent. In the $800-or-more category, Apple ups its dominance to 79 percent.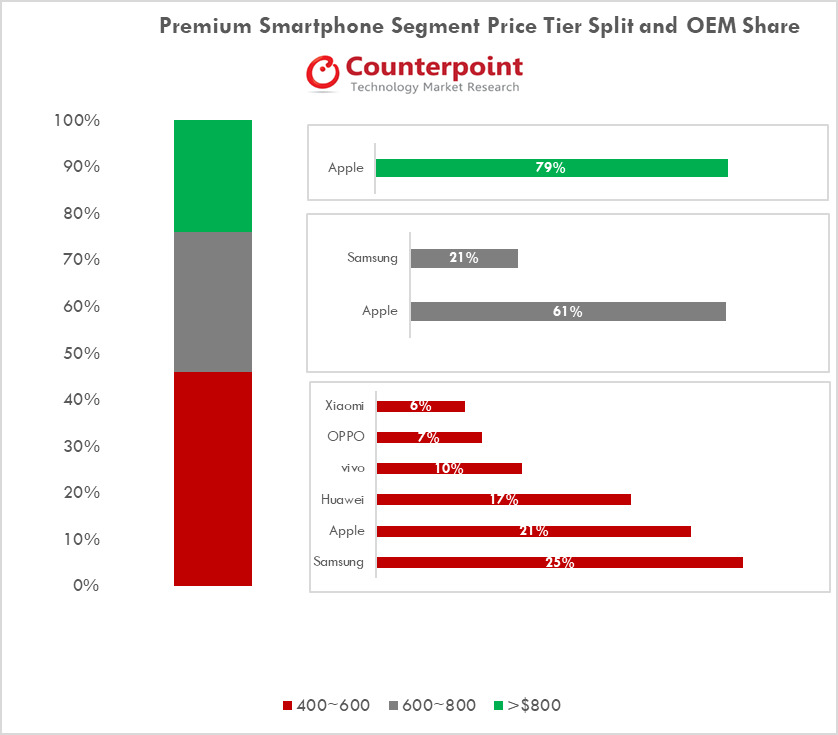 Apple continues to have its sales driven by developed markets, such as the United States, China, Japan, Korea, and countries in Western Europe.
Premium smartphone segment rankings by region put Apple in the top spot for the North America, Middle East and Africa, Western Europe, China, and Asia-Pacific markets, and in second place behind Samsung in Latin America, and Central and Eastern Europe markets. Notably, Apple slips to third place in India, behind leader OnePlus and Samsung.
The lower sales of iPhones in India compared to its rivals has been a long-term problem for Apple, with research data from November suggesting sales for 2018 could drop down to 2 million from 2017's 3 million. In a country that tends to err towards the cheaper end of the market, iPhone sales have effectively consisted of locally-produced models of the iPhone SE and 6s, while also importing large quantities of handsets that are subjected to high import duties, making them more expensive to sell in the emerging market.