How Apple went from bust to five million colorful iMacs sold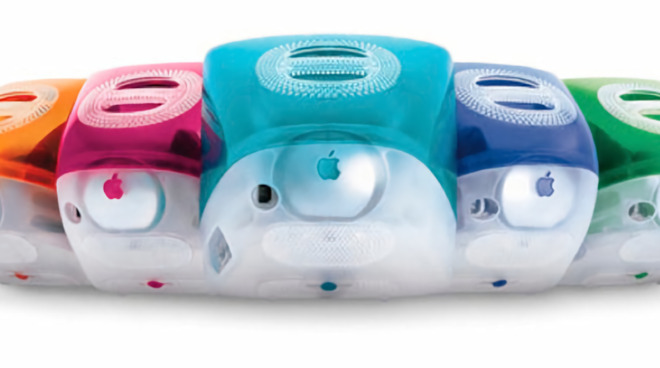 AppleInsider may earn an affiliate commission on purchases made through links on our site.
It's the machine that saved Apple, but today as the iMac is just one part of a hugely successful product lineup, it's easy to forget just how crucial it was. But back on April 19, 2001, Apple reminded us with the news that it had sold its five millionth iMac.
The Apple II was the most important computer Apple ever made. The Mac was the most world-changing. But it was the iMac that was the best. This machine took the innovation Apple had done before, it took the company's ethos of strong design and a complete appliance-like tool, and it shouted about it all.
Where the Mac had literally said "Hello," the iMac figuratively said, "look at me." And people listened. The iMac was announced by Steve Jobs on May 6, 1998, but it didn't go on sale in the US until August 15 that year. Two weeks later, it was released in Europe and Japan.
Two years, eight months, and four days later on April 19, 2001, Apple announced that it had shipped its five millionth iMac. That makes approximately 5,112 iMacs sold every day. It's one iMac every 1.183 seconds.
No wonder it saved the company.
Even before anyone could actually buy an iMac, though, there were signs that demand would be high. In a rare 1998 interview on Fox Business, shown the day before the iMac went on sale, Steve Jobs was asked whether Apple had enough iMacs to meet that demand.
"Yeah, I don't know," said Jobs. "I mean, we're making a lot of them, but we're going to find out... what the real demand is and it could exceed... lots."
Origins of the iMac
The part of Steve Jobs's May 1998 presentation where he reveals the iMac is well known, but if you watch the fuller show, you see more context. He champions the machine as he always does, and he somehow makes it sound both magical and inevitable, that only Apple could have made this yet all computers should always be like this.
However, that spiel comes after he has taken some time to address the state of Apple as a whole. He skips over some details, he doesn't mention anything about his replacing Gil Amelio or Apple having bought NeXT, but he is at pains to show that Apple is strong again.
"It's been ten months since the new management team took over at Apple," he said. "People have been working really hard. You can see a lot of cars in the parking lot some nights and the weekends. And because of their hard work, I'm really pleased to report to you today that Apple is back on track."
He then promises he'll be announcing some great new products, and he teases that he'll reveal Apple's entire product strategy. But first, he spends just over four minutes showing slides about Apple's finances.
It's not the most exciting segment and the numbers are paltry compared to today, but as he so often did, he was really setting the stage.
With this detail, he was working to put a line under all the years where Apple was within an inch of going out of business. He wanted to separate the new Apple from this so that he also separated it from the concomitant problem that nobody buys from a company that's about to die.
This speech, followed by the unveiling of the iMac itself, was remarkable. No one advised against buying the iMac because Apple might close. Instead, everyone talked about the revival of Apple, and of this great machine
Great reception
"These words are being created on the coolest-looking personal computer I've ever used," wrote Wall Mossberg in the Wall Street Journal. "It's... the boldest Macintosh model Apple has rolled out since the 1980s."
Apple could not have recovered if the iMac hadn't delivered all that it did, but Jobs's comparatively boring financial presentation was also key to the whole party.
One millionth iMac
It's interesting to see Jobs on stage being, for him, briefly a little dull, and also on news shows being faltering enough to say sales could exceed "lots." But if his reward for that work was the success of the iMac, it does seem that this success also ignited his more showman-like side.
About one year after this launch, it looked to Apple as if it were well on track to sell its one-millionth iMac. Jobs wanted to go big.
According to Ken Segall, ad agency executive who is credited with the name "iMac," Steve Jobs wanted to channel Willy Wonka.
"Steve wanted to put a golden certificate... inside the box of one iMac, and publicize that face," Segall wrote in his book, Insanely Simple. "Whoever opened the lucky iMac box would be refunded the purchase price and be flown to Cupertino, where he or she (and, presumably, the accompanying family) would be taken on a tour of the Apple campus."
Jobs had a team designing a prototype golden certificate — only Apple prototypes certificates — but he also wanted to be the one to meet the winner. Except he wanted to be dressed as Willy Wonka. "Yes," writes Segall, "complete with top hat and tails."
Segall was not as taken with the idea as Jobs was, and says that it died. "Fortunately, the legal issues were restrictive," he explains. "For one, California regulations required that this be classified as a sweepstakes."
That would mean it had to be possible to win this iMac and the trip to Cupertino without making any purchase. So the winner could well be some random person who had no interest in Apple and wouldn't go all fanboy or girl for the cameras.
Apple did not mark the one millionth iMac sale at all. Nor the two millionth, three, or four. But on the date of the five millionth, it did put out a comparatively modest press release.
Five million sold
"Simply put, the iMac has redefined the consumer and education computer, ushering in several industry firsts including USB, FireWire, desktop movies, wireless networking, quiet fan-less operation and world-class design," said Jobs in the release.
The rest of the release gushed about how the "iMac offers a great all-in-one design that is fun and easy to use," while its "easy setup" means Apple is "delivering exciting solutions."
There's no comment from Jony Ive, who designed the iMac, and intentionally no mention of how this is the computer that saved Apple. Apple didn't need saving, thank you very much, and that part of its history was being erased.
"I look forward to shipping our ten millionth iMac in a few years," concluded Jobs in the release.
What happened next
There is no question that Apple has exceeded ten million iMac sales, but not only has Apple stopped making press releases about its sales numbers, it's steadily stopped reporting any detailed figures at all. We do know that by the end of 2004, they'd sold 8.7 million iMacs.
If we presume that figure is up to December 31, 2004, then that's six years, four months, and 16 days since the iMac went on sale. That works out to an average now of 2,330 iMacs every day, or one about every 3.9 seconds.
That's obviously quite a decline from the speed of the first five million iMacs, but it's still phenomenal — and by 2004, Apple was deep into its iPod phase. The iMac was far less crucial than it had been, even as it was still bringing in a lot of money.
After 2004, Apple stopped reporting iMac sales per se, but it continued detailing desktop Mac sales, of which the iMac was presumably the majority. There was the Mac mini after 2005, there were regular PowerMacs throughout this period, but it's reasonable to guess that the iMac's broad appeal made it the most successful desktop Mac at this time.
Today the iMac is still going well. Yet if Apple were to release any figures, the iMac would be small next to the MacBook Air and MacBook Pro, and impossibly tiny next to the iPhone. But that's more a sign of those other devices and their extraordinary, unimaginable success.
None of which they would have had if it weren't for the iMac.