Last call: MacBook Air deals knock up to $150 off premium models with 16GB RAM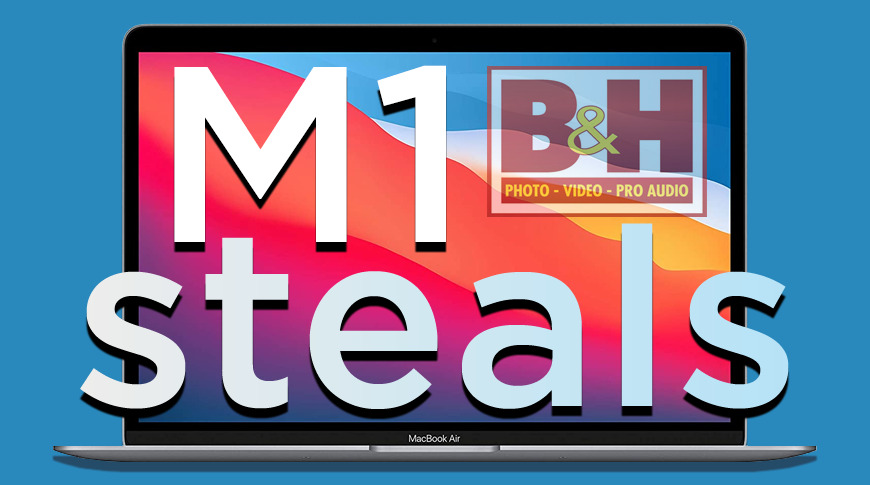 AppleInsider is supported by its audience and may earn commission as an Amazon Associate and affiliate partner on qualifying purchases. These affiliate partnerships do not influence our editorial content.
MacBook Air prices have officially been slashed at B&H Photo exclusively for AppleInsider readers. Save up to $150 instantly on premium models with 16GB of memory, extra storage and even AppleCare.
Killer MacBook Air deals
Three exclusive offers are available to readers at B&H Photo the week of March 1, with discounts of up to $150 off standalone MacBook Air systems and a premium configuration bundled with AppleCare when activated using the instructions below. B&H is also throwing in free shipping on orders delivered within the contiguous U.S., with units in stock at press time on two of the three configs.
According to our Price Guide, which tracks the lowest MacBook Air prices across leading Apple resellers, these are the best MacBook Air deals available. Further adding to the savings, Payboo cardholders can also take advantage of an instant sales tax refund within qualifying states, putting another $110 to $140 back in your wallet on average with the store card.
Exclusive discounts
MacBook Air (M1, 16GB, 1TB, 8-core GPU) in Space Gray + AppleCare: $1,749.00

($150 off)
(*) Activation instructions
To activate the exclusive price, you must shop through the pricing links above or in our M1 MacBook Air Price Guide using a laptop, iPad or desktop computer. We apologize, but the offer cannot be redeemed in mobile apps at this time. Need help? Send us a note at [email protected] and we'll be happy to assist.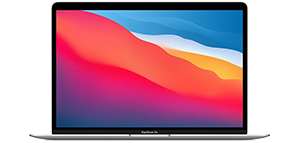 M1 MacBook Air Prices
AppleInsider may earn commission on products purchased through affiliate links.
---
Configurations
Discount
M1, 8GB, 256GB, 7-core GPU Space Gray

$999.00

Coupon

Price with $100 promo code APINSIDER. Plus, save $40 on AppleCare with the same code. If you have any issues, you can reach out to us at [email protected] and we'll try and help.

Coupon

Exclusive AppleInsider pricing when you shop through our Expercom links. Plus, save $30 on AppleCare for the MacBook Air. As always, reach out to us at [email protected] if you have trouble seeing the exclusive deals.

$149.01
M1, 8GB, 256GB, 7-core GPU) Silver

$999.00

Coupon

Price with $34 promo code APINSIDER. Same code takes $40 off AppleCare. As always, if you have any issues, you can reach out to us at [email protected] and we'll try and help.

Coupon

Exclusive AppleInsider pricing when you shop through our Expercom links. Plus, save $30 on AppleCare for the MacBook Air. As always, reach out to us at [email protected] if you have trouble seeing the exclusive deals.

$149.01
MacBook Air (M1, 8GB, 256GB, 7-core GPU) Gold

$999.00

Coupon

Price with $100 promo code APINSIDER. Plus, save $40 on AppleCare with the same code. If you have any issues, you can reach out to us at [email protected] and we'll try and help.

Coupon

Exclusive AppleInsider pricing when you shop through our Expercom links. Plus, save $30 on AppleCare for the MacBook Air. As always, reach out to us at [email protected] if you have trouble seeing the exclusive deals.

$149.01
MacBook Air (M1, 8GB, 512GB, 8-core GPU) Space Gray

$1,249.00

Coupon

Price with $50 promo code APINSIDER. Plus, save $40 on AppleCare with the same code. As always, if you have any issues, you can reach out to us at [email protected] and we'll try and help.

Coupon

Exclusive AppleInsider pricing when you shop through our Expercom links. Plus, save $30 on AppleCare for the MacBook Air. As always, reach out to us at [email protected] if you have trouble seeing the exclusive deals.

$100.00
MacBook Air (M1, 8GB, 512GB, 8-core GPU) Silver

$1,249.00

Coupon

Price with $64 promo code APINSIDER. Plus, save $40 on AppleCare with the same code. As always, if you have any issues, you can reach out to us at [email protected] and we'll try and help.

Coupon

Exclusive AppleInsider pricing when you shop through our Expercom links. Plus, save $30 on AppleCare for the MacBook Air. As always, reach out to us at [email protected] if you have trouble seeing the exclusive deals.

$113.01
MacBook Air (M1, 8GB, 512GB, 8-core GPU) Gold

$1,249.00

Coupon

Price with $50 promo code APINSIDER. Plus, save $40 on AppleCare with the same code. As always, if you have any issues, you can reach out to us at [email protected] and we'll try and help.

Coupon

Exclusive AppleInsider pricing when you shop through our Expercom links. Plus, save $30 on AppleCare for the MacBook Air. As always, reach out to us at [email protected] if you have trouble seeing the exclusive deals.

$100.00
MacBook Air (M1, 8GB, 512GB, 7-core GPU) Space Gray

$1,199.00

Coupon

Price with $80 promo code APINSIDER. Plus, save $40 on AppleCare with the same code. As always, if you have any issues, you can reach out to us at [email protected] and we'll try and help.

Coupon

Exclusive AppleInsider pricing when you shop through our Expercom links. Plus, save $30 on AppleCare for the MacBook Air. As always, reach out to us at [email protected] if you have trouble seeing the exclusive deals.

n/a

n/a

n/a

n/a

$80.00
MacBook Air (M1, 8GB, 512GB, 7-core GPU) Silver

$1,199.00

Coupon

Price with $80 promo code APINSIDER. Plus, save $40 on AppleCare with the same code. As always, if you have any issues, you can reach out to us at [email protected] and we'll try and help.

Coupon

Exclusive AppleInsider pricing when you shop through our Expercom links. Plus, save $30 on AppleCare for the MacBook Air. As always, reach out to us at [email protected] if you have trouble seeing the exclusive deals.

n/a

n/a

n/a

n/a

$80.00
M1, 8GB, 512GB, 7-core GPU Gold

$1,199.00

Coupon

Price with $50 promo code APINSIDER. Plus, save $40 on AppleCare with the same code. As always, if you have any issues, you can reach out to us at [email protected] and we'll try and help.

Coupon

Exclusive AppleInsider pricing when you shop through our Expercom links. Plus, save $30 on AppleCare for the MacBook Air. As always, reach out to us at [email protected] if you have trouble seeing the exclusive deals.

n/a

Coupon

This exclusive price is link activated for AI readers. To activate the deal, click through the B&H pricing link for this configuration through AppleInsider's desktop site. Can't see the special price? Reach out to us at [email protected] and we'll try to help.

n/a

n/a

n/a

$100.00
MacBook Air (M1, 8GB, 1TB, 7-core GPU) Space Gray

$1,399.00

Coupon

Price with $50 promo code APINSIDER. Plus, save $40 on AppleCare with the same code. As always, if you have any issues, you can reach out to us at [email protected] and we'll try and help.

Coupon

Exclusive AppleInsider pricing when you shop through our Expercom links. Plus, save $30 on AppleCare for the MacBook Air. As always, reach out to us at [email protected] if you have trouble seeing the exclusive deals.

n/a

n/a

n/a

n/a

$69.95
MacBook Air (M1, 8GB, 1TB, 7-core GPU) Silver

$1,399.00

Coupon

Price with $50 promo code APINSIDER. Plus, save $40 on AppleCare with the same code. As always, if you have any issues, you can reach out to us at [email protected] and we'll try and help.

Coupon

Exclusive AppleInsider pricing when you shop through our Expercom links. Plus, save $30 on AppleCare for the MacBook Air. As always, reach out to us at [email protected] if you have trouble seeing the exclusive deals.

n/a

n/a

n/a

n/a

$69.95
MacBook Air (M1, 8GB, 1TB, 7-core GPU) Gold

$1,399.00

Coupon

Price with $50 promo code APINSIDER. Plus, save $40 on AppleCare with the same code. As always, if you have any issues, you can reach out to us at [email protected] and we'll try and help.

Coupon

Exclusive AppleInsider pricing when you shop through our Expercom links. Plus, save $30 on AppleCare for the MacBook Air. As always, reach out to us at [email protected] if you have trouble seeing the exclusive deals.

n/a

n/a

n/a

n/a

$69.95
MacBook Air (M1, 8GB, 2TB, 7-core GPU) Space Gray

$1,799.00

Coupon

Price with $50 promo code APINSIDER. Plus, save $40 on AppleCare with the same code. As always, if you have any issues, you can reach out to us at [email protected] and we'll try and help.

Coupon

Exclusive AppleInsider pricing when you shop through our Expercom links. Plus, save $30 on AppleCare for the MacBook Air. As always, reach out to us at [email protected] if you have trouble seeing the exclusive deals.

n/a

n/a

n/a

n/a

$89.95
MacBook Air (M1, 8GB, 2TB, 7-core GPU) Silver

$1,799.00

Coupon

Price with $50 promo code APINSIDER. Plus, save $40 on AppleCare with the same code. As always, if you have any issues, you can reach out to us at [email protected] and we'll try and help.

Coupon

Exclusive AppleInsider pricing when you shop through our Expercom links. Plus, save $30 on AppleCare for the MacBook Air. As always, reach out to us at [email protected] if you have trouble seeing the exclusive deals.

n/a

n/a

n/a

n/a

$89.95
MacBook Air (M1, 8GB, 2TB, 7-core GPU) Gold

$1,799.00

Coupon

Price with $50 promo code APINSIDER. Plus, save $40 on AppleCare with the same code. As always, if you have any issues, you can reach out to us at [email protected] and we'll try and help.

Coupon

Exclusive AppleInsider pricing when you shop through our Expercom links. Plus, save $30 on AppleCare for the MacBook Air. As always, reach out to us at [email protected] if you have trouble seeing the exclusive deals.

n/a

n/a

n/a

n/a

$89.95
MacBook Air (M1, 16GB, 256GB, 7-core GPU) Space Gray

$1,199.00

Coupon

Price with $76 promo code APINSIDER. If you have any issues, please reach out to us at [email protected] and we'll be happy to assist.

Coupon

Exclusive AppleInsider pricing when you shop through our Expercom links. Plus, save $30 on AppleCare for the MacBook Air. As always, reach out to us at [email protected] if you have trouble seeing the exclusive deals.

n/a

n/a

n/a

n/a

$76.00
MacBook Air (M1, 16GB, 256GB, 7-core GPU) Silver

$1,199.00

Coupon

Price with $50 promo code APINSIDER. Plus, save $40 on AppleCare with the same code. As always, if you have any issues, you can reach out to us at [email protected] and we'll try and help.

Coupon

Exclusive AppleInsider pricing when you shop through our Expercom links. Plus, save $30 on AppleCare for the MacBook Air. As always, reach out to us at [email protected] if you have trouble seeing the exclusive deals.

n/a

n/a

n/a

n/a

$59.95
MacBook Air (M1, 16GB, 256GB, 7-core GPU) Gold

$1,199.00

Coupon

Price with $50 promo code APINSIDER. Plus, save $40 on AppleCare with the same code. As always, if you have any issues, you can reach out to us at [email protected] and we'll try and help.

Coupon

Exclusive AppleInsider pricing when you shop through our Expercom links. Plus, save $30 on AppleCare for the MacBook Air. As always, reach out to us at [email protected] if you have trouble seeing the exclusive deals.

n/a

n/a

n/a

n/a

$59.95
MacBook Air (M1, 16GB, 512GB, 7-core GPU) Space Gray

$1,399.00

Coupon

Price with $36 promo code APINSIDER. Same code knocks $40 off AppleCare. If you have any issues, please reach out to us at [email protected] and we'll be happy to assist.

Coupon

Exclusive AppleInsider pricing when you shop through our Expercom links. Plus, save $30 on AppleCare for the MacBook Air. As always, reach out to us at [email protected] if you have trouble seeing the exclusive deals.

n/a

n/a

n/a

n/a

$36.00
M1, 16GB, 512GB, 7-core GPU Silver

$1,399.00

Coupon

Price with $110 promo code APINSIDER. Plus, save $40 on AppleCare with the same code. As always, if you have any issues, you can reach out to us at [email protected] and we'll try and help.

Coupon

Exclusive AppleInsider pricing when you shop through our Expercom links. Plus, save $30 on AppleCare for the MacBook Air. As always, reach out to us at [email protected] if you have trouble seeing the exclusive deals.

n/a

n/a

n/a

n/a

$110.00
MacBook Air (M1, 16GB, 512GB, 7-core GPU) Gold

$1,399.00

Coupon

Price with $100 promo code APINSIDER. Plus, save $40 on AppleCare with the same code. If you have any issues, you can reach out to us at [email protected] and we'll try and help.

Coupon

Exclusive AppleInsider pricing when you shop through our Expercom links. Plus, save $30 on AppleCare for the MacBook Air. As always, reach out to us at [email protected] if you have trouble seeing the exclusive deals.

n/a

n/a

n/a

n/a

$100.00
MacBook Air (M1, 16GB, 1TB, 7-core GPU) Space Gray

$1,599.00

Coupon

Price with $50 promo code APINSIDER. Plus, save $40 on AppleCare with the same code. As always, if you have any issues, you can reach out to us at [email protected] and we'll try and help.

Coupon

Exclusive AppleInsider pricing when you shop through our Expercom links. Plus, save $30 on AppleCare for the MacBook Air. As always, reach out to us at [email protected] if you have trouble seeing the exclusive deals.

n/a

Coupon

This exclusive price is link activated for AI readers. To activate the deal, click through the B&H pricing link for this configuration through AppleInsider's desktop site. Can't see the special price? Reach out to us at [email protected] and we'll try to help.

n/a

n/a

n/a

$150.00
MacBook Air (M1, 16GB, 1TB, 7-core GPU) Silver

$1,599.00

Coupon

Price with $50 promo code APINSIDER. Plus, save $40 on AppleCare with the same code. As always, if you have any issues, you can reach out to us at [email protected] and we'll try and help.

Coupon

Exclusive AppleInsider pricing when you shop through our Expercom links. Plus, save $30 on AppleCare for the MacBook Air. As always, reach out to us at [email protected] if you have trouble seeing the exclusive deals.

n/a

n/a

n/a

n/a

$79.95
MacBook Air (M1, 16GB, 1TB, 7-core GPU) Gold

$1,599.00

Coupon

Price with $50 promo code APINSIDER. Plus, save $40 on AppleCare with the same code. As always, if you have any issues, you can reach out to us at [email protected] and we'll try and help.

Coupon

Exclusive AppleInsider pricing when you shop through our Expercom links. Plus, save $30 on AppleCare for the MacBook Air. As always, reach out to us at [email protected] if you have trouble seeing the exclusive deals.

n/a

n/a

n/a

n/a

$79.95
MacBook Air (M1, 16GB, 2TB, 7-core GPU) Space Gray

$1,999.00

Coupon

Price with $50 promo code APINSIDER. Plus, save $40 on AppleCare with the same code. As always, if you have any issues, you can reach out to us at [email protected] and we'll try and help.

Coupon

Exclusive AppleInsider pricing when you shop through our Expercom links. Plus, save $30 on AppleCare for the MacBook Air. As always, reach out to us at [email protected] if you have trouble seeing the exclusive deals.

n/a

n/a

n/a

n/a

$99.95
MacBook Air (M1, 16GB, 2TB, 7-core GPU) Silver

$1,999.00

Coupon

Price with $50 promo code APINSIDER. Plus, save $40 on AppleCare with the same code. As always, if you have any issues, you can reach out to us at [email protected] and we'll try and help.

Coupon

Exclusive AppleInsider pricing when you shop through our Expercom links. Plus, save $30 on AppleCare for the MacBook Air. As always, reach out to us at [email protected] if you have trouble seeing the exclusive deals.

n/a

n/a

n/a

n/a

$99.95
MacBook Air (M1, 16GB, 2TB, 7-core GPU) Gold

$1,999.00

Coupon

Price with $50 promo code APINSIDER. Plus, save $40 on AppleCare with the same code. As always, if you have any issues, you can reach out to us at [email protected] and we'll try and help.

Coupon

Exclusive AppleInsider pricing when you shop through our Expercom links. Plus, save $30 on AppleCare for the MacBook Air. As always, reach out to us at [email protected] if you have trouble seeing the exclusive deals.

n/a

n/a

n/a

n/a

$99.95
MacBook Air (M1, 8GB, 1TB, 8-core GPU) Space Gray

$1,449.00

Coupon

Price with $50 promo code APINSIDER. Plus, save $40 on AppleCare with the same code. As always, if you have any issues, you can reach out to us at [email protected] and we'll try and help.

Coupon

Exclusive AppleInsider pricing when you shop through our Expercom links. Plus, save $30 on AppleCare for the MacBook Air. As always, reach out to us at [email protected] if you have trouble seeing the exclusive deals.

n/a

n/a

n/a

n/a

$72.45
MacBook Air (M1, 8GB, 1TB, 8-core GPU) Silver

$1,449.00

Coupon

Price with $50 promo code APINSIDER. Plus, save $40 on AppleCare with the same code. As always, if you have any issues, you can reach out to us at [email protected] and we'll try and help.

Coupon

Exclusive AppleInsider pricing when you shop through our Expercom links. Plus, save $30 on AppleCare for the MacBook Air. As always, reach out to us at [email protected] if you have trouble seeing the exclusive deals.

n/a

n/a

n/a

n/a

$72.45
MacBook Air (M1, 8GB, 1TB, 8-core GPU) Gold

$1,449.00

Coupon

Price with $50 promo code APINSIDER. Plus, save $40 on AppleCare with the same code. As always, if you have any issues, you can reach out to us at [email protected] and we'll try and help.

Coupon

Exclusive AppleInsider pricing when you shop through our Expercom links. Plus, save $30 on AppleCare for the MacBook Air. As always, reach out to us at [email protected] if you have trouble seeing the exclusive deals.

n/a

n/a

n/a

n/a

$72.45
MacBook Air (M1, 8GB, 2TB, 8-core GPU) Space Gray

$1,849.00

Coupon

Price with $50 promo code APINSIDER. Plus, save $40 on AppleCare with the same code. As always, if you have any issues, you can reach out to us at [email protected] and we'll try and help.

Coupon

Exclusive AppleInsider pricing when you shop through our Expercom links. Plus, save $30 on AppleCare for the MacBook Air. As always, reach out to us at [email protected] if you have trouble seeing the exclusive deals.

n/a

n/a

n/a

n/a

$92.45
MacBook Air (M1, 8GB, 2TB, 8-core GPU) Silver

$1,849.00

Coupon

Price with $50 promo code APINSIDER. Plus, save $40 on AppleCare with the same code. As always, if you have any issues, you can reach out to us at [email protected] and we'll try and help.

Coupon

Exclusive AppleInsider pricing when you shop through our Expercom links. Plus, save $30 on AppleCare for the MacBook Air. As always, reach out to us at [email protected] if you have trouble seeing the exclusive deals.

n/a

n/a

n/a

n/a

$92.45
MacBook Air (M1, 8GB, 2TB, 8-core GPU) Gold

$1,849.00

Coupon

Price with $50 promo code APINSIDER. Plus, save $40 on AppleCare with the same code. As always, if you have any issues, you can reach out to us at [email protected] and we'll try and help.

Coupon

Exclusive AppleInsider pricing when you shop through our Expercom links. Plus, save $30 on AppleCare for the MacBook Air. As always, reach out to us at [email protected] if you have trouble seeing the exclusive deals.

n/a

n/a

n/a

n/a

$92.45
M1, 16GB, 512GB, 8-core GPU Space Gray

$1,449.00

Coupon

Price with $126 promo code APINSIDER. Same code takes $40 off AppleCare. As always, if you have any issues, you can reach out to us at [email protected] and we'll try and help.

Coupon

Exclusive AppleInsider pricing when you shop through our Expercom links. Plus, save $30 on AppleCare for the MacBook Air. As always, reach out to us at [email protected] if you have trouble seeing the exclusive deals.

n/a

n/a

n/a

n/a

$126.00
MacBook Air (M1, 16GB, 512GB, 8-core GPU) Silver

$1,449.00

Coupon

Price with $100 promo code APINSIDER. Plus, save $40 on AppleCare with the same code. If you have any issues, you can reach out to us at [email protected] and we'll try and help.

Coupon

Exclusive AppleInsider pricing when you shop through our Expercom links. Plus, save $30 on AppleCare for the MacBook Air. As always, reach out to us at [email protected] if you have trouble seeing the exclusive deals.

n/a

n/a

n/a

n/a

$100.00
MacBook Air (M1, 16GB, 512GB, 8-core GPU) Gold

$1,449.00

Coupon

Price with $100 promo code APINSIDER. Plus, save $40 on AppleCare with the same code. If you have any issues, you can reach out to us at [email protected] and we'll try and help.

Coupon

Exclusive AppleInsider pricing when you shop through our Expercom links. Plus, save $30 on AppleCare for the MacBook Air. As always, reach out to us at [email protected] if you have trouble seeing the exclusive deals.

n/a

Coupon

This exclusive price is link activated for AI readers. To activate the deal, click through the B&H pricing link for this configuration through AppleInsider's desktop site. Can't see the special price? Reach out to us at [email protected] and we'll try to help.

n/a

n/a

n/a

$150.00
M1, 16GB, 1TB, 8-core GPU Space Gray

$1,649.00

Coupon

Price with $50 promo code APINSIDER. Plus, save $40 on AppleCare with the same code. As always, if you have any issues, you can reach out to us at [email protected] and we'll try and help.

Coupon

Exclusive AppleInsider pricing when you shop through our Expercom links. Plus, save $30 on AppleCare for the MacBook Air. As always, reach out to us at [email protected] if you have trouble seeing the exclusive deals.

n/a

n/a

n/a

n/a

$82.45
MacBook Air (M1, 16GB, 1TB, 8-core GPU) Silver

$1,649.00

Coupon

Price with $50 promo code APINSIDER. Plus, save $40 on AppleCare with the same code. As always, if you have any issues, you can reach out to us at [email protected] and we'll try and help.

Coupon

Exclusive AppleInsider pricing when you shop through our Expercom links. Plus, save $30 on AppleCare for the MacBook Air. As always, reach out to us at [email protected] if you have trouble seeing the exclusive deals.

n/a

Coupon

This exclusive price is link activated for AI readers. To activate the deal, click through the B&H pricing link for this configuration through AppleInsider's desktop site. Can't see the special price? Reach out to us at [email protected] and we'll try to help.

n/a

n/a

n/a

$150.00
MacBook Air (M1, 16GB, 1TB, 8-core GPU) Gold

$1,649.00

Coupon

Price with $50 promo code APINSIDER. Plus, save $40 on AppleCare with the same code. As always, if you have any issues, you can reach out to us at [email protected] and we'll try and help.

Coupon

Exclusive AppleInsider pricing when you shop through our Expercom links. Plus, save $30 on AppleCare for the MacBook Air. As always, reach out to us at [email protected] if you have trouble seeing the exclusive deals.

n/a

Coupon

This exclusive price is link activated for AI readers. To activate the deal, click through the B&H pricing link for this configuration through AppleInsider's desktop site. Can't see the special price? Reach out to us at [email protected] and we'll try to help.

n/a

n/a

n/a

$150.00
MacBook Air (M1, 16GB, 2TB, 8-core GPU) Space Gray

$2,049.00

Coupon

Price with $150 promo code APINSIDER. Plus, save $40 on AppleCare with the same code. As always, if you have any issues, you can reach out to us at [email protected] and we'll try and help.

Coupon

Exclusive AppleInsider pricing when you shop through our Expercom links. Plus, save $30 on AppleCare for the MacBook Air. As always, reach out to us at [email protected] if you have trouble seeing the exclusive deals.

n/a

n/a

n/a

n/a

$150.00
MacBook Air (M1, 16GB, 2TB, 8-core GPU) Silver

$2,049.00

Coupon

Price with $50 promo code APINSIDER. Plus, save $40 on AppleCare with the same code. As always, if you have any issues, you can reach out to us at [email protected] and we'll try and help.

Coupon

Exclusive AppleInsider pricing when you shop through our Expercom links. Plus, save $30 on AppleCare for the MacBook Air. As always, reach out to us at [email protected] if you have trouble seeing the exclusive deals.

n/a

n/a

n/a

n/a

$102.45
M1 (16GB, 2TB, 8-core GPU) Gold

$2,049.00

Coupon

Price with $50 promo code APINSIDER. Plus, save $40 on AppleCare with the same code. As always, if you have any issues, you can reach out to us at [email protected] and we'll try and help.

Coupon

Exclusive AppleInsider pricing when you shop through our Expercom links. Plus, save $30 on AppleCare for the MacBook Air. As always, reach out to us at [email protected] if you have trouble seeing the exclusive deals.

n/a

n/a

n/a

n/a

$102.45
Additional deals on Apple hardware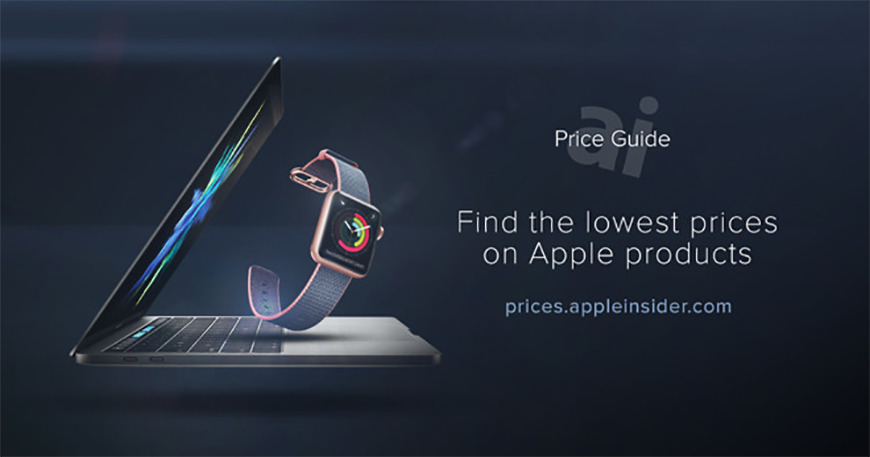 AppleInsider and Apple Authorized Resellers are also running additional exclusive deals on other Apple hardware that will not only deliver the lowest prices on many of the items, but also throw in bonus savings on AppleCare, peripherals and more. Here are some of the offers: