XP-Pen Innovator 16 review: an inexpensive upgrade for digital illustrators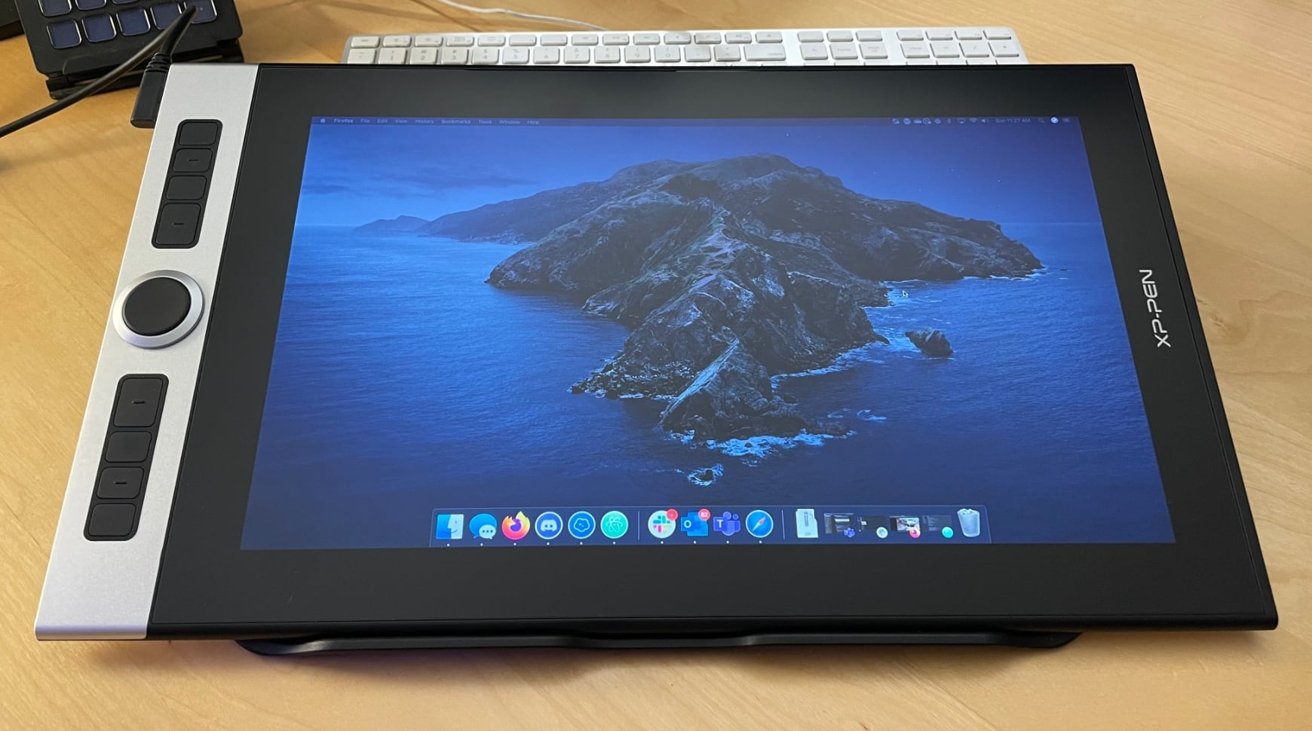 AppleInsider is supported by its audience and may earn commission as an Amazon Associate and affiliate partner on qualifying purchases. These affiliate partnerships do not influence our editorial content.
XP-Pen's Innovator 16 is a graphics tablet for drawing on your Mac, offering a 15.6-inch display and decent value for amateurs wanting to improve their digital artwork workflow.
The Innovator 16 by XP-Pen is the newest and thinnest offering in the XP-Pen Innovator line, with a screen size of 15.6 inches and a thickness of only 9mm. Like similar products from industry leader Wacom and others, it is a step up from input-only tablets by having a display built into the drawing surface, which makes it a prime upgrade for intermediate artists who want more control over how they digitally draw.
XP-Pen Innovator 16 - Key Specifications
443mm by 256mm by 9mm (17.4 inches by 10 inches by 0.35 inches)
16.7M colors.
92% Adobe RGB, 88% NTSC, 125% sRGB color gamut
15.6-inch, 1920x1280 display
1200:1 contrast ratio
60 degrees of tilt
Maximum 220RPS report rate
8192 levels of pressure sensitivity
Drawing resolution of 5080LPI
Accuracy: 0.01 inch (center)
Out of the box
The first thing you notice when getting the Innovator out of its packaging is how solid and relatively light the device is. Its weight is not overwhelming, as it is heavy enough to stay put on the desk while in use.
It has the same general feel as a high-quality tablet, such as an iPad. There's also a certain sleekness to it that seems to aesthetically fit in with other Apple devices.
XP-Pen uses a custom 3-in-1 cable for connecting the device to your computer. This is a nice feature that ensures you do not have to deal with a ton of wires running across your desk while you are attempting to draw.
On the other hand, it is a custom cable — if you break or lose it, there are no simple solutions.
On one end of the cable is a single USB-C connector, while the other end breaks out to HDMI, USB for connectivity to a host device, and a second well-labeled USB that goes to the supplied power brick.
XP-Pen also included a USB extension cable for the power connection. It's not generally needed, but very thoughtful.
Putting it to use
The Innovator 16's display is stunning, with rich and vibrant colors that also have good representation on the screen. The screen's surface is matte, unlike the glossy screen of an iPad or a tablet computer like a Microsoft Surface, which provides some extra benefits.
The pen glides across the screen effortlessly, but with enough resistance to almost feel like a good quality paper. You don't quite get the tactile feel of a good quality fountain pen nib quietly scratching over the surface of paper, but more like a good quality inking marker. It was a pleasure to use.
That being said, micro-scratches started to appear on the screen shortly after usage, something we've observed before with other matte screens. The scratches aren't serious enough to be a problem, but have become more evident with time and use over the few months we've been examining the device.
Drawing within an application is very good, with it offering 8,192 levels of pressure sensitivity along with very highly accurate stylus tip detection. The customizable buttons and zoom dial to one side are also a nice addition for managing the drawing and what the stylus does during a task.
Minor issues and extra items
For the most part, the tablet is pretty good, but there are some smaller elements that should be considered, alongside the micro-scratches situation.
For a start, setting up the tablet with a Mac is not a trivial pursuit. Like the XP-Pen Artist 24Pro's installation, setting up the drivers on the Mac was not smooth sailing.
It wasn't hard to set up, but it was one of the hardest pieces of software to install onto my Mac to get something working.
The tablet is also supplied with a portable stand, which tilts the tablet at a 60-degree angle. This is useful to have and can be easily packed in with the tablet for transportation.
However, the stand isn't great for smooth surfaces, with it prone to sliding around a shiny table when the little rubber pads get a bit too dusty.
XP-Pen also includes a case for the stylus, which can be used to stand the implement up when not in use. The case also holds extra nibs if required down the line.
You also get a black drawing glove to go with the tablet. The glove is intended to keep the screen from accidentally being pressed by the user's hand while leaning to draw, as well as keeping the screen generally cleaner.
It's not a requirement to use the glove, but it's a nice inclusion.
A value proposition
The XP-Pen Innovator price at a glance feels slightly expensive for what you get at $529. In reality, there are far more costly options out there for comparatively similar functionality.
The main brand in graphics tablets, Wacom, has its own range of display-driven drawing tools, largely under the Cintiq banner. While there is a wide variation in pricing and size, there are some that are similar to XP-Pen's offering.
The Cintiq is the nearest competitor, equipped with a 15.4-inch display and the same level of pressure sensitivity, but Wacom sells the device for $649.95. This is $120 more than XP-Pen's tablet, which is something to consider.
For that extra money, you get the reassurance of a well-known brand, but you also lose some features. Wacom's tablet doesn't include the button or dial options, leaving users to use keyboard shortcuts or to acquire other accessories to add that functionality.
Wacom does offer a display tablet that's cheaper, with the Wacom One sold at $399, but it has a smaller 13.3-inch display and only 4,096 pressure levels. Since the bigger display is more useful for drawing, it seems that spending the $130 extra for the larger XP-Pen may be a better option.
Final Thoughts
The Innovator 16 is a very nice device for an advanced amateur's needs, and the price point puts it in reach of even novice artists looking to upgrade from Bamboo or other non-display tablets.
Drawing on something like an iPad or a tablet-based computer sn't bad, but it can hardly compare to drawing on a dedicated on-screen tablet, such as this one. In the end, we would recommend this device to any novice or fledgling professional who wants to upgrade their drawing hardware to the next level — but don't expect it to be your one and only as your skills progress.
Pros
Sleek design, good weight and size
Nice Stylus case with extra nibs
3-in-1 cable for cleaner setup
Accurate stylus tip detection
Matte Screen
8192 levels of pressure sensitivity
Customizable buttons and zoom dial are nice extras
Cons
Micro-scratches formed quickly in the display.
Stand could have a gripper base
Driver installation could be simplified
Rating: 3.5 out of 5
Where to buy
The XP-Pen Innovator 16 is available from Amazon, priced at $529.99.