More trouble at the Portland Apple Store in the Apple Crime Blotter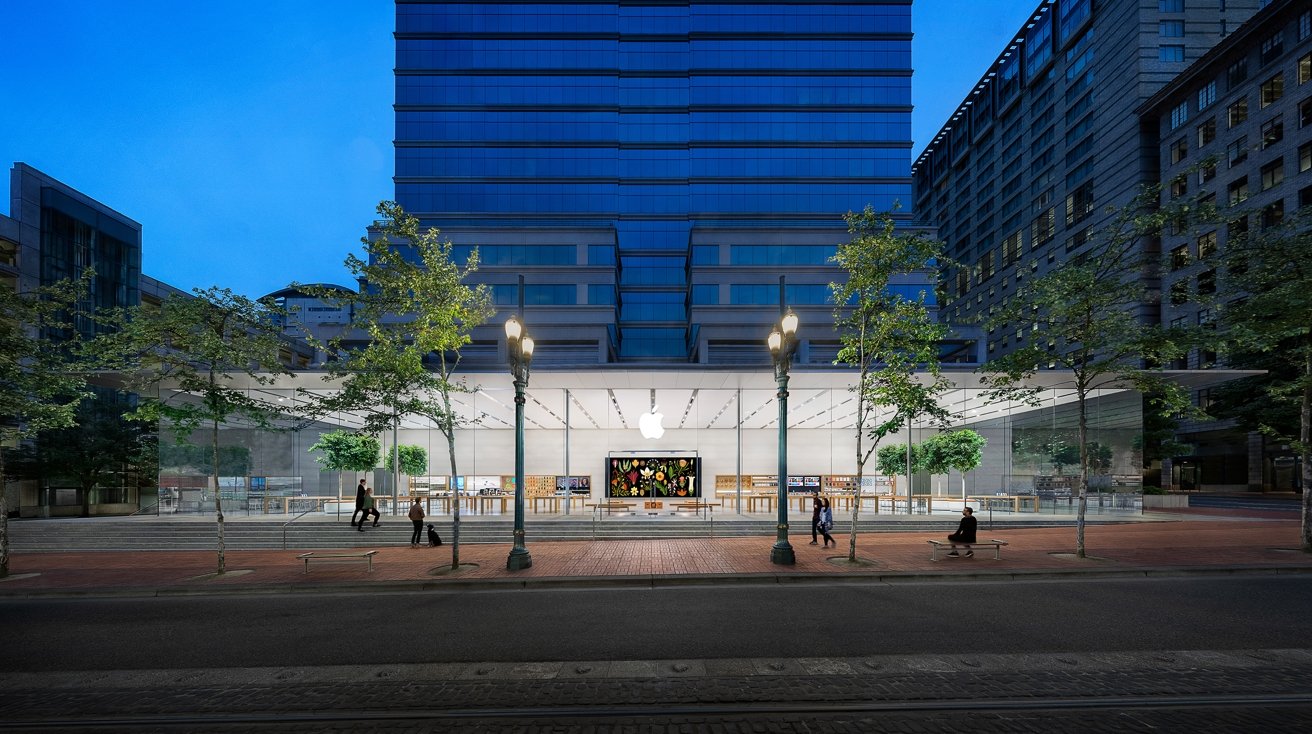 AppleInsider is supported by its audience and may earn commission as an Amazon Associate and affiliate partner on qualifying purchases. These affiliate partnerships do not influence our editorial content.
Matt Gaetz's iPhone seized, iPad stolen from the Chief Justice of Trinidad and Tobago, and the producer of the "Steve Jobs" movie is accused of throwing an Apple monitor.
The latest in an occasional AppleInsider feature, looking at the world of Apple-related crime.
Fire at Apple Store in downtown Portland
A fire was reported at the Apple Store at Pioneer Square in downtown Portland on April 16, as part of the unrest that followed the police killing of a man in that city.
According to Willamette Week, the fire actually began at a construction site near the Apple Store, before spreading to the store itself. The report attributed the fire to "a small group of strident and organized activists who use property destruction to avenge police violence and the City Hall policies they see as abetting it."
That Apple Store had been closed for nine months, following vandalism during the initial unrest following the killing of George Floyd in May of 2020, before it reopened on February 20. Fire notwithstanding, the store is currently open, the website says.
In early 2019, a man was arrested after police said he had stolen from the downtown Portland Apple Store every day for several months.
iPhone seized from Congressman Matt Gaetz
It was reported earlier this month that Apple Pay transactions were part of the ongoing Justice Department investigation into Congressman Matt Gaetz of Florida. Now, Politico is reporting that Gaetz's iPhone was seized this winter, following the execution of a search warrant.
The investigation, per the report, is a federal sex crimes probe, and it centers in part on a trip taken to the Bahamas by Gaetz and at least five young women in 2018.
iPhone videos lead to child pornography indictment for youth pastor
A former youth pastor from upstate New York was charged April 9 with production of child pornography. Prosecutors say the pastor used two different iPhones to secretly record a 12-year-old girl changing clothes while they were attending a Christian music festival in 2019. The girl discovered both iPhones, deleted the videos, and her mother informed authorities.
The pastor had already been charged and convicted of Unlawful Surveillance in the Second Degree, but a search of his phone appears to have triggered the separate federal charge for production of child pornography.
"Steve Jobs" producer Scott Rudin accused of slamming Apple computer monitor on assistant's hand
The Hollywood Reporter published an expose in early April about accusations of abusive behavior by Scott Rudin, long a powerful producer of Hollywood movies and Broadway shows. The piece's opening anecdote says that Rudin, in 2012, "smashed an Apple computer monitor on the assistant's hand," after the assistant failed to book him a seat on a sold-out flight.
Rudin, whose cruel workplace antics had long been an open secret, never faced any criminal charges for the alleged incident, in which the assistant reportedly received a monetary settlement.
Drug dealer arrested after incriminating message on iPhone
A drug dealer in the U.K. was ordered to pay 7,500 pounds ($10,400) within 28 days, after police found 200,000 pounds ($277,500) worth of heroin at his home, under the Proceeds of Crime Act.
Per the Cambridge News, the dealer was first caught last summer, when police searched his car and discovered an iPhone with a text message on screen stating, "even if you can only get cheap weed Toby I'm not fussed. As long as it's smokable and gets me high. Please Bro."
The dealer was charged with possession with intent to supply class A drugs, possession with intent to supply class B drugs, and possession of a weapon designed to discharge a noxious liquid.
iPad stolen from Chief Justice of Trinidad and Tobago
An iPad Air was recently stolen from the home of Ivor Archie, who has been the Chief Justice of Trinidad and Tobago since 2008. According to the country's Newsday newspaper, Archie said "several people had access to his home" during the time the device could have gone missing.
iCloud evidence used against Iranian nationals accused of sanctions evasion
The U.S. Attorney's Office for the Central District of California charged ten Iranian nationals for evading U.S. sanctions on Iran, and iCloud evidence was used against them.
According to the Department of Justice, the accused engaged in a 20-year scheme to evade sanctions through over $300 million worth of transactions, including the purchase of two $25 million oil tankers. The release says that one of the defendants "saved a press report about new U.S. sanctions imposed on firms suspected of funding the Iranian Revolutionary Guard Corps" in his iCloud account.
iPhone left in car had gun selfie
An iPhone was found in a stolen car recovered in Tennessee, The Chattanoogan reported April 21. On the red iPhone, which did not belong to the car owner, was a selfie of a man pointing a gun.