Incase x Bionic bags review: Tough, attractive bags made from reclaimed ocean plastics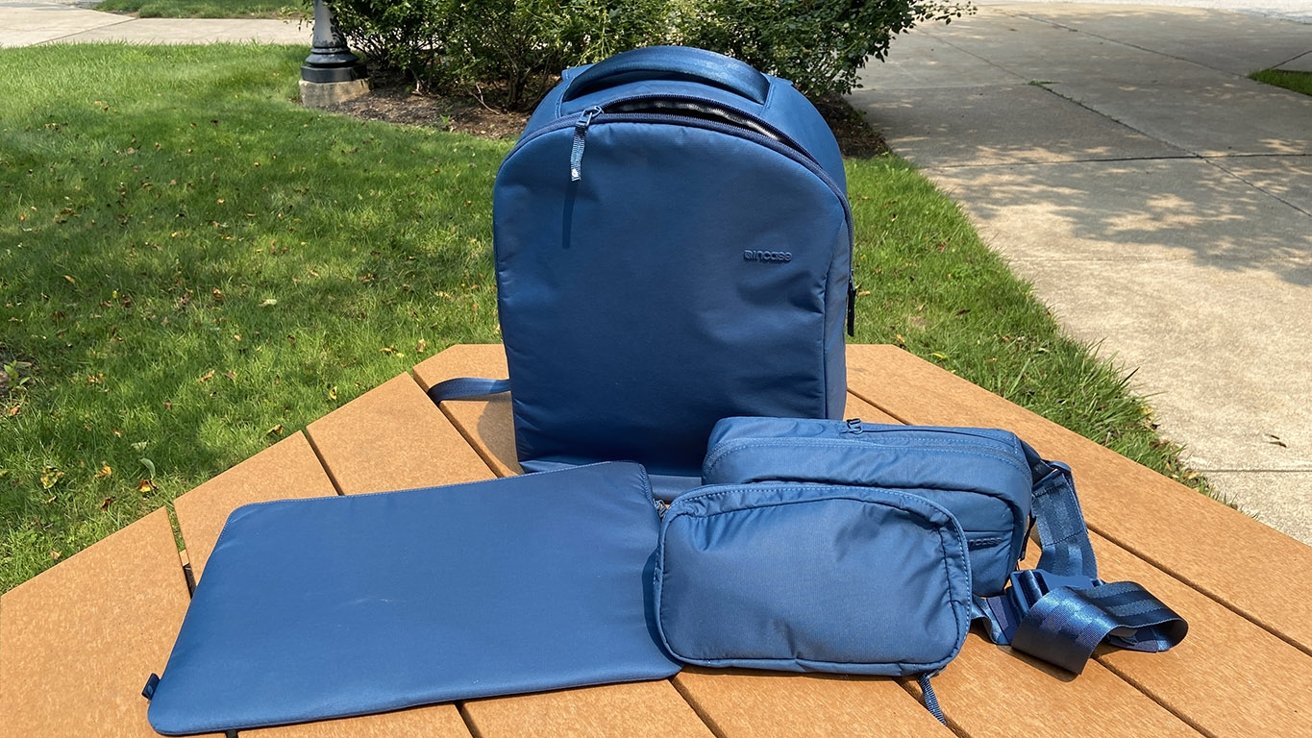 AppleInsider is supported by its audience and may earn commission as an Amazon Associate and affiliate partner on qualifying purchases. These affiliate partnerships do not influence our editorial content.
The Incase x Bionic bag collection offers stylish ways to carry everything you need on a daily basis, including solutions for protecting your iPhone, iPad, AirPods, and MacBook.
Incase has teamed up with Bionic, a company dedicated to providing high-quality textiles while cleaning up the ocean at the same time. Each item in the Incase x Bionic lineup is made with Bionic FLX Yarn, a yarn that is spun out of reclaimed coastal and marine plastic.
The first thing we noticed was the feel. We were stunned by how soft it felt — it's similar to the standard nylon you may find on a duffle bag, but with a significantly softer touch. Bionic FLX Yarn is also tough, designed to withstand average wear and tear better than your average bag.
We received a set in the Baltic Sea colorway, an attractive deep blue color that we felt could complement a wide range of personal styles.
Here's our opinion on all the items in the collection, which includes a backpack, a sling bag, an accessories organizer, and a padded laptop compartment, all designed to work in tandem with each other.
Commuter Backpack
The Incase x Bionic Commuter Backpack is a fantastic, simple, minimalist-style backpack. It features a mature design with a simple, plain front, padded straps, and an additional carrying handle at the top.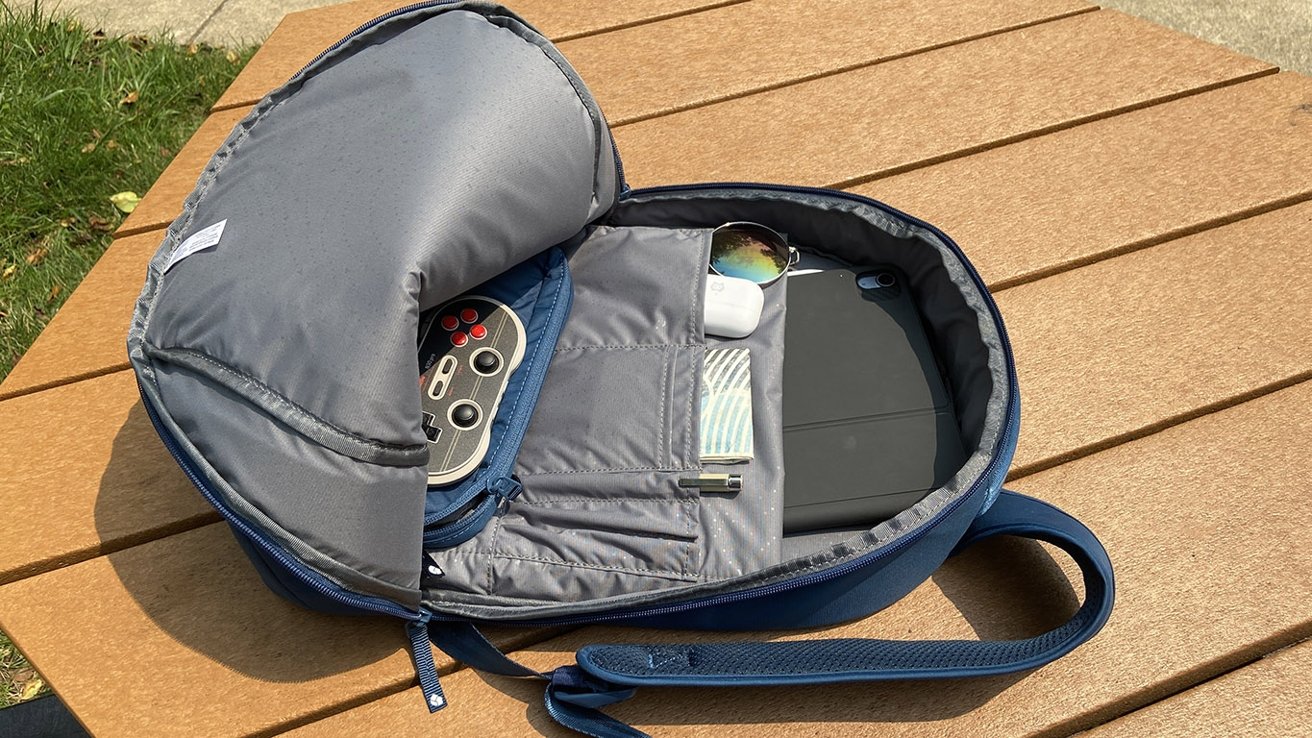 Inside, it boasts numerous pouches and pockets for you to store your AirPods, cables, pens, wallet, sunglasses, and more. We appreciated how the pockets were laid out inside the bag, as it makes it easy to unzip the top, grab what you need, and zip it back up in just a few seconds.
A padded laptop compartment can store laptops up to 16 inches, making it the perfect bag to take to class, the office, or the coffee shop.
This backpack is made from Bionic FLX yarn, roughly equivalent to 26 plastic bottles recovered from marine and coastal environments.
The Incase Bionic Commuter Backpack is available from Incase in four colorways: Baltic Sea, sand, steel grey, or ocean green, and costs $99.95.
Hipsack
The Hipsack is exactly what it sounds like — a bag that you can sling around your hips, or should you choose so, use as a cross-body bag.
It features two inner compartments with plenty of small mesh pockets that allow you to tuck earbuds, cash, cards, coins — whatever smalls you need to keep track of — safely away. In addition, an internal valuables pocket keeps your most essential items contained. There's even a detachable key-ring that allows you to clip your keys into your bag while allowing you to easily remove them when needed.
If you've got things you want to access quickly, a quick access outer pocket allows you to snag your wallet, sunglasses, or phone without needing to rifle through your less-used items.
Like the other bags in the lineup, crafted from Bionic FLX yarn, roughly the same amount as thirteen water bottles worth.
This is a fantastic bag to take with you to the office or a day trip if you travel light. The Hipsack was our favorite bag of the collection and the one we could see ourselves using the most.
The Incase Bionic Hipsack is available from Incase and costs $69.95. You can snag your own in two colorways — Baltic Sea or sand.
Accessory Organizer
The smallest of all bags, the Accessory Organizer is a fantastic add-on for those who need to travel with many small parts they need to keep track of. This specific bag is crafted from roughly the same amount as seven water bottles worth of marine plastic.
One of the nicest features of this bag is that it unzips completely to lay flat. This allows you to meticulously organize whatever you need to. In addition, multiple cable straps keep your cords untangled, and storage slips give you a place to tuck away thumb drives, AirPods, or whatever else you may need.
It fits perfectly inside the backpack, making it an ideal travel companion for creatives who find themselves constantly searching for the perfect cords.
We thought it was a surprisingly well-thought-out bag and especially appreciated the small mesh storage pockets.
The Incase x Bionic Accessory organizer costs $49.95. You can snag your own in four colorways — Baltic Sea, sand, steel grey, or ocean green.
Padded Laptop Sleeve
The simplest of the line is the Incase x Bionic Compact Sleeve, a laptop sleeve designed to keep your MacBook safe from bumps and jostles while in another bag.
The laptop sleeve features no interior pouches or pockets and a light foam lining designed to prevent damage to your laptop should it receive a mild bump. The outside of the sleeve features one zipper exterior pocket.
Like the other bags in the lineup, crafted from Bionic FLX yarn, roughly the same amount as seven water bottles worth.
This is the first item in the lineup that we felt was significantly more expensive than we would have expected — it comes in at $49.95. Like other items in the lineup, it is available in four colorways: baltic Sea, sand, steel grey, or ocean green, and is available for both 16-inch and 13-inch laptops.